Take dozens of single people, put them in Mark Warner holidays beach resort for a week, add sun and alcohol, and it's simply a matter of time before holiday romances start to flourish.
Holidaying with Mark Warner holidays
It was just a couple of days into my Mark Warner holiday on the Greek island of Kos when the first newly-formed couple could be spotted. Walking hand-in-hand towards the beach, they looked happy, self-conscious and smug all at the same time. The rest of us were very happy for them – even if we did think that the holding hands thing was a bit twee – but we didn't think the relationship would last much beyond the baggage carousel.
---
Latest deals and prices
Mark Warner
or call 033 3305 7463

---
It didn't even make it that far, as it turned out. A row one night over whether to go into town for late-night drinks meant that, what had started off so brightly had, in the way these things do, crashed and burned before the week was out. Still, no matter, there was more dancing and drinking to be done.
Discovering Mark Warner holidays
I initially discovered Mark Warner holidays the previous year, when researching my book about dating. I was trying to find out where single people went on holiday to meet other people – given that no-one actually really wanted to go on an actual 'singles holiday' – and a friend recommended Mark Warner.
'But that's for families, isn't it?' I asked. Apparently not, or at least, not all year-round. During school holidays the majority of holidaymakers are indeed families but, for some weeks a year the single supplement is dropped and people can come on their own or with friends, safe in the knowledge they won't be surrounded by couples and other people's children.
---
For other Mark Warner holiday reviews go to:
Skiing on a Mark Warner holiday – on your own but never alone
No skimping on the apres-ski  – Mark Warner skiing holiday in Tignes
---
The week I was there, there were just under a hundred people on the same Mark Warner holidays package. There were guys travelling together, girls travelling together, mothers and daughters, siblings, one large group of tennis fans from Nottingham, and for the main part, people travelling alone.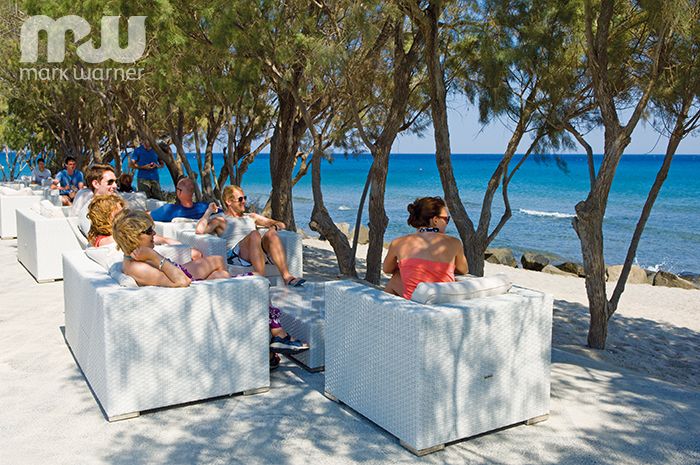 My holiday companions
Unlike many other holidays catering for the single – or 'independent' traveller, to use the accepted jargon – there was a fairly even split between the sexes and all ages too. There were women and men in their twenties all the way up to fifties and beyond – singletons, divorcees, single parents, people whose partners couldn't take the time off work – and by the welcome cocktails on the first evening everyone was gassing away like old friends.
Over the next week we saw little or nothing of the young children we had seen – and heard – on our charter flight as families had their own pool, separate beach and often ate at different times. This was bliss, especially for the people who had grown-up children and were now on holiday without them – there is nothing more annoying than getting rid of your own children and being bothered by the yowling of someone else's.
Life on a Mark Warner holiday
I soon realised that there are two types of people who go on Mark Warner holidays for solo or group travellers. There are those who get up early each day to play a game of tennis before breakfast, followed by a hectic day spent mountain-biking and wind-surfing. They will enjoy just the one glass of wine with dinner and be in bed by 10pm so that they can be up bright and early the next day.
And then there are those who, having spent all day between the sun-lounger and the bar, and all evening eating and drinking to holiday levels of excess, can be found skinny-dipping in the Aegean sea at four o'clock in the morning.
It was when I found myself doing a rather erratic front crawl under the moonlight sky with people I had only known for 24 hours and wondering whether I would ever be able to find my clothes again that I realised I was most definitely in the second category.
I had started off with such good intentions when I'd arrived at Lakitira hotel [note: this hotel is no longer offered by Mark Warner holidays but the activities are very much the same in other Mark Warner resorts].
Activities
The resort, just ten minutes from the airport, has two huge swimming-pools, umpteen tennis courts and an impressive water sports area on the beach, where people can go windsurfing, kayaking or learn to sail anything from lasers to catamarans.
There were free introductory sailing lessons for beginners and intermediates and coaching lessons running throughout the week, while the tennis contingent also had a variety of courses to sign up to, plus an hour of social tennis each evening.
On my first day, I swam in the deserted, infinity-style pool before breakfast, played tennis before lunch, and tucked into a healthy salad, feeling extremely smug as I imagined how fit, thin and tanned I would be by the end of the week.
However, that was before I had taken into account the main reason that anyone comes on Mark Warner weeks: to meet new people and have a riotously good time.
After a hard day's sun-bathing there were cocktails every night for the gang in the windy and appropriately-named Breeze Bar. We'd then all walk up to dinner together, which meant I didn't have to face the single-person's horror of dining alone or walking into a restaurant and not having the faintest idea where to sit to meet other people travelling alone.
Claire, the rep, had issued everyone with a schedule of events from quiz nights to beach barbeques, which you could take part in as much or as little as you wished. With so many single people on holiday together, a lot of time was rather predictably spent discussing sex, relationships, dating and more sex, and various holiday romances started to blossom halfway through the week.
There were reports of a fair amount of late-night canoodling on the beach and one couple even got engaged, although to be fair, they had known each other before the start of the trip rather than getting completely carried away on the holiday romance thing.
The week was rather pleasantly like being back at Freshers' week at university: there was a lot of drinking, silly dancing, much laughing, and of course, skinny-dipping. There were several late-night forays into the bars of nearby Kardamena, and one afternoon spent at a pool party on the beach, where we drank cocktails, danced on the bar and played games in the swimming pool.
Exploring the island
Mid-week, to ward off cabin fever, several of us went on a day-long boat trip to the picturesque neighbouring islands of Pserimos and Kalymnos – where some headed for the sponge factory and some for the bars – and by the end of the week people who had been strangers on the plane out were feeling like lifelong friends.
In fact, in the check-out queue at the airport on the way home, the ultimate compliment was inadvertently paid by one couple who were cross at there being no seats left next to each other on the plane.
'It's all the fault of the single people,' the guy complained loudly. 'They've all now made friends and want to sit with each other.'
Arrive single, go home in pairs – surely the sign of a very friendly holiday.
---
For latest deals and prices visit Mark Warner or call 033 3305 7463

---
For other Mark Warner holiday reviews go to:
Skiing on a Mark Warner holiday – on your own but never alone
No skimping on the apres-ski with a Mark Warner skiing holiday in Tignes
---
[Editor's note: this review was originally published a few years ago but has been updated to contain the latest information]
If you like reviews of summer holidays then you'll love: The best hotels in Mauritius; My Cape Verde holiday on the island of Sal; Sailing around the Aegean with SCIC Sailing; The perfect Caribbean holiday on the island of Nevis; Beaches, history and adventures in Jamaica; Learning to dive in the Cayman Islands;