Being new to Paddington Basin and the whole 'Aparthotel' concept meant that I was entering the unknown with my stay at Wilde Aparthotels by Staycity Paddington London right in the heart of Paddington Basin.
While most Londoners know Paddington purely for Paddington railway station (and everyone around the world knows Paddington Bear), the area between Edgware Road and Paddington station has been recently gentrified and is now a mix of high-rise flats, shops, cafes and restaurants which run either side of this branch of the Grand Union Canal.
A stay at Wilde Aparthotels by Staycity Paddington London
I hadn't visited this previously industrial and rather run down part of London before and found Paddington Basin to be a fascinating mix of independent venues and modern buildings, one of which was Staycity Aparthotel. London's newest Aparthotel is named after Oscar Wilde and has 249 studios and one-bedroom apartments, plus a reception, gym, shop and breakfast station.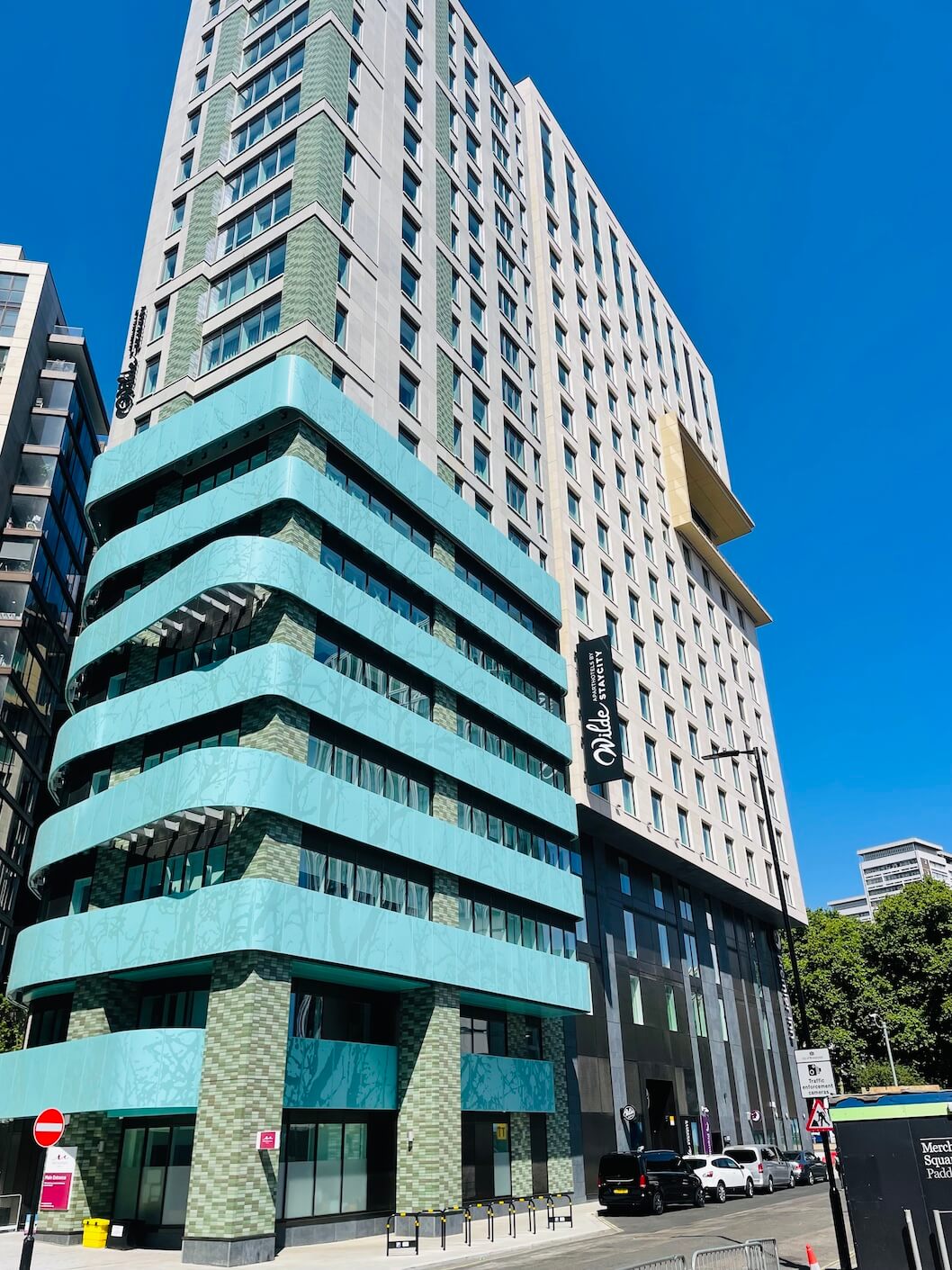 What is an Aparthotel?
As the name suggests, an Aparthotel is a combination of hotel and apartment, so while you get hotel services such as a 24-hour reception, Smart TV, room service and free wifi, every room has a fully-equipped kitchen so you can really make yourself at home.
Book Staycity Paddington on Booking.com
Visit Staycity Paddington on Tripadvisor
Arriving at Wilde Aparthotels by Staycity Paddington London
I walked from Edgware Road tube station through Paddington Basin to find the entrance to Wilde Aparthotels by Staycity Paddington London just a few metres from the canal itself. The reception area was bright and welcoming, and rather than having a formal check-in desk, staff were circulating with iPads to check in new guests.
My bedroom apartment at Staycity Paddington
I was quickly checked in and shown to my room on one of the top floors, which meant it had some impressive views of the busy Marylebone Road and the neighbouring hotels, but thanks to some impressive double-glazing there was no traffic noise at all. My room – sorry, apartment – was fitted out with natural timber flooring, while colourful furnishings and artwork dotted around the walls which gave it a more welcoming air than a soulless hotel room.
While it wasn't as cosy or unique as a boutique hotel room, it was was clean, light and airy and very practical for business or holiday travellers alike with a desk, sofa, WC with power shower and lots of space for luggage. According to the hotel's website, each apartment is a showroom for some of Ireland's most talented independent businesses, artists, crafters and more (Wilde is Irish-owned), while the walls of communal areas are adorned with contemporary Irish photography sitting alongside locally inspired pieces.
The bedroom wasn't vast but it was equipped with everything you could need from a city centre hotel stay, with ample storage, plug points, lights, a double Hypnos mattress and plenty of pillows. The left hand side of the bed had some pretty hair-raising views down to the ground so I allocated that side to my partner who discovered a handy switch for an automatic blind if the drop was too much.
Being an apartment as well as a hotel room meant that there was a fully-equipped kitchen in the open-plan lounge so you could be totally self-sufficient. There was a fridge/freezer, a toaster, kettle, coffee machine, induction hob, microwave and even a dishwasher, plus all the cutlery and crockery you could need.
A handy welcome pack contained items such as sparkling fruit juice and crisps, there was fresh milk and bottled water in the fridge, while downstairs in the reception area there was a well-stocked shop containing a large variety of goods such as rice, pasta, sauces, sweets and snacks. (There was also a large M&S Simply Food just around the corner).
Discovering restaurants in Paddington Basin
There isn't a restaurant at Wilde Aparthotel by Staycity Paddington London, but given that there was a whole new part of London waiting to be explored, we were more than happy to head outside in search of food and entertainment. We soon found both as we walked along the canal path in the direction of Maida Vale which look us first past St Mary's hospital and then Paddington Station itself.
There was the colourful barge restaurant Darcie Green which was originally a passenger ferry for the 2012 London Olympics. Following a extensive renovation they were transformed into the floating pieces of art, with the exterior designed by the godfather of British pop, Sir Peter Blake, with each symbolic motif painstakingly painted by hand.
Wine and bar snacks at Vagabond Wines
Our first stop was Vagabond Wines, which was a lively and fascinating wine bar where over a hundred wines are available to sample by the splash, glass, carafe or bottle. We found the signing-up process extremely laborious – there seemed to be endless apps to download and sign into – so the easiest way we found was to load up a payment card at the till and then we were good to go. The wines, which came with detailed tasting notes, were excellent, as were the collection of bar snacks including padron peppers, hummus and arancini.
Enjoying cheese at The Cheese Barge
The biggest find of the evening was The Cheese Barge which was great fun. Unsurprisingly given the name, The Cheese Barge is a floating cheese restaurant, and we were delighted to be given seats on the open deck upstairs so we could watch the boaters and paddle boarders go past as well as people-watching the walkers and joggers along the towpath.
We tucked into a lovely plate of truffled Baron Bigod, Lanark Blue and Gorwydd Caerphilly and soaked up the views along with the sunshine.
Shuffleboard and beer at Brewdog Paddington
Feeling replete, we enjoyed the stroll back along the canal to the eastern end of Paddington Basin and topped off a lovely evening at the vast Brewdog Paddington pub and a few games of shuffleboard which turned out to strangely addictive.
Breakfast at Staycity Paddington
Waking up the next day to fresh coffee made in our own kitchen was a treat and made us feel like locals to the area, rather than tourists. Breakfast itself was served downstairs in the lobby lounge, and was a mixture of self-service pastries, cereals, yoghurts and juices, and a cooked option which you order from a member of staff.
The cooked options did feel as if they were preprepared, packaged and then reheated, but as the hotel doesn't claim to have a restaurant onsite it felt like a bonus to have cooked breakfast at all, and there are certainly several other choices within a short walk of the hotel if you so wished.
We left Wilde Aparthotels by Staycity Paddington London feeling as if we'd really got to know a hidden part of London with minimal effort. With just a short walk to Paddington Station the hotel certainly has a great location, and its 'aparthotel' concept is certainly a unique and welcome one.
Hotel information and to book Wilde Aparthotels by Staycity Paddington London
Wilde Aparthotels by Staycity Paddington London, 4 N Wharf Rd, London W2 1NW

Tel: +44 20 3687 2480
Book Staycity Paddington on Booking.com
Visit Staycity Paddington on Tripadvisor
If you like reviews of hotels in London, then check out Discovering hidden treasures at The Stafford hotel, central London; A relaxing luxury spa break at The Corinthia hotel, London; Rooftop cocktails and a spa make The Montcalm Royal London House a top-to-toe destination; A penthouse stay at nhow, Shoreditch; A central London stay at Mayfair Townhouse, Piccadilly; Montcalm Royal London, Moorgate; The Royal Horseguards hotel near Trafalgar Square; Bloomsbury hotel, Bloomsbury; Point A hotel, Kings Cross; One Aldwych, the Strand; St James's hotel and club. St James's; The Marylebone, Marylebone; The Kensington, South Kensington; A Sherlock-worthy stay at Holmes hotel on Baker Street; Mayfair Townhouse off London's Piccadilly; A luxurious five-stay at at The Stafford, Mayfair; Disco lights and a budget stay at Point A, Kings Cross
Like this post? Then why not Pin It?