Good rooftop bars in the capital are few and far between, so the discovery of another one is cause for celebration. Enter the Aviary, the rooftop bar and restaurant on top of Montcalm luxury hotels group's newest hotel, Montcalm Royal London House.
I visited on a cold winter's evening, so my friend and I had the pick of dozens of comfy sofas and retro chairs on the deserted terrace, while more sensible patrons enjoyed their cocktails in the warmth of the restaurant inside. However there were heaters and thick blankets so we were able to enjoy the delights of the Aviary's eclectic cocktail list al fresco – a sour cherry bomb with Sipsmith vodka and rhubarb bitters was especially tasty.
Montcalm Royal London House is located in Finsbury Square, also home to the likes of Bloomberg and Grant Thornton. However while the hotel is in the heart of office-based, corporate London, its size and layout doesn't make it feel cramped or commuter-y.
The lobby alone contains a juice bar, cafe and restaurant (which runs the gamut of breakfast meetings through lunch and after work drinks to dinner) as well as a spacious lounge and dining space – those who prefer a distant view of the Shard, the Cheesegrater and Canary Wharf can of course head straight for the lift to the tenth floor.
Hotel guests have a third option. Once I'd checked into my room – spacious by London standards – it had large- wardrobes, a desk, comfy chairs and a bathroom with a walk-in shower – I headed straight for the spa in the basement. It wasn't easy to find, due to lack of signage which meant I spent 10 minutes wandering through conference rooms in search of a pool – but it was worth the search.
Not only was the pool big enough to swim in – again, unusual for central London hotels – but it had a clever current which meant you could swim against it for ever. There was a jacuzzi, sparkling new changing rooms and a well-equipped gym next door, plus several loungers and lots of magazines to read.
After at least 10 minutes of working out (aka reading said magazines) I felt as if I'd earned my dinner. The Aviary restaurant itself is just next to the tenth floor terrace and is large, light and airy, with floor-to-ceiling windows on three sides and a large central bar.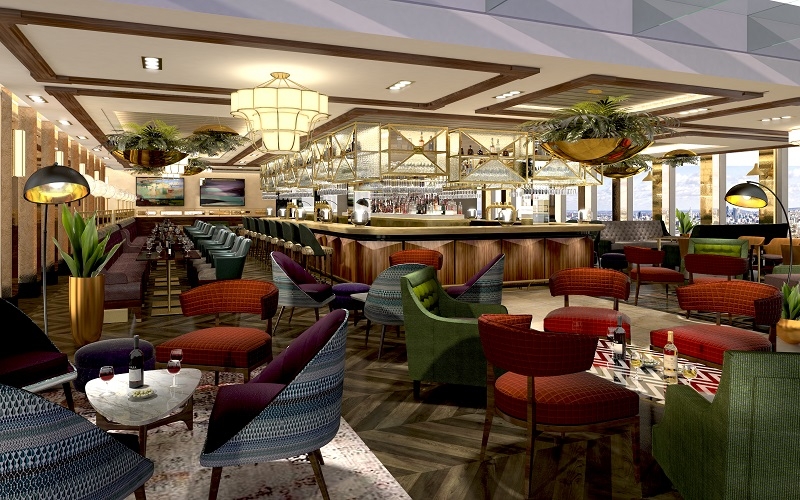 The menu says the restaurant only serves sustainably-sourced British produce and boasts a coal-fired oven which can cook meat – including chateaubriand, Cumbrian chicken, veal t-bone and Old Spot double chop – to 550 degrees. We started with cured chalk stream trout with taramasalata and apple, and Sutton Hoo chicken with bulgar and quail egg, which was lovely but unexpectedly soup-like, while for mains we couldn't resist the 'Retired dairy cow with sirloin on the bone' which was excellently cooked, and went well with the host of sides we'd ordered, including creamed spinach, flower sprouts and bacon and thrice-cooked chips.
Service was quick and friendly, with lots of staff on hand even though the place was packed. We managed to fit in desserts of milk chocolate mousse, salted caramel and malt ice cream, and chocolate and honeycombe sundae, and then rolled happily back to our room on the third floor.
The room was cosy but spacious, with excellent lighting, lots of storage space, a well-stocked mini bar and lots of plug points.
The next day we were back in the Aviary for breakfast and the service was a good as the previous night. Coffee and cooked options arrived promptly and there was also a substantial buffet option.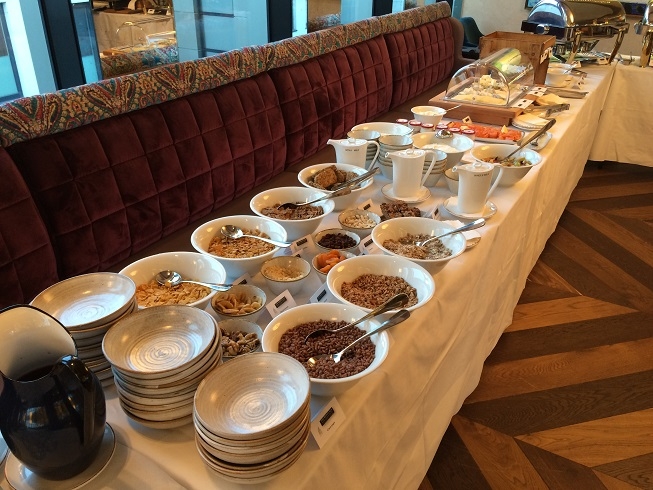 For City workers looking for somewhere different for after-work cocktails, the roof terrace will be a boon, and the restaurant was a fun and characterful place to dine. Montcalm Royal London House will really come into its own in the summer months, and I'll certainly be back to try some more cocktails – without a blanket this time.
Hotel information and to book Montcalm Royal London House hotel
Montcalm Royal London House
22-25 Finsbury Square
London EC2A 1DX
020 3873 4000
To book directly with the hotel, go to: Montcalm Royal London House

To check the latest prices and to read more reviews go to Montcalm Royal London House on TripAdvisor
If you like hotels in central London then read all about these great luxury hotels:
A stay at St James's hotel London: Mayfair luxury with a Michelin star
A room (and cocktails) with some serious views at ME London luxury hotel
One Aldwych hotel London: a Lion King-sized bite of luxury in a West End hotel