My bedroom at The Gore hotel in Kensington was definitely one with the 'wow' factor. There were oil-paintings and gilt-edged mirrors and the bed itself was so vast and so high it felt as if I needed a footstool to climb aboard.
The epic theme continued into the bathroom which was decked out in a pink marble effect with pillars, a high ceiling and a loo which was more like a throne – possibly something that Gandalf might use. It didn't look the most comfortable of seats but was certainly one of the most memorable conveniences I've seen in a hotel room – or anywhere else, for that matter.
While some hotels try and emulate the look and feel of a historic country house, the Gore hotel, which opened in 1892, can't help but feel seeped in history. Many of its paintings and furniture date back to the 19th or early 20th century, although it certainly doesn't feel tired or dated.
It has 50 individually-designed bedrooms, ranging from classic doubles to junior suites such as the Judy Garland (named after one of its famous guests), Dame Nellie and its top suite, the Tudor Room, has its own fireplace, minstrel's gallery and 15th century four-poster bed.
Such historic surroundings come with their own issues – my bed was lovely to sleep in but the ancient plumbing isn't quiet – but you certainly don't feel that you're staying in an anonymous, designed-by-committee hotel.
The hotel bar, Bar 190, is an iconic location in its own right, being the setting for launch of the Rolling Stones' album, Beggars Banquet, in 1968. The event is immortalised by a couple of paintings on the wall of the bar and the hotel has just launched its own tribute cocktail, Sympathy for the Devil.
Made from a mixture of tequila and chilli-infused gin, Southern Comfort, grenadine and lime juice, the cocktail isn't on the bar menu yet but the barman will make you one if you ask (be warned, it's fiery stuff), probably while telling you that he'd have preferred the drink to be named Jumpin' Jack Flash.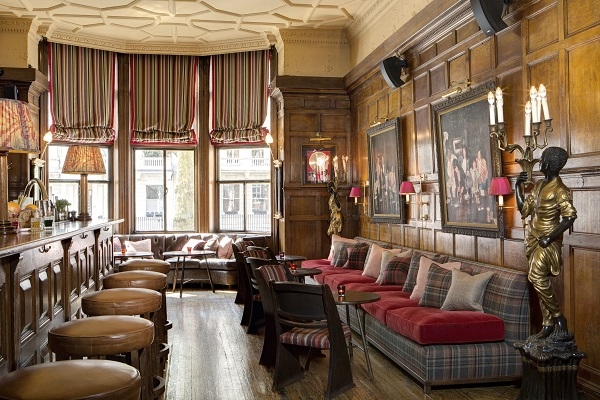 Drinkers can sit up at the bar, on the cosy sofas and chairs dotted around the wood-lined room, or even in the cosy hide-away 'Cinderella's Carriage' which looks as if it's something from Tudor times (and can be privately hired for those intimate chats).
We had a booking at the hotel's own restaurant, 190, for 7.30pm and had the place to ourselves, possibly due to its close proximity to the Royal Albert Hall which meant that one party had just left to stroll across to the Proms, and another party arrived post-Proms at 10pm.
The menu was beautifully clear and simple, just one white sheet listing six starters and six mains. The starters included duck liver parfait, beef carpaccio and pea soup but we went for the cured trout and hand-dived Scottish scallops, both of which were excellent and looked great too.
For mains we I had the Brixham plaice with mussels and peas – again, fresh, healthy, tasty fare – and my friend Ciara had the St Bride's farm chicken with watercress salad and slow-cooked onion.
The portions were huge but were perfectly filling and we almost decided against a dessert. However in the interests of research we ordered the raspberry creme brulee and the dark chocolate mousse and were very glad we did – both were well presented, both were delicious and the chocolate mousse was one of the best I've even tasted, the kind of dessert you have to recommend to everyone you think might be coming here in the future.
I was tempted to have nightcap back in the bar but reluctantly decided to be sensible and head up the stairs to my grand room. Sadly I'd been overlooked for a turndown service and had to wrestle with the huge curtains myself (and never got to find out if I would have been given a footstool for the bed) but soon dozed off.
Breakfast the next morning back in the restaurant was a good mix of cooked options and a large buffet. After a dish of smoked kippers, spinach and poached eggs I was ready for the five-minute stroll into work, a definite improvement on my usual morning commute.
Hotel information and to book The Gore hotel
The Gore Hotel
190 Queen's Gate
London SW7 5EX
020 7584 6601
Check availability and book The Gore by clicking here
Compare the latest rates and read more reviews of The Gore on Tripadvisor here
The Gore hotel is owned by Starhotels, a 29-strong collection of luxury hotels in Italy, New York, Paris and London and is part of Preferred Hotels and Resorts. Rooms start at £170 night only for a Classic Suite to around £400 for the Tudor Suite.
If you want to stay in a luxury hotel in central London then check out these great suggestions:
Amba Hotel Charing Cross: possibly the most central hotel in London
Montcalm at the Brewery and The Jugged Hare: brewing history and the wow factor
My stay at The Marylebone: a room with a view and a seriously nice roof terrace