A stay at The Bear of Rodborough
Exploring the Cotswolds near Stroud with a stay at The Bear of Rodborough hotel near Stroud, Gloucestershire is just the thing to blow away the cobwebs.
This 17th-century Cotswolds coaching inn, part of the excellent Fullers-owned Cotswold Inns & Hotels chain, is located on not only one but two glorious commons – Rodborough Common and Minchinhampton Common – which sprawl across this part of Cotswolds in southern England yielding footpaths and sweeping views across all sides.
Cows graze across the common for much of the year and I went for an unheard of three walks during my overnight stay at The Bear of Rodborough – one when I arrived, one before dinner and one before breakfast the following day – as it was so lovely to be out and about in the fresh air.
Those who prefer to be outside in more of a sedentary position, however, will be able to get their fill of fresh air in The Bear of Rodborough's large beer garden, which has a variety of seating from dining chairs and tables, cushioned sofas and even deckchairs so you can tailor your afternoon accordingly.
Book The Bear of Rodborough at Booking.com
Visit The Bear of Rodborough on Tripadvisor
Some more great reviews of pubs with rooms which you'll love
https://www.aladyofleisure.com/crown-and-castle-orford-reviews
https://www.aladyofleisure.com/adnams-swan-hotel-in-southwold-review
https://www.aladyofleisure.com/bull-at-sonning-pub
The Bear of Rodborough beer garden
We soaked up the sun in the garden and shared an excellent afternoon tea between us as well as enjoying a complimentary glass of Prosecco which the company was giving guests as a thank-you for visiting after lockdown which I thought was a nice touch. We finally got round to checking in to our rooms and made our way to reception inside the hotel where we were greeted by not only the receptionist but a couple of life-sized stuffed bears.
One in the corner was anonymous, but the other held a sign declaring it to be the real Bear of Rodborough, a Himalayan brown bear which had been shot by a solider in 1881 and had been used as a drinks holder before being bought by the pub. That solved the question of the pub name at least – and was possibly the oddest thing I found in a hotel reception – and we bid him and his furry friend farewell as we headed to our rooms.
The Bear of Rodborough bedrooms
A rush of bookings meant there were only two single rooms left, which was fine by me as it's good to experience the whole range of rooms. Both singles were well-stocked with essentials such as kettle, tea and coffee and full-sized Molton Brown toiletries in the immaculate bathrooms and managed to pull of the trick of being both cosy and roomy at the same time, with colourful designs and old-fashioned windows.
There is no shortage of space at The Bear of Rodborough should you wish to tuck yourself away with a book, a drink or a mid-meal snack, from the sunny internal courtyard to bars and lounges downstairs, many of which boast original flagstone floors, open fires and traditional furnishings. It's definitely worth a wander around as I kept finding pleasant little rooms I hadn't noticed before.
The restaurant at the Bear of Rodborough
One room which was unmissable was the restaurant which makes the most of its location with large picture windows allowing diners to soak up the view. The menu was clearly-written and offered a good range of classic British dishes, such as English pea soup and ham hock terrine starters, to salmon, steak, lamb and fish and chips – although vegetarians might have wanted more choice than courgette bread and butter pudding or a garden salad.
The menu is the same across all Cotswold Inns in case, like us, you are exploring several in the chain  in rapid succession, and meant we could see how much of a creative spin each chef is able to put on each dish.
We had pea soup and marinated tiger prawns with grilled sourdough to start (the sauce with the prawns was particularly tasty), and sirloin steak and cannon of lamb with salsa verde and samphire as mains. They were all very capably cooked if not particularly excitingly, but it was decent pub fare and certainly the great views over the green commons made it into a very pleasant evening.
I was keen to immerse myself in those views so the next day before breakfast it was walk number three, this time due west following a lovely contour-hugging path which yielded stunning views and was a local favourite judging by the number of joggers and dog walkers.
Breakfast at the Bear of Rodborough
Breakfast in the restaurant had the addition of grazing cows who were enjoying the grass surrounding the hotel, so it was another unique feature of this perfectly-located pub.
Having enjoyed stays in several other Cotswold Inns pubs over the years – the Bay Tree at Burford being a particular favourite – I'm delighted that Fuller's is investing in such a lovely collection of properties while still keeping their original charm and I couldn't wait to explore the rest of the chain. So, next stop – the Hare and Hounds at Tetbury.
Hotel information and to book The Bear of Rodborough
The Bear of Rodborough, Rodborough Common, Stroud GL5 5DE
Rooms at the Bear of Rodborough start from £89 for a double room B&B while the top luxury suite starts at £179 per night
Book The Bear of Rodborough at Booking.com
Visit The Bear of Rodborough on Tripadvisor
If you liked this review of the Bear of Rodborough then Pin It!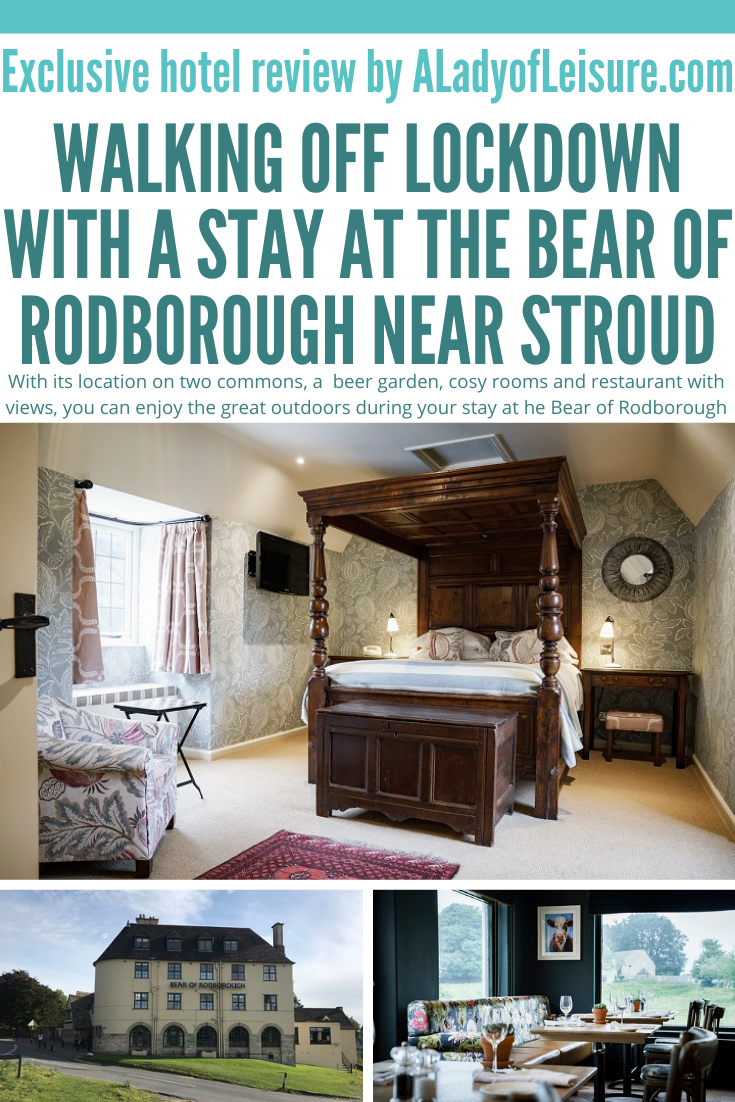 If you are researching the best hotels in the Cotswolds then you want to also read the reviews of these Cotswolds hotels: Cosy Cotswolds charm at the award-winning Painswick hotel; Quintessential Cotswolds retreat at Lords of the Manor, Upper Slaughter; Dormy House, Broadway – so snug, you'll never want to leave; Calcot Manor – family-friendly fun in the Cotswolds