While I've explored all over the New Forest, my visit to Stanwell House hotel was my first trip to Lymington, which is located right at the south-easterly corner of the New Forest where the Lymington River meets the Solent.
A stay at Stanwell House hotel
It was the perfect chance to explore Lymington, as the 29-bedroom Stanwell House hotel is right in the heart of town. [Note: Stanwell House hotel is currently closed for refurbishment so check the website for the reopening date]. Even on a wet weekday in January, Lymington turned out to be a lively, bustling town with plenty of shops to browse in – both chains and independents – and a lovely cobbled area down by the quayside where yet more shops are to be found selling everything from scarves and earrings to pictures and touristy trinkets.
Stanwell House hotel on Booking.com
After a long bout of retail therapy, there's nothing quite like a cup of coffee or stiff drink to restore energy and it was here where Stanwell House hotel played its main role: its glass-topped conservatory was busy both mid-morning and afternoon with people laden down with bags and desperate for a restorative drink.
Parking at Stanwell House hotel
While Stanwell House's location right on the High Street makes it a perfect place for an arrival on foot, if you're coming by car it is a little more difficult as the hotel doesn't have an adjoining car park. It's wise to have a good look at the website before you arrive so you know to drive past the hotel and make a series of turns to double back on yourself towards the town car park, of which a portion is reserved for Stanwell House hotel guests.  Once parked, it's a short walk across the main road to the hotel but it does mean you might want to travel light with your luggage.
Inside Stanwell House hotel
Immediately inside the hotel is a lounge on one side and a small but well-stocked bar on the other (signed by local hero and Olympic sailing champion Ben Ainslie, who used to live across the road and who supplied the photos in the bar – there's a gold postbox dedicated to Ben on the street outside) and directly in front, the conservatory which seems to be the heart of the building.
After checking in – reception staff were very friendly and were quick to advise of everything from parking to the wifi and other essentials – we settled down at one of the tables in the conservatory and relaxed over a latte and a glass of prosecco before heading up our rooms to change before dinner.
The hotel is actually two town houses knocked together and was bought ten years ago by hotelier Robert Milton and his wife Victoria who live just up the road.
The couple celebrated their decade at the hotel by refurbishing the hotels's restaurant and adding a private little dining pod at the end of the hotel's garden which seats 10 and is available for private hire.
Dinner at Stanwell House hotel
We dined in hotel's Burcher & Co restaurant at the front of the hotel, which had some fantastic-looking tables hewn out of New Forest wood and an extensive menu which included a selection of British tapas including whitebait, lamb hotpot and salt and pepper squid as well as mains from the grill.
We started off with seared scallops and an excellent Isle of Wight blue cheese and sourdough (which would have been just as great as a cheese course) before moving onto an excellently cooked fillet steak and loin of venison with black cabbage and sunflower seed crumble.
The waiter recommended the dark chocolate delice as being the chocolatiest thing we'd ever taste but it didn't quite live up to its billing: however the chocolate ganache petit fours which came with coffee were quite excellent and would have made a great dessert on their own.
Bedrooms at Stanwell House hotel
The bedroom was very cosy and well-equipped with almost everything you need in a hotel room – local information, coffee and tea-making facilities (although no fridge), good wifi and TV and lots of pillows – and some things you didn't (does anyone use trouser presses anymore?) and I slept well in spite of the occasional rumble of traffic from outside – an understandable hazard with rooms which face the high street.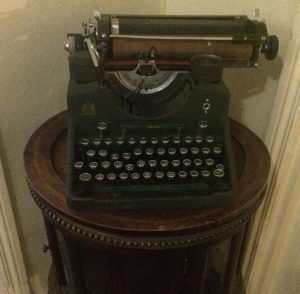 There are some nice touches around the hotel itself too, such as large, ornate mirrors wherever you go, interesting pictures along the hall wall and adornments such as old-fashioned manual typewriters dotted here and there.
Breakfast at Stanwell House hotel
Breakfast the next day was back in Burcher & Co and was an excellent mix of continental and cooked, with speedy and friendly service. Afterwards the central location of Stanwell House hotel came into its own as we could check out but leave our luggage with reception and head off on a walk around the town (and some more shopping).
Just one night at Stanwell House can be turned into two full days of exploring Lymington and had the weather been better, we would probably have gone for a longer country walk around the estuary. An excuse to return though?
Hotel information and to book Stanwell House
Stanwell House Hotel
14-15 High Street, Lymington
Hampshire, SO41 9AA
Tel: 01590 677 123
Stanwell House hotel on Booking.com
If you looking for great hotels in the New Forest then check out these reviews: Chewton Glen: five-star luxury from spa to treehouses; A deeply relaxing spa day at Lime Wood, New Forest; The Montagu Arms, Beaulieu: a New Forest feast; Burley Manor hotel: relaxing New Forest charm; Boutique B&B luxury at Daisybank Cottage in Brockenhurst, New Forest;