Before I visited Hoar Cross Hall hotel in Staffordshire I was fond of declaring that there are hotels with spas and there are hotels which are spas, but after my stay at Hoar Cross Hall hotel I might have to add a third option.
A stay at Hoar Cross hotel
This vast four-star hotel – which has recently undergone a £14 million refurbishment – has everything you could want from a hotel stay, such as luxury bedrooms, 50 acres of grounds, afternoon tea on the terrace, two restaurants, tennis courts and hiking trails, but it also has a huge 85,000 sq ft spa which has treatment rooms, pools and relaxing options galore.
What makes Hoar Cross Hall hotel different from other spa hotels is that the two aspects of Hoar Cross Hall seem to happily co-exist independently of each other. So while it isn't uncommon for someone to pad through the impressive 114 ft long gallery at Hoar Cross Hall – where the original owner once practiced archery – in a fluffy towelling robe, it doesn't have the feeling of a hotel where everyone is only there for the spa.
Book Hoar Cross Hall on Expedia 
Visit Hoar Cross Hall on Tripadvisor
Likewise, day spa guests and members can spend the day at the spa, completely unaware of the fact that there is 97-bedroom hotel attached to the vast complex.
Getting to Hoar Cross Hotel and exploring the hotel
The hotel is reached through some winding country lanes east of Stafford and just a few miles from the M6, and a gatehouse marks the start of the impressive drive up to the hotel. Guests are greeted at reception by friendly staff and a glass of juice or fizz as they choose. The hotel took full advantage of the enforced lockdowns to do some structural changes as well as cosmetic works so things like the ceiling paintwork has been fully restored, although a handy sign in the Ballroom restaurant informs diners that the original William Morris wallpaper is Grade II listed and therefore cannot be replaced (I don't know why you want to though).
Next door is the charming Library room with its secret corner doors through the bookcase and an enormous mirror which, the hotel's general manager informed me, used to belong to Lewis Carroll and thus inspired his classic tale, Alice through the Looking Glass.
On a sunny day the hotel terrace with its outdoor tables and chairs surrounded by expertly tended green lawns, fountains, gravel pathways and rose gardens, is a great spot for a drink or to enjoy Hoar Cross Hall's afternoon tea and the more active types can opt for tennis, hit the driving range, book an archery class or pick up the very detailed 'walking history tour' map and explore the hotel and its grounds.
The original estate was 490 acres of Needwood Forest purchased in 1450 for just 18 pence during the reign of Henry VI and described as a 'gentleman's seat'. Encircled by a ha-ha and iron gates which mark the property's boundaries, the property left family ownership in the 1950s and was restored in the late 1980s.
There's a mix of styles at Hoar Cross Hall which is quite appealing – one moment you could be in the Halifax Gallery which has dozens of historic portraits hanging on the walls, or the super-bling former chapel (ironically one of the places in Hoar Cross Hall not licenced for weddings) and the next you could stumble across a thoroughly modern Union Jack sofa, which I instantly wanted for my home. Once I walked the grounds and discovered all about its history, it was time to hit the spa.
Hoar Cross Hall spa
Accessed through the hotel or via its own separate entrance, the spa at Hoar Cross Hotel is huge, with 85,000 sq foot dedicated to relaxing, pampering, pummelling, energising and grooming. There's a gym with separate weights room, a spinning class studio area, a yoga/fitness class studio offering around 90 classes a week, a hairdressers (which has luxury beard grooming experiences for men which include a beer to drink during your treatment), therapy rooms, relaxation zone and a spa shop.
There's also a Nordic 'Heat and Ice' area which leads to a succession of rooms – steam rooms, sauna, ice showers with crushed ice and then onto a jacuzzi and hydrotherapy pool. Next door is another pool, a saltwater vitality pool which was popular with families when I visited, and if all this is too much activity, there's Hugo's restaurant which serves food and drinks to spa visitors, often included in the package. I was treated to an hour-long back massage and facial and emerged so relaxed it was only by a huge effort that I made it up to my room rather than just falling asleep in the relaxation room for the next day or so.
Hoar Cross Hall bedrooms
The 97 bedrooms – soon to be 101 – vary in size and styles, with four suites having hot tubs on their own private terrace, great for soaking up the afternoon sun in style.
They all have aristocratic names such as Baroness Isabella and Countess Lydia, and I was fortunate to be staying in the Princess Elizabeth suite for the night. This large room – actually set of rooms – not only had its own hot tub and large terrace with great views of the gardens at Hoar Cross Hotel but had an internal staircase which led from a large downstairs lounge to a another lounge area upstairs, which in turn led in one direction to the balcony with its hot tub and sweeping views and on the other to a king-sized bed, large bathroom and plenty of desks and chairs and plug points, mirrors and other essentials of hotel life.
Dining at Hoar Cross hotel
After enjoying a G&T on my balcony in the afternoon sun, it was time to join the others downstairs for cocktails before having dinner in the Library which had been specially laid out for the occasion (other hotel guests were dining in the neighbouring Ballroom and there's also Henry's which is less formal).
While it was a private function we were dining from the same menu so were able to experience the currently AA-rosette food, which is themed on a classic English style, with ham hock terrine and smoked salmon mousse among the starters and duck breast, fillet steak and duo of park in the mains.
I started with seared king scallops with butternut puree followed by spiced monkfish and lentil dahl and while we all claimed to be too full for dessert we couldn't resist sampling the lemon creme brulee and white chocolate and cherry cheesecake, both of which were very tasty.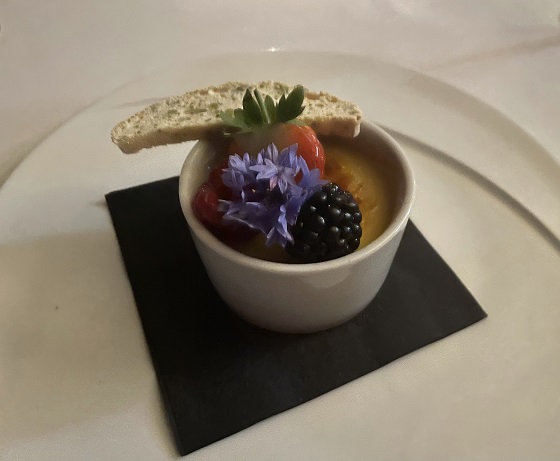 Breakfast at Hoar Cross hotel
After a dreamless sleep it was lovely to enjoy morning coffee on my balcony and watch Hoar Cross Hall hotel come to life, before having a very good avocado and poached eggs on sourdough toast at the relaxed Henry's brasserie.
Guests are allowed to use the spa until 2pm on check out day which would have made for a relaxing morning, but unfortunately as it was a working day I was back on the M6 before long. But it had been a lovely break from reality and I'm sure this hidden gem will be discovered by many more spa and hotel fans before long.
Hotel information and how to book Hoar Cross Hall spa hotel
Hoar Cross Hotel, Maker Lane, Hoar Cross, Burton upon Trent, Staffordshire DE13 8QS
Book Hoar Cross Hall on Expedia 
Visit Hoar Cross Hall on Tripadvisor
If you like reading about hotels with spas then check these amazing places: A relaxing stay at Ragdale spa in Leicestershire; Pennyhill Park, Surrey: a spa stay fit for the England rugby team; A West Sussex luxury spa stay at South Lodge hotel, Horsham