I hadn't meant to embark on an impromptu Champagne cocktail-tasting session just after breakfast, but in keeping with the overall spirit of relaxation and pampering at The Greenway hotel and spa Cheltenham it seemed the right thing to do.
It was my first time at the luxury Cotswolds hotel and indeed my first time at any hotel owned by The Eden Hotel Collection (there are eight in total) and I hadn't a clue what to expect. It was only once I was there that I actually told anyone I was going, and instantly a friend posted on Facebook: 'Lucky you! I think it's the best spa in Cheltenham', which was a promising indication I was in the right place.
Arriving at The Greenway hotel and spa, Cheltenham
The signs had been good from the very start. There was an imposing gate and lengthy driveway – the hallmarks of a country house hotel – and the instant we parked two people came out to greet us and help with our bags. The concierge, Chris, checked us in and showed us to our room with the minimum of time and fuss, which meant that, much to my surprise, I was bang on time for my spa appointment. Handily the Elan Spa at Greenway is located inside the hotel, so it's incredibly convenient, unlike others where a spa visit is a trek to another building (in fact our bedroom was just above the spa).
Book Greenway hotel at Booking.com
Visit Greenway hotel on Tripadvisor
The spa at The Greenway hotel and spa
Arriving at the spa, the signs were promising. 'There's more than salad leaves on our menu and Champagne is positively encouraged,' said the spa information brochure. A wall of Veuve Clicquot bottles seem to back this statement up and we were both offered a glass on arrival.
However the fizz had to be deferred as it was time for my 85-minute 'Hero treatment' [£95] with spa therapist Charlotte, which included a back massage and exfoliation, scalp massage and a 55-minute ESPA facial which began with a thorough look at my skin through an UV light and then lots of lovely scrubbing and moisturising.
After 90-minutes of expert pampering, I floated back to the spa area and into the outdoor hot tub while I drank my Champagne – I was entirely surrounded by bubbles which seemed like the perfect way to spend the afternoon.
Indoors there is a good-sized hydrotherapy pool (you could swim if you chose to but there are push-button jets along the sides too), a steam room, a sauna and even a rainforest/tropical jungle shower which caused much hilarity as it produced epic rain and cool mist accompanied by various improbable rainforest sounds.
The restaurant at Greenway hotel and spa
The luxury theme continued at dinner, where we were offered a couple of cocktails served in vintage-style glasses before heading into the dining room. The room was light and airy, looked out on the gardens, and rather impressively contained the original front door to the manor house, 401 years old but still in great working order.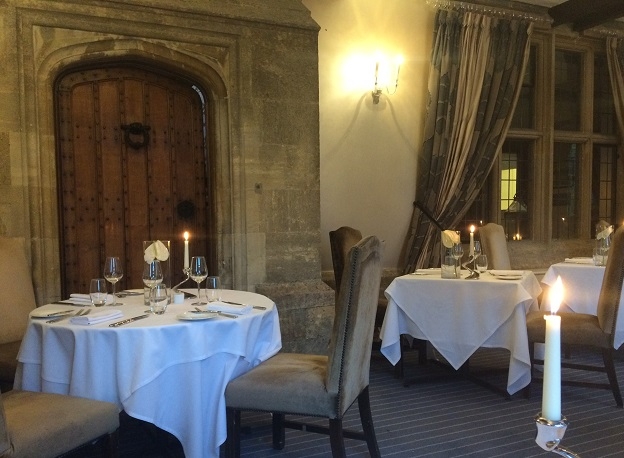 The food from head chef Marcus McGuinness was excellent – good quality local ingredients combined to look Michelin-quality but at a decent size (and without the wait). There were two menus on offer, the market menu (£35 for two courses) and the slightly larger seasonal menu (£45 for two courses) but you could mix and match between the two.
I started with roast Isle of Skye scallops and then the Cotswold lamb with Iranian aubergine and tamarind and they were both excellent and promptly served. We then shared a cheese plate and the very pretty Raspberry savarin and retired to our vast room feeling replete.
Bedrooms at Greenway hotel and spa
Our room at Greenway was smart, large and with a very horsey theme as befits a hotel just a few miles from Cheltenham Racecourse.
Breakfast and Champagne-tasting at Greenway hotel
It was after breakfast and during our walk around the grounds (there are great views of the Cotswold hills behind The Greenway and you can work up an appetite by ambling round the gardens or the surrounding fields) that we embarked on our accidental morning Champagne-tasting session.
The spa bar had a new Champagne in, the £95 Veuve Clicquot Rich which was styled to go with ice and fruit in a goblet (rather than be drunk 'neat' in a flute, although it worked perfectly well that way too).
Rada the sommelier wasted no time in whipping up a whole variety of cocktails, with cucumber, pineapple, grapefruit and even tea and it was with a reluctant heart indeed that we finally tore ourselves away from the sampling – as an introduction to the Eden Hotel Collection, Greenway certainly came with added fizz.
The Greenway hotel and spa is a 16th-century Elizabethan manor on the outskirts of Cheltenham with 21 bedrooms, a wood-panelled dining room and a spa with hydrotherapy pool, champagne nail bar and walled garden with outdoor hot tub. The spa offers a range of ESPA treatments including the 85-minute Back, Face & Scalp Treatment (known as the Hero Treatment).
Greenway hotel and spa, Cheltenham, Gloucestershire. GL51 4UG 
01242 862 352 
Book Greenway hotel at Booking.com
Visit Greenway hotel on Tripadvisor
Greenway hotel and spa is a member of Small Luxury Hotels of the World 
If you're interested in country house hotels with top spas then you'll also like: A luxurious country escape at Bailiffscourt hotel and spa, West Sussex; Lucknam Park country estate near Bath; Hartwell House in Buckinghamshire: a stay with the Downton Abbey factor