Best hotels in Mauritius reviewed
The stunning Indian Ocean island nation of Mauritius is a magnet for holidaymakers looking for pristine beaches, outdoor activities and historical trails, but finding the best hotels in Mauritius can be overwhelming.
With over 200 hotels ranging from budget options to five-star luxury, there is something for everyone, but it's important to do your research – getting to Mauritius isn't cheap and you want to pick the right hotel for you in the perfect location.
From its busy capital Port Louis, to its gorgeous beaches, beautiful islands, mountains and crystal-clear waters, there is something for everyone in Mauritius.  Check out some of the amazing things you can do in Rum, yoga and dolphins, my action-packed fortnight in Mauritius but if you want to find the very best hotels on the island look no further. I recently spent two weeks on this beautiful island so here's a bang up-to-date look at the very best hotels in Mauritius.
Best hotels in Mauritius West Coast
Five-star hotel Lux Le Morne, located in the southwest corner of Mauritius under the looming presence of the Le Morne mountain itself, is a chic, boutique, oceanside resort where the emphasis is more on relaxing and unwinding rather than dressing to impress.
There's surprisingly little glitz and glamour here but what there is, is great customer service – the staff led by manager Jérémie de Fombelle are all incredibly efficient and friendly – a meticulous attention to detail and a location which speaks for itself. Located on 600 metres of pristine white sands dotted with palm trees, the 149 rooms and suites at Lux Le Morne have everything you could wish for, from luxury furnishings, a well-stocked fridge and coffee machines to large bathrooms and large patios or balconies, often with stunning views of the ocean.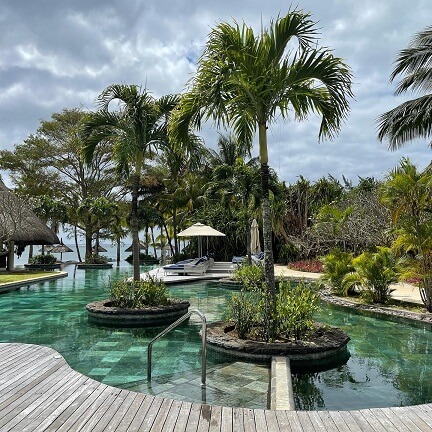 Outside the rooms, there's plenty to do at Lux Le Morne if sunbathing or swimming in one of its four swimming pools isn't enough: there's East, its flagship Thai restaurant, and The Kitchen, the main buffet restaurant. Beachside dining at The Beach restaurant is a great al fressco option and for those who fancy immersing themselves in a true Mauritian experience, just head down the beach to Vik's shack. Vik will not only offer you a rum cocktail but he'll take you fishing for sea urchins and octopus and serve them up to you in front of one of the island's spectacular sunsets.
There's also a colonial-style poolside bar at the centre of the hotel which serves everything from coffee to cocktails. More active types can head for the fitness centre, try some watersports – it's the perfect location from which to go swimming with dolphins – or go for a hike up Le Morne itself (the site of many a engagement proposal), before returning to relax in the Lux Le Morne spa.
Quirky touches such as a Wishing Tree with a treehouse (the perfect spot for a romantic film evening) and free classes from yoga to photography make this low-key but charming, eco-friendly resort really worth a visit.
Book Lux Le Morne with Booking.com
Visit Lux Le Morne on Tripadvisor
Every time I mentioned the Paradis Beachcomber people would look impressed and say 'That's a beautiful hotel!' and even by the high standards of Mauritian hotels (they're all stunning), the Paradis on the Le Morne promontory really stood out. Reached via a causeway between the open bay and a lake, so you feel like you're entering an exclusive, magical world, Paradis runs the length of a beautiful beach – you're never more than a few feet from the stunning, turquoise waters – and has the largest hotel swimming pool I'd ever seen.
There are several excellent restaurants – La Palma has a vast buffet selection but my favourite was Blue Marlin with great food and incredible views – as well as a bar which offered everything from afternoon pancakes to rum cocktails and live music and entertainment in the evenings.
Beyond these central amenities were the chance to do absolutely nothing but soak up the views along with the sunshine – there's a small spa as well as golf and tennis options – but Paradis is overwhelmingly a place to do little but marvel at the scenery and relax.
Book Paradis Beachcomber with Booking.com
Visit Paradis Beachcomber on Tripadvisor
From the moment you arrive at the Oberoi Beach Resort in Turtle Bay, just north of the capital of Mauritius, Port Louis, you will be indulged, pampered and generally treated like royalty, as befits a hotel from this leading luxury group.
I stayed in a private villa with my very own swimming pool, a first for me, so I was entranced from the moment I arrived, but all the rooms at the Oberoi are either suites or pavilions, so there's none of the soulless pile-them-high feeling you get with a large hotel building.
That said, having a pool to yourself and 24 hour room service means you could very easily stay in your room in splendid isolation and not actually see much of the rest of the resort. That would be a shame, as the Oberoi's location right on the beach means not only splendid views and spectacular sunrises but there are many different parts of this hotel which have totally different vibes.
This means you could have lunch in the open-air On The Rocks restaurant, perched by the waves lapping against the shore, or dine at the grand Gunpowder Room, which dates back from the 18th century. There's also the imaginatively-named The Bar and The Restaurant, both open-sided with thatched roofs making the most of the warm evenings, and on Saturday and Sunday nights, The Herb Trail hosts a Communal al fresco setting with a four course set menu of dishes slow cooked in an underground fire pit.
There's also a large spa with a vast range of expertly-delivered treatments, and watersports from PADI courses to kayaks, pedalos and wind-surfing.
The villas themselves are as luxurious and relaxing as you'd expect. I stayed in a Premier Villa with a private pool, located right by the seafront, with 70 square metres of interior space and views of Turtle Bay. It was decorated in a relaxing natural palette, with handpicked furnishings and local artwork, with a king-size bed, sofa, bathroom with a sunken marble bath but best of all was my private garden with a thatched al fresco dining pavilion and a heated swimming pool.
Book Oberoi Beach Resort with Booking.com
Visit Oberoi Beach Resort on Tripadvisor
Located mid-way down the west coast of Mauritius near the pretty resort of Flic en Flac is Sugar Beach resort, which has immaculate lawns, large colonial-style buildings, vast swimming pools and a large stretch of golden sandy beaches.
With three swimming pools, 14 restaurants and bars (some of which are next door at La Pirogue), a tea lounge, fitness centre, fully-equipped spa and view points for stunning Mauritius sunsets, guests aren't short of things to do at this luxury resort.
Other resorts have a similarly large space but they don't have the open spaces which give Sugar Beach a very relaxing, calming atmosphere. The swimming pools are all large enough to make sure that there's no overcrowding, and the beach itself is the perfect spot in which to soak up the sunshine.
There are 238 guest rooms and suites, each with a private balcony looking out over the Indian Ocean or the immaculate Sugar Beach gardens. My bedroom was a Deluxe Beach Front Room with stripped wooden floors, large double bed, open-plan bathroom and my own private balcony which had views of the ocean just a few metres away.
Activities at Sugar Beach includes its newly-launched 'Come Alive' collection of experiences including kids clubs, Mauritian high tea with live piano accompaniment, croquet with Aperol Spritz, large spa with fitness classes and treatments and even ballroom dancing classes.
In the evenings, there's several great dining options, including Citronella's beach front restaurant, but no visit to Sugar Beach resort would be complete without a cocktail or two at the internationally-renowned Buddha-Bar Beach, which serves quality drinks while guests soak up the sunsets.
Book Sugar Beach at Booking.com 
Visit Sugar Beach on Tripadvisor 
Best hotels in Mauritius East Coast
The One&Only Resorts brand is known for its luxury hotels and Le Saint Geran on the east coast of Mauritius is no exception. From the moment you set foot in its vast entrance hall – where you will be greeted with a welcome drink and a hanging gong will be struck in your honour – you know that you're in expert hands.
My room, a beach view suite, was the most opulent I stayed in during my tour of Mauritius's best hotels, and encompassed a plush lounge with sofas, huge bedroom, not one but two bathrooms packed with little luxuries from illuminated make-up mirrors to endless toiletries and a double-fronted terrace facing straight onto the beach.
A complimentary bottle of rum with shot glasses prepared with sugar and limes in my room was a welcome treat (there was also a beach bag and a water bottle for me to take away) and showed the attention to detail with ran throughout the hotel. The hotel was one of few not to close their doors at all during the lockdown due to guests not being able to return home and as one of the oldest hotels on the island it takes its status very seriously.
The main pool winds around the central bar and restaurant and there's also an Instagram-perfect spa with pool, large gym, tennis courts, mini golf and the private Villa One which has hosted the likes of the Rolling Stones, John Travolta and a host of other celebs and royals. The service is excellent  – I returned back from a very quick dinner due to a work call and found three people busy making my suite immaculate once more – and having room service breakfast on my terrace by the ocean before an early morning departure was a real treat.
Book One&Only Le Saint Geran with Booking.com
Visit One&Only St Geran on Tripadvisor
One of my favourite hotels in Mauritius was Constance Prince Maurice. From the moment I arrived at its opulent entrance, on its on peninsula in north-west Mauritius, I knew that this was a really luxurious hotel, and that impression continued throughout my stay as I explored its many swimming pools, beautiful sandy beach and my gorgeous bedroom suite with balcony overlooking the bay.
The arrival hall at Constance Prince was an opulent, relaxing vast open space with water features and high-beamed ceilings, before opening out into a vast swimming pool, beyond which were views of the sandy beach and still waters of the bay.
There are luxurious villas and junior suites dotted around the resort, each one featuring air-conditioning, bathroom with bathtub, double vanities, separate shower/WC, hair dryer, mini-bar, safe, desk, satellite TV, Hi-Fi, telephone, Apple Mac mini, complimentary wi-fi internet access and a furnished terrace or balcony. My beachfront villa was beautifully-appointed, with high ceilings, artwork and polished flooring, and had a large balcony overlooking the bay (as well as an in-room dodo).
There's plenty of activities at Constance Prince Maurice, as well as eating, sleeping and sunbathing, such as visiting the large spa with a range of luxury spa treatments, playing tennis on its two floodlit tennis courts, practising golf on the putting green, cycling, windsurfing, kayaking and table tennis. There are also several bars, including a wine cellar with 25,000 which has wine-tasting events.
There are three restaurants at Constance Prince Maurice, including from the central L'Archipel, which overlooks the central swimming pool, and Asisa Restaurant, which as you'd expect, offers a range of Asian delicacies.
The most memorable meal I had at Constance Prince Maurice, or indeed, the most memorable meal I had in the whole of Mauritius, was my night at Le Barachois. Accessed by a lantern-lit pontoon which winds its way through the mangrove swamps, Le Barachois is built on five floating pontoons on the edge of a vast lake.
The lake's largest resident, a bull shark named Johnny, will silently cruise past the candlelit diners as they indulge in a gourmet Indian Ocean menu with specialties including Madagascar Faye-Faye crab and fresh seafood and the experience will stay in your mind long after other holiday memories fade.
Book Constance Prince Maurice at Booking.com
Visit Constance Prince Maurice on Tripadvisor
If your ideal holiday is being surrounded in calming luxury while doing yoga on the beach in preparation for an indulgent night of cocktails and fine-dining ahead, then the Shangri-La is for you.
Located on Mauritius East Coast near Trou d'Eau Douce, Shangri-La Le Touessrosk Mauritius exudes luxury from the moment you arrive, with its uninterrupted views of the Indian Ocean and sandy white beaches from all angles, due to its position on a promontory jutting out into the ocean.
With 189 rooms and suites plus three beach villas, five restaurants and three bars, there's a wide range of choices in accommodation and food and beverage, and the resort is laid out in such a way that you walk along pretty, winding paths to get anywhere, with villas tucked away in private staircases, across swimming pools or behind towering palm trees – you won't find large, anonymous hotel buildings here.
My bedroom was stunning, with a private balcony right over the ocean, so I could enjoy my morning coffee in the fresh air with the waves lapping underneath, which was incredibly relaxing.
If you feel like a more active holiday, there's an extensive recreation programme when you can take part in activities throughout the day, from a morning power walk to archery, pilates, paddle boarding and circuit training to water polo, dancing and even karaoke and beer pong in the evenings.
Guests also have exclusive access to the private Ilot Mangénie island & two championship golf courses, so you'll never be short of something to do, even if all you want to do is to lounge besides the hotel's many picture-perfect swimming pools.
In the evening you can enjoy a well-made cocktail at the atmospheric Sega Bar, is a rum and tiki bar that offers Mauritian-inspired beverages, a unique smoked cocktail menu, extensive rum selection and a specially designed over-the-pool stage that showcases cultural shows featuring local talents, reggae and seggae music, as well as a live jazz and blues band nightly.
I dined at the Republik Beach Club & Grill which is right on the beach with great views of the picturesque Trou d'Eau Douce Bay and serves Mediterranean cuisine as well as charcoal fired barbecue grills, turning into a late night bar with live music, theme nights and DJs. Guests who want to arrive in style can even make use of the hotel's helipad – what a way to arrive!
One of the newest and coolest hotels in Mauritius, Salt feels less like a place to stay and more like a way of life. The island's first 'eco-hotel' and impressively, number one hotel on Tripadvisor for the whole of Mauritius, Salt prides itself on not only being environmentally sound – there are no single-use plastics here and everything is recycled, recyclable, organic and locally-sourced where possible – but on providing a window into the local community. Its innovative skill swap programme offers guests to learn local skills from local people – anything from fishing to basket-weaving – while daily classes cover everything from cooking to yoga.
As well as having its heart and eco-credentials in the right place, Salt makes sure you can also enjoy a thoroughly indulgent and relaxing holiday here too. With thoughtful touches such as contact-free phone charging pads, soothing aloe vera chips and sunglasses lens cleaner at the bar, to a stunning rooftop terrace where the bar staff will serve cocktails almost as good as the view, to the excellent salt-themed spa (you get salt rubs and a salt room visit along with your massage) you know that you're in good hands.
Its Soho House-inspired boutique design and excellent food make for a modern stay along with its modern take on hospitality and its minimalist bedrooms (no TVs or baths but books and a digital radio) with bamboo toiletries and jars (no plastic) of salt scrub and hair masks strike a perfect balance of thoughtful luxury.
Book Salt of Palmar at Booking.com
Visit Salt of Palmar on Tripadvisor
C Mauritius is the younger, cooler sibling of the luxury hotel Constance Prince Maurice (both are owned by Constance Hospitality) and has a similar approach to its near-neighbour, Salt of Palmar (above).
There's a playful, fun vibe which runs throughout the all-inclusive hotel, from the floating whale skeleton in the restaurant to the octopus shower sculpture on the beach, the old-fashioned juice wagon in reception and the friendly dodos to greet you on arrival.
C Mauritius describes itself as 'Nature's Playground' and there's a strong emphasis on green, eco-friendly credentials here as well as connecting with your inner child in activities such as pedalos, kayaks, beer pong, floating trampoline and water gun battles. There are live music sessions in the open air, award-winning cocktails and a Club House to relax in, and staff are a great mixture of friendly, attentive and fun.
The hotel is right on a beautiful sandy beach, so you can have breakfast soaking up the view, and then spend a day relaxing in its many, Instagrammable swimming pools, having a treatment at its luxury spa or doing a spot of outdoor yoga or paddle-boarding
There are many food options here too, including the Wok n Roll Asian food and the 'Cpicerie' where you can enjoy coffee, donuts, croissants and waffles, and there are several bars dotted around the resort depending on your mood.
Bedrooms at C Mauritius are either Prestige or Deluxe and can be beach or garden-facing. Prestridge rooms are 40m2 with a double bed, air conditioning, mini bar and terrace of balcony, while the Deluxe rooms are slightly bigger at 43m2 with a king-sized bed. I had a lovely Deluxe room which was decorated in marine-themed artwork. There was a large bathroom with walk-in shower and patio doors led out onto my terrace which was just a few metres from the beach.
With its combination of relaxing, sport (including an optional weekly hike up Le Pouce mountain), and live music on the beach most evenings, C Mauritius is a great choice for the young or young-at-heart who want a holiday with fun as well as sun.
Book C Mauritius at Booking.com
Visit C Mauritius on Tripadvisor
Best hotels in Mauritius – unique locations
In the mountains
Proof that not all luxury hotels in Mauritius are on the beach comes in the from of the unique Lakaz Chamarel (Lakaz means 'house' in Creole) which lies 400m above sea level high in the hills in the south west corner of Mauritius. That's not to say it doesn't have stunning views – the aptly named View Bar at the top of the resort has some of the best views on the island, taking in the sweep of the countryside and western lagoon all the way to Le Morne – but to stay at Lakaz Chamarel is to stay in a tropical garden paradise where villas and swimming pools are nestled between olive trees and ferns in lush green undulating slopes.
There are seven bedrooms and 13 suites hidden among the greenery – all have a terrace and open-air shower while the suites also each have a private pool – and the whole effect is of a deeply relaxing, 'back to nature' break; this form of nature including fine-dining, a cocktail bar and all manner of in-room luxuries. My villa, Reshma, was located on the lake near the reception area, bar and restaurant – other rooms are further away up the hill but a buggy can whisk you around to the more remote ones – and had a vast bedroom/lounge area as well as an outside shower, private pool and sundeck. Staff are attentive – someone popped round to light my mosquito burner when I was enjoying an evening cocktail on the lakeside terrace – and the hotel runs yoga weekends as well as yoga sessions and treatments on request.
Book Lakaz Chamarel at Booking.com
Visit Lakaz Chamarel on Tripadvisor
On a Private Island
One of the most memorable nights I spent in Mauritius – and in fact, one of the most memorable hotel nights anywhere – was in a plastic bubble on a tiny island off the east coast. I was in one of Mauritius' Bubble Lodges – there are four on the Ile aux Cerfs and four on the mainland in the Bois Cheri tea plantation – and it was a truly remarkable experience.
Staying in a plastic bubble on a private island just a few metres from the rolling waves of the Indian Ocean was an amazing experience in itself, but the real magic happened at night time. When I switched off the light and lay back in my bed, the entire ceiling vanished completely, giving the illusion that I was lying directly underneath the canopy of treetops and sparkling above them, the stars. The only sounds I could hear were the crash of the surf and the wind rustling through the swaying branches above me and it was so strange, so surreal, so sense-defying that there was little else I could do but gaze at the skies and marvel at it all.
Added to that your own private butler, beautiful scenery, an excellent restaurant, gorgeous beaches and a luxury lodge with all the modern conveniences including air-conditioning, coffee machine, bathroom and rainfall shower and you've got an amazing night or two.
Booking Bubble Lodge, Ile aux Cerfs
Visit Bubble Lodge, Ile aux Cerfs here
Best hotels in Mauritius – north coast hotels
There is something quite unique and charming about the LUX Grand Gaube, and that's not just because it is tucked away on its own peninsula right at the top of the island. It successfully hits the 'retro-chic tropical retreat' vibe, which is not to say that it's old-fashioned, far from it, but it has a sense of fun and playfulness about it which fits in perfectly with its luxurious facilities, eye-catching Kelly Hoppen designs, beautiful sweeping beaches and lush green planting throughout.
Where else would you find a British red phone box and a classic VW Beetle car, a plush red-seated cinema showing classic James Bond films, or discover a bath tub on your vast balcony overlooking the ocean?
The resort is known for its focus on wellness and its culinary gems, which include a fabulous Peruvian restaurant on its own mini-promontory jutting out into the ocean, an overwater Turkish restaurant and even a rum treehouse. The main areas in the resort feel very colonial in design, in a nod to Mauritius' history, but again with a sense of fun: buffet food for breakfast has a massive sign over it saying 'Hot Stuff' and during the afternoon and evening cocktails are quickly and expertly delivered.
There are 'only' two swimming pools, which is less than other five-star hotels on the island, but the sea in the bay is beautifully calm and clear for swimming, snorkelling and sunbathing. There's also a vast spa with a large range of treatments, and other activities on offer include tennis, watersports and fitness classes.
There are 186 rooms and villas at LUX Grand Gaube in nine different categories but they have all been given the beach house feel, thanks to soothing colour palettes, large beach towels and indoor plants – the 'playful but chic' feel the hotel is going for.
As for food and drink, there are six restaurants and seven bars at LUX Grand Gaube, including the stunningly-located Bodrum Blue Turkish restaurant which sticks out into the bay over the water, giving great views of the ocean and the hotel. Other places of note are the Rum Treehouse, Creole Smokehouse, Banyan Burger Shack and Inti Peruvian restaurant, so you will definitely not be going hungry during your stay.
Book LUX Grand Gaube at Booking.com
Visit LUX Grand Gaube on Tripadvisor
This was the first hotel I ever stayed in in Mauritius, and it was a perfect introduction to the beauty of Mauritius's beaches. It's a family-friendly hotel, very popular with international visitors and Mauritius alike, and probably suited to those with children or multi-generational holidays.
Located right at the very north-west tip of the island, the hotel is located right on the beach and is perfect for boat trips, coastal walks, mini golf or just gazing across the sparkling water at the rocky outcrop which is Coin de Mire island nature reserve.
The hotel itself has a large swimming pool, several restaurants – you can choose between the buffet option at the large Frangipanier restaurant or the more refined atmosphere of the Navigator hotel which has great beach views – and a programme of entertainment and live music every night to keep you and your family entertained.
It's one of the few hotels I stayed in which had an all-inclusive option which certainly makes working your way through the cocktail list more fun and there's also a spa, uniquely sited in above-ground cabins in the branches of a banyan tree.
My room was smaller than others I'd stayed in but with a lovely terrace overlooking the sea and the location is perfect for exploring the north coast from Grand Baie to Cap Malheureux and beyond. I hired a bike for the day and relished every minute of those stunning views!
Book Cannonier Beachcomber at Booking.com
Visit Cannonier Beachcomber hotel on Tripadvisor
Best hotels on the south coast of Mauritius
One of the few hotels on Mauritius' south coast – which means you can see both the sunset and the sunrise from its stunning golden beach location –  the five star Shanti Maurice resort and spa is the place to go for some serious relaxing and pampering. Guests stay in suites or villas dotted round the spacious resort – my room was traditional and almost minimalist in design but with a vast bathroom and stunning views from the balcony – and you can soak up the sun by the main pool and jacuzzi overlooking the beach or on the luxury loungers (each with a waiter service button) on the sweeping beach.
There's also a full-size swimming pool in the beautiful spa complex as well as a sauna, steam room, treatment rooms and yoga studio and the hotel often hosts yoga weekends where you might just find yourself doing sun salutations on the beach just yards from the crashing waves. For fitness enthusiasts there's a gym, running track (lit at night), tennis courts and water sports centre and for foodies there's a selection of restaurants (you can dine on the beach as well) and the friendly and efficient staff will make you feel very well looked-after.
Book Shanti Maurice at Booking.com
Visit Shanti Maurice on Tripadvisor
Anatara Iko is one of the newest hotels on Mauritius and has the ultra-smart, modern feel to reflect this. From the impressive entrance lobby to the view of the swimming pool and the beach beyond, this hotel on the south-east coast of Mauritius embraces its oceanside location.
There's just one swimming pool at the moment, although there are plans to build another (the hotel has lots of space and lots of plans), and the main bar and restaurant overlooks the pool for pre- or post-swim food and drink. It's just 10 minutes from the international airport, making it extremely handy and one of the closest hotels in Mauritius from the airport – you can be in the pool while your fellow airline passengers are still travelling across the island – and thankfully the planes take off away from the resort so there isn't any airplane noise overhead.
The hotel's 164 rooms and suites are all located in a square block which will blend more into the landscape over time, but it does mean most of the rooms have stunning views of the beach and the waving palm trees (this side of the island can be a bit breezy but it's pure, fresh air straight from the Antarctic) and no expense has been spared in making the rooms feel incredibly spacious and luxurious.
There is far more to Anantara Iko than rooms and a swimming pool however: guests who venture over the other side of the pool will find a luxury spa offering treatments to soothe, relax and invigorate, and a fitness centre where a vast range of activities are on offer, including the ever-popular Pilates and yoga (I was lucky to be given a sneak preview of the yoga classes in an outdoor class in the nearby forest). There are also hiking tours planned and for those less energetic, there are cooking demos and wine-tasting classes.
If all that seems too much, then it's easy to relax here, with a well-stocked bar serving excellent cocktails located right on the beach. This is great place to dine in the evenings, with a high-end restaurant serving freshly-caught fish on slabs of Himalayan ice and all with the background of waves for the perfect dining experience.
Having only opened in 2019, there are lots of plans for Anantara Iko, so expect this hotel to expand over the years – but always in consideration of its the beautiful environment which surrounds it.
Book Anantara Iko with Booking.com
Visit Anantara Iko on Tripadvisor
Four-star family hotel Preskil Island Resort sits on a peninsula in the south east of Mauritius, between the historic village of Mahébourg and the Blue Bay Marine Park and is so named because it's nearly an island – 'Presqu'isle' in French.
There's lots to do for children aged between 3 and 12 at the Tikoulou Kids Club while parents and grandparents relax by the large, central  infinity pool and enjoy the views across the bay to nearby islands l'île aux Aigrettes or l'île au Phare, and the impressive Lion mountain.
As it is only around 20 minutes away from the international airport, Preskil Island Resort means no lengthy airport transfers, so you can be on the beach less than an hour after you land.
There's a large selection of restaurants and bars on the resort, including 1810 restaurant which sits on the beach and gives lovely views over the bay while serving fresh Mauritius cuisine, and the Medley bar which offers cocktails and 12 different beers from 12 different countries.
My room had its own terrace with beach views, so I loved getting room service breakfast while enjoying the morning sunshine. During the day, you can just lounge around on the vast beach area or get a treatment at the Banyan Spa, or the more active might like to try kite-surfing, wind-surfing, stand-up paddle-boarding or a catamaran trip.
Book Preskil Island Resort at Booking.com
Visit Preskil Island Resort at Tripadvisor
Heritage Le Telfair, Bel Ombre, Mauritius
Golf lovers will be in their element at the five-star Heritage Le Telfair golf and wellness resort, located on the south coast of Mauritius, as its Le Chateau golf course and golfing academy is often the home of national and international golfing competitions, and a new links course is set to be the only links course in the Indian Ocean.
Guests who are more inclined to less active pursuits such as sunbathing, dining or relaxing in a spa will not find themselves short of places in which to indulge though, as this large, lush resort has five restaurants and bars, a luxury spa, several swimming pools and beach access for great sunsets.
Bedrooms at Heritage Le Telfair are all suites, ranging from those with garden or beach views to private terraces or balconies.
No-one wants to spend 14 days in one room but there are far worse places to quarantine than in a five-star luxury hotel in Mauritius and Trou aux Biches turned out to be the perfect place for my necessary isolation. While the restaurants, pools, spa and 35 acres of landscaped gardens were all closed to me and my fellow guests – we had been driven there from the airport in a convey of minibuses with a police escort and quickly shown to our rooms – we were all extremely well looked after. Firstly the room was thankfully one of the biggest I stayed in while in Mauritius. There was a large double bed, a lot of floor space which turned out to be ideal for exercise videos, a balcony with a table, chairs and sun lounger (although annoying the balcony was entirely shaded from the sun so I had to sit on my front door step at midday to get some vitamin D), a separate work area which was psychological perfect for distancing work and leisure time and a large bathroom with shower, bath, loo and twin sinks.
Every day I'd receive several phone call asking for my choice of menu options for the next day's meals which were then promptly delivered at 8.30am, 1pm and 7pm and the food was both excellent and plentiful (there was also afternoon tea at 4pm but I had to ask them not to deliver as I was eating so much food) and came with a litre of water and whatever drinks I'd ordered.
For exercise I either used apps or constructed a walking circuit around the available space so I'd plug in a podcast and trek for an hour between the outside steps, bedroom, balcony, bedroom, bathroom and back to the steps – it was boring but necessary – and I loved my morning yoga on the balcony with the colourful birds flying about.
I couldn't see the sea which was only 20 metres away through the trees, but the gardens were nice to look at – although I was envious of those on the ground floor who could sunbathe and have a bit more room to walk around in – and the only difference from a typical hotel stay was the fact that I was given cleaning products and enough towels, sheets and loo-rolls for a week (new ones came at the end of the week). I'd be temperature-tested every day and Covid-tested on days 7 and 14 (there was a test on arrival at the airport and I had to have a recent negative test to travel at all) and to be honest I enjoyed the chance to finally get on with admin task and work without distractions.
Knowing that everyone back in the UK was also under restrictions meant I didn't feel I was missing out on anything and the only tough day was day 14 when I was woken at 6.30am for the Covid test and then had to wait until 5pm to be given the all-clear. I'd certainly be happy to do it again and after two weeks there's the whole of Mauritius to explore!
Do you have a favourite hotel in Mauritius which isn't mentioned here? Do recommend your best hotels in Mauritius either in the comments or email me at [email protected]
And if you enjoy reading about luxury hotels, then check out some reviews closer to home… Best luxury hotels for Christmas; Best luxury hotels in the UK with swimming pools; Best luxury hotels for Christmas; Top romantic hotels for Valentines Day; British hotels with golf courses;