You don't get to be included in the Sunday Times' list of Best Places to Stay 2023 without good reason, and I was intrigued to find out what The Angel Inn Stoke-by-Nayland in Suffolk had to make it stand out from other great British hotels. Following a major two-year refurbishment, The Angel Inn is a new, independently-owned gastronomic 'restaurant with rooms' set in an historic 16th century building in the heart of the Suffolk countryside.
Its name was intriguing for a start: Stoke-by-Nayland is just a mile or so away from the village of Nayland on northern bank of the River Stour, the boundary between Suffolk and Essex, and the name means 'island', with the village built on the higher grounds of the river floodplain. Just a few minute's drive away is the charming village of Dedham, in the heart of Constable country, where a Constable painting hangs in the village church and a short walk will take you to the Grade 1 listed Flatford Mill, painted by Constable in the 19th century.
A stay at The Angel Inn Stoke-by-Nayland
Stoke-by-Nayland itself is a lovely medieval village (also once sketched by Constable) with half-timbered buildings, a large 10th century church, a bookshop, convenience store, a vasty and busy pub-with rooms, The Crown, and The Angel Inn itself, which is an unassuming building in the middle of the village. Go inside though and it's far more welcoming, with exposed beams, tiled floors, an open fire and an impressively high-ceiling restaurant. In warmer months guests can sit outside in the courtyard garden, designed by Thomas Hoblyn, Chelsea Flower Show Gold winner 2022, and enjoy drinks, lunch or afternoon drinks in the sunshine.
The main lounge contains the well-stocked bar, and it's easy to see The Angel Inn's history as a local's regular drinking haunt. Its recent refurbishment means however that the locals go across the road to The Crown for their post-work pints and The Angel Inn has repurposed itself as a gastronomic destination with luxury rooms and high-end dining to match, for mini-breaks and nights away.
Book The Angel Inn, Stoke-by-Nayland
Visit The Angel Inn, Stoke-by-Nayland on Tripadvisor
We were booked in for its full tasting menu and were very much looking forward to seeing – and tasting – the reason for the acclaim already heaped upon The Angel Inn so far. We arrived mid-afternoon to a warm welcome from general manager Sean and Celeste, the bar manager, and after parking in the hotel car park were instantly shown our bedroom, which was in a separate building just a few steps from the main hotel.
Bedrooms at The Angel Inn
There are six bedrooms in the main house and five in the stables annex, which has just recently been refurbished but which looks older with its soft colours and half-timbered style in keeping with the local buildings.
Our bedroom on the ground floor was immaculate, smart and modern, with furnishings in muted, relaxing colours, and rustic-chic designs including stripped-down wooden doors, Scandi-style blankets, and all the mod-cons you need for a hotel stay, including free wifi throughout, a Nespresso machine and kettle, Noble Isle toiletries, lots of white, fluffy towels and underfloor heating in the bathroom.
There was fresh milk and homemade lemon drizzle cake and chocolate brownies for us to enjoy (we tried to pace ourselves ahead of the gourmet feast which awaited) and after settling in and having a walk around the village, we were enjoying some cocktails from Celeste who really knows her mixology – my Old Fashioned was particularly excellent.
Due to terrible weather making all but essential travel unwise that evening, we were the only ones dining that night, which might have been awkward but thanks to the excellent staff – attentive but not overcrowding – and the astonishing array of dishes laid before us from Spanish chef Ruban Aguilar Bel, we felt like we were receiving the royal treatment as course after course (and wine after wine from expert sommelier Valerio) kept arriving.
First up was sourdough bread with handmade Guernsey and Jersey butter, then a couple of amuse bouches to start off the evening: mackerel tartare and Iberian ham croquette. These were no ordinary bite-sized pre-dinner morsels though: the Iberian ham looked like a traditional canapé but was delicious with the piquancy of the ham offset by the creaminess of the bechamel sauce inside (a recipe from Ruben's grandmother) and then there was the theatrical arrival of the mackerel tartare, covered in a Scottish langoustine veil which was blowtorched at the table. It was a great start to the meal – as was a glass of the Wiston sparkling wine – and set the scene for what was to follow.
Appetites duly warmed up, we moved onto the starters: Felixstowe lobster, with butternut squash soup, orange, star anise and ink caviar, followed by Mushroom ravioli with wild mushrooms and parmesan foam. The flavours were incredible, with the orange deftly cutting through the liquorice star anise and the light Parmesan foam packing a powerful cheesy punch.
The final starter was Lake District hare, with baby king oyster, mangetout, Iberian ham and arbequina and what was described as a 'light veil' which indeed was exactly what it turned out to be, wrapping the dish in a snug see-through parcel.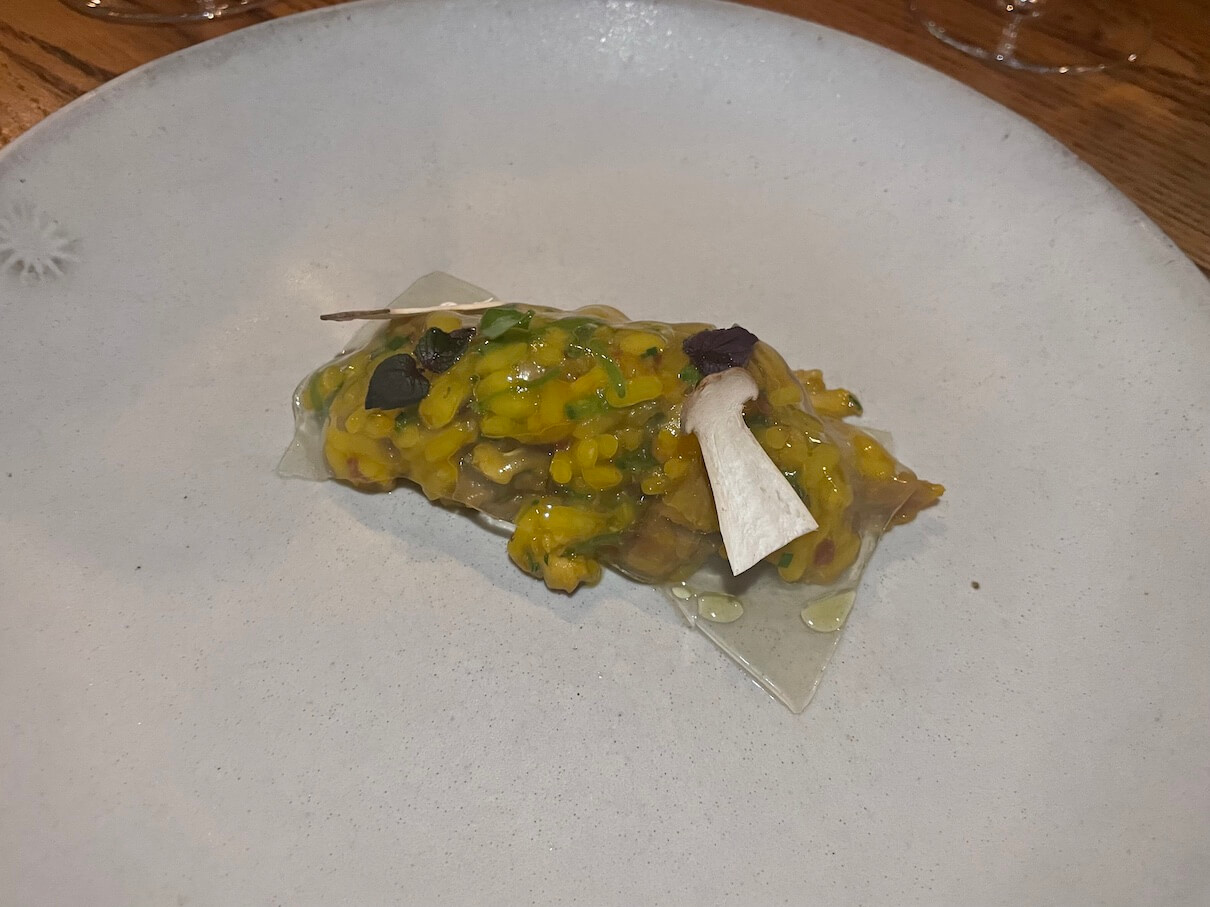 The dishes, as did the wine – everything from Sauvignon Blanc and Garnacha from Spain and full-bodied Carignana from South Africa –  kept on coming. There was grilled Cornish red mullet, with lemon emulsion and dill dashi, and then the main course of the evening, Creedy Carver duck breast and confit leg, Jerusalem artichoke and sea beat leaves.
We were starting to feel rather full by this point so we had a walk around the rest of the Angel Inn to explore the rooms, discover the 100ft well in the rear dining room and check out the many paintings and designs on the walls, before returning to finish off what had been a incredible, gastronomic evening.
'Just' a few more courses remained: Saffron and lemon mousse with pistachio cake, cassis sorbet and cardamom meringue, followed by dark chocolate jelly with smoked tea, Scottish whisky and Aleppo chilli crumble, proving that the inventive use of textures and flavours continued right until the end of the meal.
Incredibly, we even managed a plate of petit fours and a couple of Espresso Martinis before retiring to bed, replete, content and extremely impressed by Ruben's unique and creative menu.
Breakfast at The Angel Inn, Stoke-by-Nayland
The hotel usually offers a full range of cooked options but due to the weather, we were happy to have a prepared continental breakfast instead, which turned out to be a vast selection of everything from cheese and charcuterie to fruit salad, muffins, yoghurt, cereal and pastries. There was freshly-squeezed orange juice and excellent coffee too (as well as a cheeky Bloody Mary for me) and we did our best to enjoy as much as we could fit in before heading off for a much-needed stroll around the village.
We found a really useful guide to the local buildings in the historic church of St Mary's just a few steps from The Angel Inn, and I enjoyed acting as an impromptu tour guide, pointing out the 15th century ale house where the artist Beryl Cook lived briefly in the 1950s, a collection of charitable almshouses and a former cobblers – a fascinating way to get a glimpse of the history of Stoke-by-Nayland.
Most memorable in our visit was of course, the food and if the Angel Inn doesn't get a nod from Michelin star in the near future I shall be extremely surprised.
Hotel information and to book The Angel Inn, Stoke-by-Nayland
The Angel Inn, Polstead Street, Stoke-by-Nayland, Suffolk CO6 4SA
Telephone: 01206 263245
Menus start at £75 per person for the short tasting menu, £84 with cheese course. Full tasting menu £90 per person, or £99 including cheese course. Wine flight £65/£80. Bed and breakfast from £325. Dine & Stay package: 3 course a la carte menu with breakfast, from £425 for two people sharing. Gourmet getaway package: Tasting menu and breakfast, from £445 for two sharing.
Book The Angel Inn, Stoke-by-Nayland
Visit The Angel Inn, Stoke-by-Nayland on Tripadvisor
If you like hotels with Michelin-starred restaurants, then read these amazing reviews: The perfect gourmet break at Northcote hotel Lancashire; Ynyshir restaurant with rooms in Wales; Hambleton Hall, Rutland: Michelin-starred dining luxury; Whatley Manor, Wiltshire: a Cotswolds gem; Top class food at Hampton Manor, West Midlands; 9 great hotels with Michelin-starred restaurants
If you liked this review of The Angel Inn, then why not Pin It?