St James's Hotel in London is a true five-star luxury hotel but thankfully it has none of the formal starchiness you might expect from one of a five-star hotel in central London.
A stay at St James's hotel London
The staff are so cheerful and relaxed that I found myself chatting away to bartenders, doormen and managers during my stay, which made the hotel feel more like a very friendly club. There's no disguising that St James's is a luxury hotel in one of the most expensive areas in London. But if you want to stay in a luxury five-star hotel in the heart of London, one of the closest hotels to Buckingham Palace, then you do have to pay a premium.
Book St James's hotel on Booking.com
Visit St James's hotel on Tripadvisor
Tucked away at the end of a quiet cul-de-sac off St James's Street, the 60-room hotel has rooms starting at £300 a night going up to several thousand pounds a night. Its location means that it's easy to walk to some of London's main tourist attractions, including Green Park, St James's Park, Piccadilly, Trafalgar Square and of course, Buckingham Palace.
Bedrooms at St James's hotel London
I was staying in one of St James's finest rooms (actually a suite) which cost a mere £1,600 a night. As you'd expect at that piece, it was rather opulent and felt like my very own luxury apartment.
Most people staying in a luxury hotel in central London wouldn't be spending much time in their suite anyway but it certainly contained everything you'd want from a top hotel suite in the capital.
There was a very plush bedroom with a vast double bed and a Smart TV which rose from the end of the bed at a touch of a button. In fact there were four TVs in all, with two in the the lounge and another in the bathroom. There was free wifi throughout the hotel.
Looking for hotels with Michelin star restaurants?
Relaxing in the Lake District with Gilpin Hotel and Lake House
West Sussex garden luxury at Gravetye Manor
Hambleton Hall, Rutland: Michelin star dining luxury
Top class food at Hampton Manor, West Midlands
Lucknam Park: luxury spa hotel near Bath
Cotswolds stay at Manor House, Castle Combe

The perfect gourmet break at Northcote hotel Lancashire
Pennyhill Park: spa hotel fit for England Rugby
St James's Hotel and Club, central London
Whatley Manor, Wiltshire: a Cotswolds gem
Ynyshir restaurant and rooms, Wales
And Dinner by Heston Blumenthal, Knightsbridge
The lounge, with views across London to Big Ben and beyond, was even more ornate than the bedroom, with a three-piece sofa, coffee table, separate dining area with a dining table, and cushion, plants. framed photographs and art work everywhere.
The bath in the bathrom was massive and filled up within seconds, and there was no shortage of plug points, fluffy towels, magazines and all the essentials of hotel life.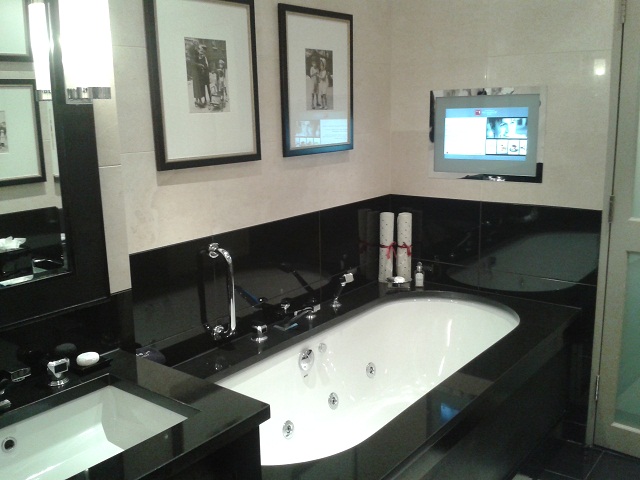 It was almost a pity to have to leave such a plush set of rooms, but as we were going downstairs to St James's very own Michelin-starred restaurant it seemed like we ran no risk of leaving St James's luxury bubble.
Dinner at Seven Park Place
While I might not typically spend thousands of pounds for a luxury suite such as the one we were staying in for the night, the tasting menu (now called the Gourmand Menu) at the Michelin-starred restaurant Seven Park Place was excellent value (£105 for seven courses, with a wine flight at £75 or £150 – check website for latest prices) and made for a really memorable evening.
The restaurant itself is tiny, just a handful of tables (26 covers) tucked around the back of the hotel bar – 'We like to say 'intimate, rather than small' hinted the manager – and decked out with striking black-and-white wallpaper. Seven Park Place was awarded its Michelin star just a year after opening in 2009 and chef William Drabble's style of French cuisine meets British produce means it has held onto its star ever since.
My friend Lisa and I had been worried that we wouldn't be hungry enough for a seven-course menu having been unable to resist the toffee popcorn that came with our pre-drink cocktails.
However each course, while delicious, was so perfectly-sized that we were able to work our way through the whole lot without feeling we would have to be carried out of the restaurant afterwards. Each dish came with a different wine, served with great panache which made for a very agreeable evening.
We started off with scallops with samphire and lemon – the scallops were done ceviche-style, raw and marinated, rather than the usual pan-fried approach, which made them fresh and zingy, and then had lobster tail, followed by ravioli of rabbit with langoustines and girolles.
Each dish was small but exquisite, while the wine was as good as the food – my favourite was a stunning New Zealand sauvignon blanc which was served with the lobster tail – and there was soon quite a number of wine glasses on the table as I wanted to savour and return to each one throughout the meal.
The best souffle in London
The crowning glory of the evening was the dessert, a bubble-light passion fruit souffle with dark chocolate sauce which, proclaimed Lisa, was 'the best dessert I have ever tasted,'. She sang its praises to the manager for about ten minutes while I ordered another glass of the delicious Graham's fine white port to take with me up to my room as a nightcap.
Breakfast at St James's hotel London
After an excellent breakfast of haddock and poached eggs, I had a tour of several other rooms, some of which had their own roof terraces which was a real treat in London, and one of those rooms is less than a thousand pounds a night. A bargain!
But for special occasions, the tasting menu at Seven Park Place was certainly something worth forking out for.
Hotel information and to book St James's hotel and club
St James's Hotel and Club,
7-8 Park Place, St. James's, London SW1A 1LS
Book St James's hotel on Booking.com
Visit St James's hotel on Tripadvisor
St James's Hotel and Club is a member of the Small Luxury Hotels of the World group
OUR MENU GOURMAND
Carpaccio of hand dived scallops with samphire and lemon
Poached native lobster tail with carrot and ginger
Ravioli of braised rabbit with langoustines, rosemary, leeks and girolles
Griddled fillet of seabass with braised fennel,haricot coco and sauce vierge
Roast breast of duck with a seared foie gras and summer vegetables confit in Muscat
Selection of British cheeses by Paxton & Whitfield (£13 supplement)
Passion fruit soufflé, dark chocolate sauce
Check out these other reviews of central London hotels: A Sherlock-worthy stay at Holmes hotel on Baker Street; A penthouse stay at nhow hotel, east London; Mayfair Townhouse off London's Piccadilly; A luxurious five-stay at at The Stafford, Mayfair; Disco lights and a budget stay at Point A, Kings Cross; A stay in vibrant Whitechapel at Hyatt Place London City East