Turning up to lunch at Dinner restaurant in Knightsbridge – the restaurant from top chef Heston Blumenthal – with a copy of the menu from The Fat Duck at Bray (also by Heston Blumenthal, where my dining companion Simon had eaten just the week before) is some serious fanboy behaviour. It is also guaranteed to provoke comparison between the two, which could have been an unfair contest.
Eating at Dinner by Heston Blumenthal
Now I haven't yet been to The Fat Duck, but judging by Simon's description and Exhibit A – said menu – it sounded like a magical journey into another world, where Alice in Wonderland meets your very own childhood memories and you lose touch with reality for the day. Whereas Dinner, after all, is just a restaurant, albeit by reputation one of the best restaurants in Knightsbridge.
[Note: this review of Dinner restaurant in Knightsbridge was published a few years ago and so some of the details might need updating]
Dinner restaurant menu
Thankfully, Heston is more than capable of standing up to the competition, even when it is himself. Thus while Dinner, Heston's restaurant at the Mandarin Oriental hotel in London's Knightsbridge, could have looked terribly prosaic for having a menu with – yawn – starters, mains and desserts listed on it (while The Fat Duck had a map, and a reverse timeline, and illustrations, and needed a magnifying glass in parts) the dishes listed on it are so far from ordinary that you can forget about the other place down the M4 altogether.
Looking for hotels with Michelin star restaurants?
Relaxing in the Lake District with Gilpin Hotel and Lake House
West Sussex garden luxury at Gravetye Manor
Hambleton Hall, Rutland: Michelin star dining luxury
Top class food at Hampton Manor, West Midlands
Lucknam Park: luxury spa hotel near Bath
Cotswolds stay at Manor House, Castle Combe

The perfect gourmet break at Northcote hotel Lancashire
Pennyhill Park: spa hotel fit for England Rugby
St James's Hotel and Club, central London
Whatley Manor, Wiltshire: a Cotswolds gem
Ynyshir restaurant and rooms, Wales
For a start, I'd never seen menu items listed with their date of origin on, and I've certainly never knowingly eaten something from 1660 or 1390 (or thereabouts) whereas the menu at Dinner restaurant was full of dates. Then there were the dishes themselves: what, I wondered, was Salamagundy? Or Frumenty?  Had I read any reviews of Dinner before my own lunch there, then I would have known all about Meat Fruit, the restaurant's signature dish, but I hadn't and so I didn't.
The restaurant
We dived in regardless. Thankfully the restaurant itself – light and airy with massive windows onto Hyde Park – was a cheerful and relaxed place rather than the more formal establishment I'd been expecting (people were wearing jeans and t-shirts) so you felt you could ask daft questions of a passing waiter without feeling intimidated.
Meat Fruit and Salamagundy
Passing up the chance of eating Savory Porridge or Rice & Flesh (saffron, calf tail and red wine), we went for the Salamagundy. This was described as chicken oysters, salsify, marrowbone and horseradish cream and didn't do much for me, tastewise. However the Meat Fruit was exactly what I'd hoped for – by which I mean I had no idea what it was, but with Heston you hope to be surprised and amazed and we were, as a large orange mandarin fruit arrived and turned out to be made of perfectly smooth, rich chicken liver parfait.
Main course – with 'umbles
Thus encouraged, we charged on to the mains: powdered duck breast, with smoked confit fennel, smoked beetroot and 'umbles (from c1670, the menu informed us – our waitress told us they're like sweetbreads) and the roast halibut, with mussel and seaweed ketchup.
The powdered duck was delicious and the roast halibut… well, it was also extremely good as you'd expect, but memorable? Possibly not. It felt a rather boring choice but it felt even more boring to go for the other options, such as Hereford Ribeye or Fillet of Aberdeen Angus: while I'm sure they were done to perfection, if you're dining at a Heston restaurant you don't really want something you can get elsewhere. I wanted a Meat Fruit equivalent for every course, and steak or Braised Celery just wasn't going to cut it.
Memorable desserts
If you wanted memorable, then thankfully the desserts were up to the challenge. Chocolate bar with passion fruit jam and sambocade goats milk cheesecake from the 14th century all sounded great fun, but it had to be the Tipsy Cake, with its spit roast pineapple (seen rotating in the open kitchen). It was as tasty and bonkers as you could wish for.
Then, in a classic piece of Heston theatre which is like a band playing its best-selling single for the umpteenth time but no less fun for that, the ice-cream trolley arrived, and before you could say 'liquid nitrogen' there were billows of dry ice smoke, some vigorous cranking and hey presto – some instant ice-cream, served with your choice of topping (we went for strawberries and popping candy).
No-one would claim that Heston was a budget choice, but even so, with just two glasses of wine each our lunch came to an hefty £235 with service (there is a three-course set lunch menu for £40 each which sounds better value but has fewer options ).
To take our minds off that, we had a little look around the restaurant instead, taking in the chefs table and its impressive frieze depicting the historical backdrop to the dishes – both Elizabeth I and Heston made an appearance – and then it was back to the office. Next stop, Bray.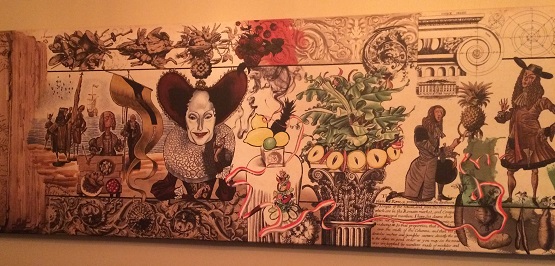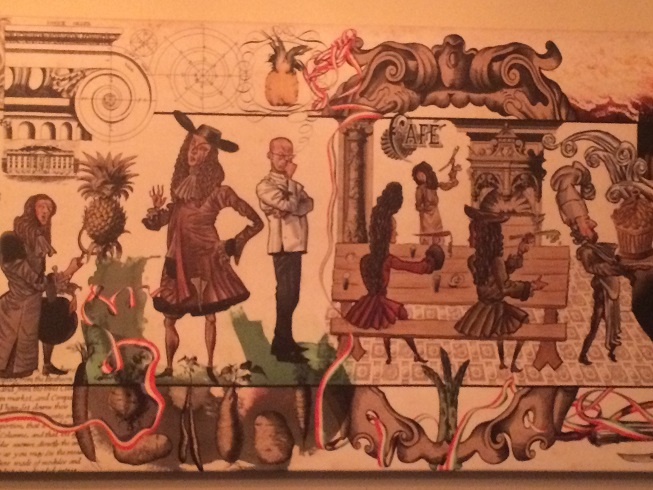 Finding and booking Dinner by Heston Blumenthal
Dinner by Heston Blumenthal
Mandarin Oriental Hyde Park
66 Knightsbridge, London SW1X 7LA
+44(0)20 7201 3833
Open 12pm-2.30pm and 6.30pm – 10.30pm 
If you like reviews of top hotels and restaurants in London then you'll love reading: A relaxing luxury spa break at the Corinthia hotel; Noble Rot: a memorable addition to London's wine and food scene; Michelin-starred luxury at St James's hotel and club; A luxurious stay at the five-star Stafford Hotel;