It's been receiving guests for more than 60 years but Park House hotel is still making the transition from well-kept local secret to firm fixture on the British country house hotel scene.
A stay at Park House hotel
With its spa PH2O being shortlisted for the 'Best Boutique Spa' category in the prestigious Good Spa Guide awards, Park House hotel is making a name for itself and, judging by my stay there, seems more than up to the task.
Getting to Park House hotel and spa
Hidden deep in the West Sussex countryside – if you drive up from nearby Goodwood then the journey takes in single-track roads with high hedges and invariably a tractor coming the other way, the easier route is down from Midhurst – Park Hotel hotel isn't vast but manages to pack a lot into the space it has.
Facilities at Park House hotel and spa
The grounds behind the hotel are surrounded by lush green Sussex countryside and offers two lawn tennis courts, a bowling green, a small but perfectly-formed six-hole golf course, two helipads, and a croquet lawn. The spa has both an indoor and an outdoor pool – the weather was warm enough at the beginning of October for me to swim in the outdoor pool – as well as a jacuzzi, a steam room and sauna and a gym and fitness studio.
Book Park House at Booking.com
Visit Park House on Tripadvisor
However this doesn't mean that you have to work yourself into the ground at Park House hotel. Instead of hitting the gym I opted for an extremely relaxing massage following my swim, had a foot spa which was thoughtfully provided in the changing rooms, before floating  back to my room in my fluffy white toweling robe.
Bedrooms at Park House hotel and spa
There are 12 en-suite bedrooms in the main house, six in the separate South Downs Cottage, two in Polo Cottage and one in Bay Tree Cottage; the cottages can all be hired out for exclusive use, such as for families, wedding parties or country sports enthusiasts.
We stayed in South Downs Cottage and our first floor room was immaculate, with a balcony overlooking the kitchen garden and a very smart bathroom with underfloor heating. Again Park House hotel managed to pack a lot into a compact space, with all the essentials of a good hotel room: coffee machine, desk, TV, plug points everywhere and ample storage space.
I was lucky to be able to return to Park House later and stayed in the main house which was really lovely. I was given a beautiful corner room which overlooked the grass tennis court and from my chaise-longue window seat I watched a group play a hectic game while I had a G&T while enjoying the superb views across West Sussex. The decent-sized bathroom was immaculate and there were all the towels and fluffy robes you could wish for, plus a kettle, TV, table and chairs and absolutely no traffic noise whatsoever.
History of Park House hotel and spa
Park House hotel was originally run by owners Ione and Michael O'Brien as a home where friends could stay, and gradually evolved into the country house hotel it is today, run by their grandson Seamus. This gives it a warm and cosy feeling, such as in the lounge where people were having afternoon tea, or meeting for pre-dinner drinks, but means some areas feel a little old-fashioned, such as the conservatory where dozens of photos of celebrities from yesteryear adorn the walls. I'd say Park House hotel fits into the traditional hotel category rather than being a modern boutique hotel but that's its charm; that and the very friendly and efficient staff.
The restaurant at Park House
Dinner looked promising from the very start, with clear and well-thought out menu of classic British dishes. We had the cod with wilted spinach and handpicked crab with avocado cream to start, and then both chose the lamb rump, having it with green beans, olives and saffron potatoes which were supposed to accompany the sea trout dish instead: however the kitchen was happy to accommodate.
The lamb was perfectly cooked and was the largest helping I'd seen for some time: we just about had room to share the pistachio, chocolate and raspberry souffle before ambling across the gravel driveway to our cottage and bed.
Breakfast at Park House
Breakfast was just as efficiently cooked and served as dinner, with a good selection of cooked dishes to enjoy from our table overlooking the gardens. When we left, having enjoyed a lengthy walk around the grounds in the early morning sunshine, Park House hotel was a hive of activity, from people arriving for fitness classes to meetings being held in the lounge over morning coffee. Park House might be hidden deep in the heart of the Sussex countryside but its new sense of energy and purpose is already making waves.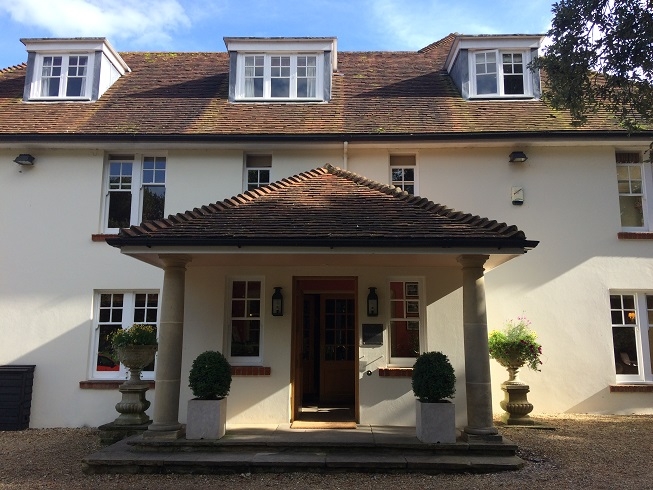 Hotel information and to book Park House hotel and spa
Park House hotel and spa
Bepton, Nr. Midhurst
West Sussex GU29 0JB
United Kingdom
+44 (0)1730 819020
Book Park House at Booking.com
Visit Park House on Tripadvisor
If you like boutique country house hotels then you won't want to miss: Dormy House in the Cotwolds: so snug, you'll never want to leave; Barnsley House hotel and spa: a cosy Cotswolds hideaway; Danesfield House hotel and spa: relaxation by the Thames;