Just one night at the Spread Eagle Hotel Midhurst felt like a really long stay – but in a good way. I arrived there on Sunday afternoon, and by the time I left 24 hours later I'd had a 90 minute massage, swam, sauna'd, steamed and lounged in the spa, had dinner, slept, had breakfast, explored Midhurst, returned for lunch and in between times had squeezed in an awful lot of doing absolutely nothing at all, such as relaxing in comfy sofas reading books. By the time it came for me to leave it seemed as if I'd been there for a week.
I'd heard about the Spread Eagle through its sister hotels, Ockenden Manor and Bailiffscourt – owned, like the Spread Eagle, by Historic Sussex Hotels – both of which I'd reviewed for ALadyofLeisure.com and really liked.
Guests expecting something similar to either Ockenden Manor or Bailiffscourt will find something different here as the Spread Eagle is very much along the lines of a comfy old coaching inn rather than a smart spa hotel like Ockenden Manor, or set in acres of tranquil countryside like Bailiffscourt. Dining at the Spread Eagle is less formal than the others and the spa, while modern and pleasant, is smaller than either of its sister hotels.
However what you get at the Spread Eagle is a very relaxed, old world charm: the bar with its roaring fires is the perfect place to while away a rainy day or a wintery evening.
There are two more hotels in the Historic Sussex Hotels group – check them out below!
aladyofleisure.com/a-luxurious-country-escape-at-bailiffscourt-hotel-and-spa-west-sussex
aladyofleisure.com/ockenden-manor-hotel-and-spa
Our bedroom right at the top of the building had impeccable historical connections, as Queen Elizabeth I herself is thought to have stayed there and the four poster bed, wonky floorboards and very own wig closet, really brought home we were staying in a 15th century inn (thankfully with a very smart 21st century bathroom).
While I was tempted to rush out and buy a wig purely so I could make the correct use of our wig closet (although it was handy as a make-up closet) I had to dash to the spa for my booked treatment, a 90-minutes Mediterranean float massage. Coming straight after an hour battling London traffic, it was one of the best massages I'd ever had and was so relaxing that I suspect I nodded off halfway through and started snoring (my excellent masseuse Andrea was far too polite to confirm this).
After coming back to life in the spa, which was very well equipped with towels, toiletries, lockers and a 16-metre pool, it was time for dinner.
The evening meal was probably the least successful part of the stay, mainly due to slow service – it took 20 minutes from sitting down to being given water, bread or the wine list, and then only after asking three times – a dark and drafty dining room (a distant door kept being left open) and rather hit-and-miss food. However I'm told that it's now much improved since my stay and I should really go back and give it another try.
The starters of a casserole pot of mussels, prawns, squid and scallops with saffron and provencal vegetables baked under puff pastry were as delicious as we had hoped. However while the organic rib-eye steak was declared 'excellent', my grilled fillet of brill with crispy potato and smoked salmon cream was a disappointment.
Thankfully there was enough steak to go round, and the meal ended on a high note with the desserts: red fruit sorbet with crisp tuille and dark chocolate mousse with Grand Marnier parfait. They looked great, tasted great and showed a sense of fun and occasion which would have been nice throughout the meal.
Breakfast the next morning was a vast improvement: efficiently run by the lady on duty, there was a good choice of cold dishes (and even a bottle of vodka next to the tomato juice for those wishing to spice it up a bit) and the cooked breakfasts were quick and hot.
The central location of the hotel – it is right in in the middle of Midhurst, which has many beautiful old buildings aside from the Spread Eagle – made it a perfect base for a morning's explore round town, and as we headed out groups of friends were already gathering in the bar for mid-morning coffees and meetings which gave it a very pleasant and bustly air.
We thawed out back at the bar at lunchtime over some lovely hot chocolate and Scrabble before finally and reluctantly bidding farewell to the Spread Hotel and its very friendly staff, one of whom took us on an impromptu tour of the rest of the hotel. The Spread Eagle isn't as grand as the other hotels in its family but it is definitely still a treat.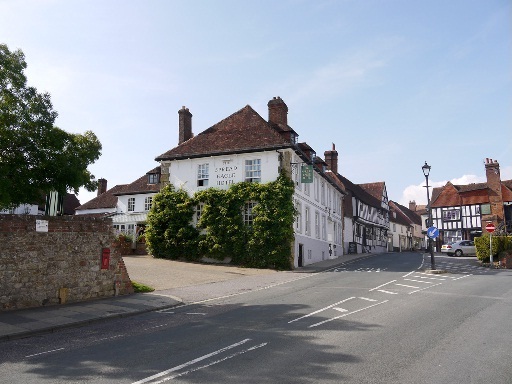 Spread Eagle Hotel, South Street, Midhurst, West Sussex GU29 9NH
01730 816 911
Check availability and book the Spread Eagle hotel by clicking here
Compare the latest prices and read more reviews of the Spread Eagle on Tripadvisor by clicking here
The Spread Eagle is part of the
Historic Sussex Hotels
collections which also includes the excellent Bailiffscourt and Ockenden Manor hotels, both also reviewed on ALadyofLeisure.com (links below)
https://www.aladyofleisure.com/a-luxurious-country-escape-at-bailiffscourt-hotel-and-spa-west-sussex/
Time for some serious pampering at Ockenden Manor hotel and spa