Within two minutes of arriving at Barnsley House hotel and spa in the Cotswolds I had completely fallen in love with it – and that's before I'd even tried out the private cinema, outdoor hot tub or delicious food. All these things were yet to come, but the welcome itself was so cheerful and friendly that I already knew I was in for a treat.
I arrived in the middle of what could be called controlled chaos: it was a wintery Saturday afternoon and a recent storm had cut all power to the local village. However Barnsley House hotel has its own generator and so alone still had heat, power, light and all the essentials of life.
Arriving at Barnsley House hotel and spa
Staff were welcoming waifs and strays from nearby houses, sending out food parcels to guests on site, welcoming in cold and hungry visitors from the power-free Village Pub – also owned by Barnsley House hotel – and had even found a dog basket to house someone's dog temporarily in reception. There were roaring fires, and cosy sofas, and coffee with biscuits: the whole atmosphere was busy but still relaxed and welcoming, and instantly made you feel as if you were in safe hands.
Book Barnsley House on Booking.com
Visit Barnsley House on Tripadvisor 
The bedrooms at luxury Cotswolds hotel Barnsley House
The feeling continued when I finally tore myself away from people-watching downstairs to find our room – number six, at the top of the immaculately-carpeted stairs. It was beautifully designed (and I preferred it to others I saw when given a guided tour later, one of which had a bath at the foot of the bed which isn't really my thing).
There were twin beds at one end of a long room, lovely old-fashioned ceiling beams, a sofa and coffee table, coffee machine and various treats, wonderful views of the Rosemary Verey-designed garden (she was a favourite of Prince Charles) and then a large bathroom with stand-alone bath (with an impressive fountain-style tap) and separate walk-in shower at the far end.
If luxury hotels with spas are your thing, then check out some more of my reviews of great hotels:
aladyofleisure.com/west-sussex-spa-hotel-stay-south-lodge-horsham
aladyofleisure.com/park-house-hotel-west-sussex
aladyofleisure.com/ockenden-manor-hotel-and-spa
The only slightly strange thing was having the wardrobe in the bathroom – but it was all beautifully done, right down to the personalised card which not only welcomed us to Barnsley House but helpfully listed our booked treatments and meals.
The private cinema at Barnsley House
There was no time to spare though – the cinema had been booked for us from 3pm till 6pm. In the room was a list of 500 films to choose from, and it was a very impressive list too, from classics to the latest releases, Oscar-winners, old favourites, comedies…
However after much dithering we plumped for An Affair to Remember which neither of us had seen, and headed off to spend the afternoon with Cary Grant, Deborah Kerr, some freshly-made popcorn courtesy of the friendly staff, and lots of gins and tonics (brought by us).
Such indulgence! We emerged afterwards feeling incredibly relaxed and as if we'd been at Barnsley House for a week or two (rather than an hour or two).
The restaurant at Barnsley House
The food and atmosphere in the restaurant at Barnsley House that evening were both first-class. I had risotto with Jerusalem artichoke and black truffle to start and then parpadelle pasta with venison which were both delicious and perfect for a winter's evening.
My mother had the potage seasonal soup followed by the chicken breast with wild mushroom and declared herself delighted by both. We shared a perfectly-done creme brulee and a sorbet and then rolled upstairs to bed, very content indeed.
Breakfast at Barnsley House
Breakfast at this Cotswolds gem was relaxed and friendly – the staff are helpful but not intrusive or fussy, the buffet was full of nice touches such as Kilner jars full of homemade jams and honey with little saucers next to them you could fill up and take back to your table, and you could have your porridge with whisky, Drambuie or clotted cream (in case you weren't feeling indulged enough).
Barnsley House hotel spa
The spa is just across the gardens so I headed there after breakfast for a dip in the outdoor hot top, a rose body polish and Swedish massage – again, incredibly indulgent.
It was also the first spa I'd seen which actually had a section on the form you fill in before your treatment which asked what kind of music you wanted (classical, jazz, traditional spa, chill out) and whether or not you wanted your therapist to chat while doing the treatment, which was a very thoughtful touch.
A relaxing spa experience in the Cotswolds
I found my mother reading the papers in the relaxation room looking as if she never wanted to leave, and indeed it was a wrench to check out from somewhere so welcoming and relaxing. Everywhere you look there are little touches which show that someone is really thinking about you, from baskets full of walking guides and information about the gardens, to the rosemary sprig on napkins at dinner and the walking boot-shaped 'do not disturb' signs for your bedroom door.
With just 18 rooms – and this is an adults-only hotel in the Cotswolds – children are welcome at Barnsley House's sister hotel, Calcot Manor – it is one of the nicest places I've stayed in all year and certainly in my opinion one of the best hotels in the Cotswolds.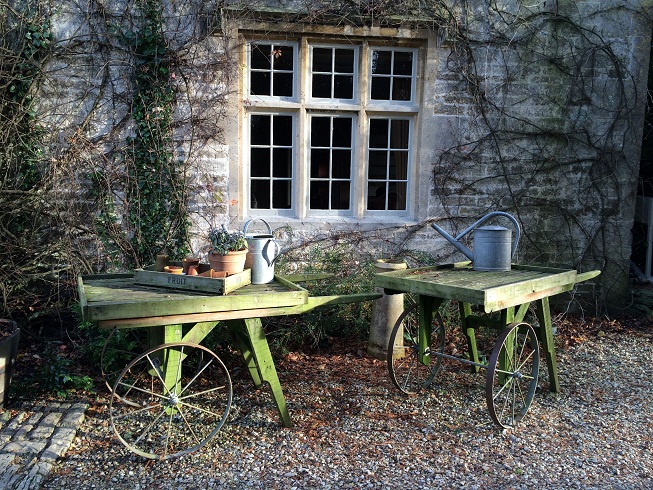 Hotel information and to book Barnsley House
Barnsley House, Barnsley, Cirencester, Gloucestershire GL7 5EE
Phone: 01285 740000
Rooms start from £200 per room per night, including VAT.
Book Barnsley House on Booking.com
Visit Barnsley House on Tripadvisor 
Barnsley House is a member of the Pride of Britain Hotels group, is in the Editors Choice – Spas in the Good Hotel Guide and has been named one of the world's best hotels by CN Traveler.
If you like reviews of luxury hotels in the Cotswolds then you'll love these reviews: Cosy Cotswolds charm at the award-winning Painswick hotel; Quintessential Cotswolds retreat at Lords of the Manor, Upper Slaughter; Dormy House, Broadway – so snug, you'll never want to leave; Calcot Manor – family-friendly fun in the Cotswolds