Planning a significant birthday is always a scary prospect, but a weekend at the five star luxury hotel Bovey Castle in the heart of Dartmoor, meant that I was assured of a stay fit for the occasion.
A birthday weekend at Bovey Castle hotel
Set in 275 acres of rolling countryside, Bovey Castle has 60 bedrooms and 22 luxury self-catering lodges, two restaurants, a spa and an indoor swimming pool as well as outdoor activities including golf, shooting, fishing, falconry and 4×4 off-roading, so it was definitely the place to be if I wanted to experience adventures as well as pure indulgence.
It was the perfect combination: during my birthday stay at Bovey Castle I relaxed in the spa, enjoyed a night in one of the hotel's huge luxury lodges in the grounds as well as a bedroom in the main hotel itself, played croquet, drank cocktails, had two nights of fine dining, went clay pigeon shooting, spent an exhilarating afternoon off-roading up and down some seriously steep inclines and even managed to fit in a walk to the local pub.
Book Bovey Castle on Booking.com
Visit Bovey Castle on Tripadvisor
Arriving at Bovey Castle in south Devon
I'd wanted to celebrate the big day itself with friends and family, so it was the day after that I arrived at Bovey Castle with my partner, Stephen. The previous time I'd stayed at Bovey Castle I'd stupidly relied on the sat-nav which takes you down the tiniest single-track country lanes, so paying attention to the hotel's instructions to go via the A30 and the village of Moretonhampstead was far more sensible. It wasn't long before we were turning into Bovey Castle's sweeping drive and being greeted by Bovey Castle's friendly team of valets.
Bovey Castle history
Bovey Castle is an imposing building, towering over the Dartmoor countryside, but its history is not quite what you'd expect. In 1880, William Henry Smith – the original WHSmith and founder of the retail chain which bears his name – bought 5,000 acres of land from the Earl of Devon for £103,000. His son, Frederick, built the Manor House in a lavish, neo-Elizabethan style as one of the family's many country retreats. During the First World War, the house was used as a convalescent home for officers, and again as a military hospital in World War II.
When William Smith, enobled as Lord Hambledon, died in 1928, the estate was hit with a death duty of £1 million, and immediately put up for sale, with the railway operator Great Western Railway purchasing the house for just £15,000. The hotel and golf course were opened in 1930 and over the decades both were gradually expanded and more facilities added, such as the spa. The Manor House became Bovey Castle in 2003 and is now owned by The Eden Hotel Collection, which embarked on a multi-million pound refurbishment of the bedrooms and restaurants.
Exploring Bovey Castle
Bovey Castle has some seriously imposing rooms and the feel of a building much older than its 100 or so years. There's a lot of wood-panelling, high ceilings and stone floors, but rather than being cold and uninviting, Bovey Castle has the air of a traditional country house hotel where you can instantly feel at home and find yourself a corner anywhere for a drink, to read a book, play board games or just relax in the quiet ambience.
At either end of the hotel are the two restaurants: the informal Smith's Brasserie, and the Great Western Grill, which is currently only open for breakfast. Instead there's the small and refined Tasting Room, of which more later. In between the two restaurants along Bovey Castle's vast corridors are huge rooms which have their own unique style: there's the Cathedral Room, The Adam Room, The Library and The Lounge Bar, many of which are available for wedding hire and are all easily reached from Bovey Castle's huge terrace which overlooks the grounds.
Downstairs is the modern spa, which has a gym, indoor swimming pool, hydrotherapy pool, steam room, sauna and changing rooms, and there's also a golf shop for the many keen golfers who visit Bovey Castle for its 18-hole golf course.
Bedrooms at Bovey Castle
There are 60 bedrooms in the main hotel building and the neighbouring Mews building, which range from single and double to the large state rooms. Valley rooms have great views of the valley underneath Bovey Castle, while Castle rooms face the courtyard or woodland behind the hotel – I'd definitely recommend a room with a valley view if you can, as it's just so spectacular and unique to Bovey Castle. Whichever room you chose, there are all to to Bovey Castle's five-star standard, with luxury bedding and furnishings, toiletries, fluffy robes and towels, Smart TV, wifi and sense of being thoroughly pampered during your stay.
Staying at Bovey Castle's luxury self-catering lodges
There are 22 three-storey self-catering lodges in the grounds at Bovey Castle and it's a sign of how vast the grounds are that they don't impact the view from the castle at all, but are tucked away in clusters of trees at a corner of the estate near the tennis courts and croquet lawn. I had imaged a traditional hunting lodge, all heavy curtains, dark wood and stuffed animal heads, but these lodges are actually very modern in design, with lots of clean lines, bright wood, light, airy rooms and high ceilings.
Our lodge, Claret Tor, was on three floors, and you entered on the middle floor to a welcoming charcoal-effect fire, an open-plan kitchen and a large lounge with impressively-high ceiling beams.
The kitchen was stocked with everything you could need for a totally self-sufficient stay; there was a dishwasher, large fridge and freezer, microwave, oven, toaster and lots of plates, bowls, cutlery and essentials such as corkscrews. There was a round, glass dining table and chairs, and a door to our own private balcony overlooking part of the estate. It was all incredibly quiet and peaceful.
The large lounge was off the kitchen and had a coffee table, two sofas and an armchair and the fire made for a lovely relaxing feel to the whole of the middle floor. On further exploration, we found two double bedrooms downstairs, each ensuite, with a utility room, washing machine, cloakroom and lots of cupboard for storage.
On the top floor was the master bedroom, a corner room flooded with light and great views of the Bovey Castle estate, with a King-sized bed and large bathroom with bath and lots of fluffy towels and posh ESPA toiletries.
There was wifi throughout the lodge – some rooms had better reception than others – and while it was lovely to just have all this to ourselves, the lodge was an ideal space for a family holiday, even a multi-generational staycation, with enough space for everyone. The joy of the lodges is that they're your complete private domain for your stay, but you can easily walk the few minutes to the hotel (or order a golf buggy) and enjoy the spa, restaurants and activities offered to all guests.
Dining in the self-catering lodges at Bovey Castle
Bovey Castle had kindly provided us with a hamper of food to great us on arrival, packed with delights such as fudge, fruit juice, chocolate and cookies as well as freshly-made scones with jam and clotted cream – we put the jam on first in true Devon style – but we were careful not to get too carried away as that evening we had a rather special treat. While guests are welcome to dine in Bovey Castle's two restaurants, or cook for themselves of course, there are several in-room dining options to choose from so that someone else does all the hard work. We had opted for the 'Indulgent Dining' menu, two courses for £45 per person, and so right on the alloted hour, there was a knock on the door and our feast was delivered.
On the menu was Fillet of Dartmoor Beef Wellington, with truffle sauce, fondant potatoes and glazed fine beans, followed by dark chocolate brownie and dulce leche mousse with praline Chantilly, caramel and pecans and it's no exaggeration to say that both were utterly delicious. The Beef Wellington in particular was among the best Beef Wellington I've ever tasted: perfectly cooked, juicy and slightly pink and full of flavour, and the side dish of beans and mushrooms in a cheese sauce was hearty and warming, perfect for an October evening.
It was supposed to be for two but could have served four easily, and it was only with some hefty willpower we were able to leave room for the rich, truly indulgent dessert, topped with gold leaf and chucks of brownie.
A day of activities at Bovey Castle hotel – shooting and driving
After a lovely night's sleep in the vast comfortable bed, we refuelled on bacon sandwiches (the bacon bought from nearby Morehampton) and made a very small dent in the vast amount of breakfast supplied by the hotel – there were countless tubs of yogurt, granola, smoothies and several loaves of bread – and headed out for our first activity of the day, our clay pigeon lesson.
Being able to wander from your luxury lodge to a shooting range in just a few minutes was a great start to Saturday morning and our instructor Hannah was excellent; knowledgeable and fun, and had us shooting clays out of the sky as they came out at us from all directions. We were shooting Baikal guns fitted with silencers, which meant there was no recoil and no need for ear defenders, which was a real treat (inspired by our lesson with Hannah, we went clay pigeon shooting again the following week and the difference in sound and impact was considerable).
We'd been given a handy map showing the grounds and so, having explored everything from the stunning opening tee on Bovey Castle's 18-hole Championship golf course to the croquet lawn – we had a quick game, watched by some cheerful ducks – we found the footpath through the woods to the lovely local pub, the Ring of Bells Inn in North Bovey, and had lunch of soup and steak sandwich in the sunshine.
We headed back just in time to meet up again with Hannah for our afternoon activity: the off-road 4×4 Landrover experience. This turned out to be even more fun than I'd thought, as we took it in turns to drive a Landrover 110 on the tricky and sometimes hair-raising course, with insane inclines, steep drops, huge puddles and all sorts of obstacles to negotiate. Hannah didn't mind us peppering her with questions, or taking a million photos, and she was so informative and reassuring that I was soon driving up vertiginous and rocky tracks like a professional (well, so I like to think…).
After the action-packed 90 minutes we needed to calm our nerves with a drink or two so we headed – back in our own car – to the nearby town of Moretonhampsted (just 'Moreton' to the locals) and discovered a lovely traditional pub called The Union Inn which served locally-brewed beer and cider. But there wasn't much time to linger – we were moving rooms to stay in the main hotel for the night, and had a rather fancy dinner planned.
Tasting Menu at Bovey Castle
We were trying out the Tasting Menu at Bovey Castle on our second night at the hotel, and started off the evening with cocktails in the Lounge Bar. There were several other people dining in the Tasting Room that night, so one by one each couple was invited to go through to the small and exclusive dining room and enjoy an evening in the hands – culinarily speaking – of Bovey Castle's chef. While enjoying our cocktails, we had been given the Tasting Menu itself which was very smartly presented, and made for intriguing reading, with delights such as roasted quail, Brixham crab cannelloni and fillet of Devonshire beef.
Having enjoyed such an excellent meal the night before with the perfect Beef Wellington, expectations were high, and while some courses were more successful than others, it was a memorable experience with delicious wine, all presented with passion and enthusiasm by our sommelier.
Breakfast at Bovey Castle
While the impressive Great Western dining room isn't currently serving dinner, breakfast is served here and there was a comfortingly large range of options, all brought to you table rather than buffet service. We started off with coffee, juice and yogurt before having a full English and smoked haddock, and took our coffees out onto the balcony afterwards to watch Bovey Castle's resident bird expert show off a terrifying Bald Eagle called Rosie to a group of fascinated children and adults.
There was just enough time to relax in the spa and soak up that Bovey Castle view just one more time before heading home, via a rather sweet classic car museum in Moretonhampstead. It was a weekend which seem to have everything: excellent food, lovely rooms, a great location, country walks, croquet, pub lunch, clay pigeon shooting, 4×4 off-roading, birds of prey, a spa visit and even some time for sleeping – a memorable birthday weekend indeed.
Hotel information and book Bovey Castle hotel
Bovey Castle, North Bovey, Dartmoor National Park, Devon TQ13 8RE. 01647 445 007
Email: [email protected] 
Getting to Bovey Castle hotel: Ignore sat nav directions as they are likely to take you down narrow, single-track roads. Aim instead of Moretonhampstead which is easily reached off the A30 or A38.
Bovey Castle bedrooms are from £239 per room, per night, room only.
Bovey Castle lodges are from £649 per lodge, per night on a self-catering basis, up to eight people, max 6 adults.
Brand new blog posts from Bovey Castle:
Your itinerary for the perfect summer family holiday in Devon
Why you should choose Devon for your summer holiday
4 of the best beaches in Devon
Book Bovey Castle on Booking.com
Visit Bovey Castle on Tripadvisor
Bovey Castle is part of the excellent Eden Hotels Collection. Other hotels in the collection reviewed by ALadyofLeisure.com are: Mallory Court, a relaxing stay near Warwick Castle; Brockencote Hall, a charming stay in Worcestershire; Greenway hotel in Cheltenham, luxury with the fizz factor
Like this review of Bovey Castle hotel? Then Pin It!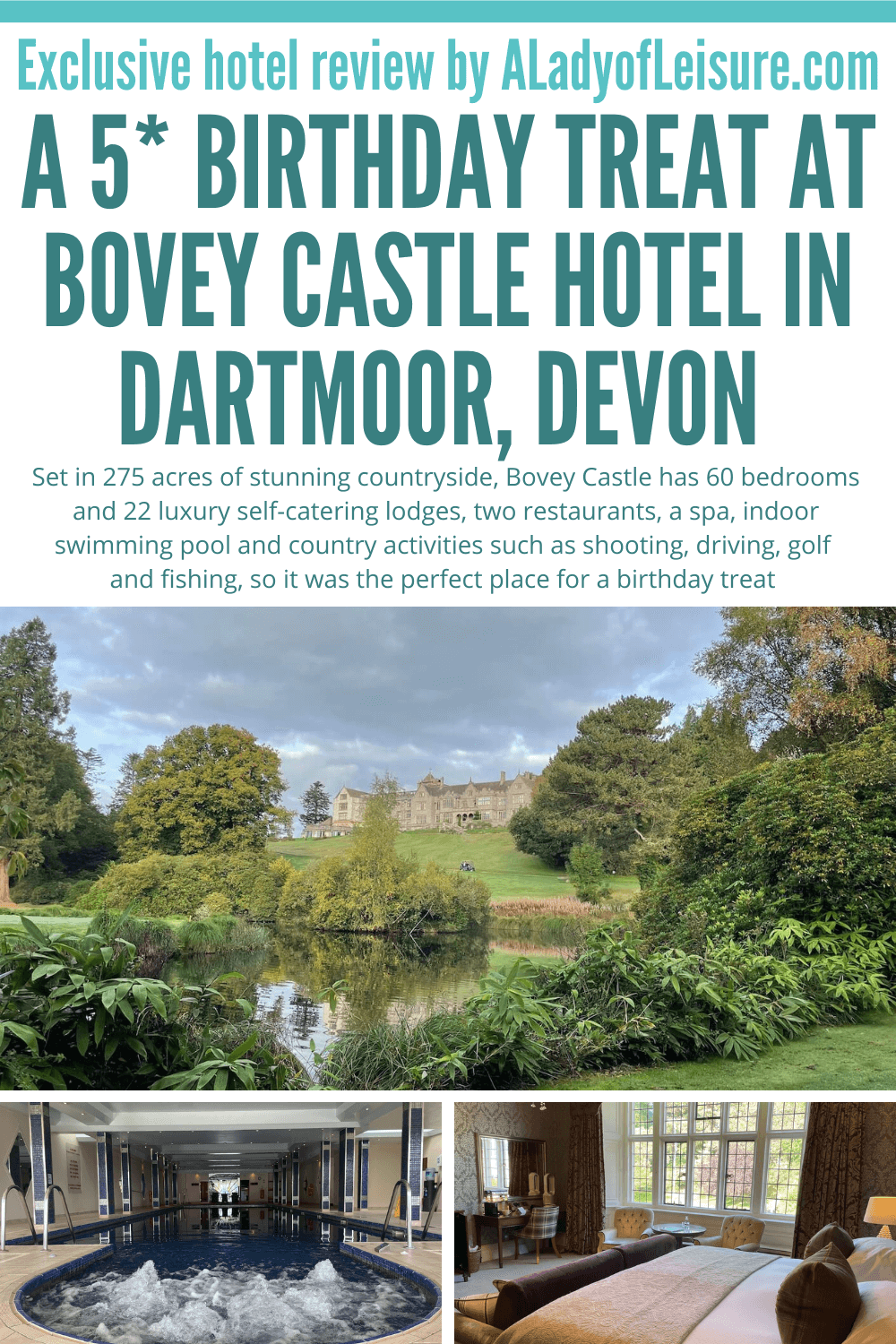 If you like other hotels with great golf courses, then check out this top golf hotels: Something for everyone at Foxhills hotel Surrey; A picture-perfect Cotswolds stay at Manor House, Castle Combe; A room with a seas view at Thurlestone hotel, Devon; Park House hotel, a West Sussex gem