If you're looking for the perfect country house hotel then Hambleton Hall Rutland must be high on the list. Dating back to 1881, this classic luxury hotel in Britain's smallest county has just 15 bedrooms and two suites, each one individually styled in a classic, traditional style with understated luxury, meaning you feel relaxed and looked-after the moment you arrive.
The location is perfect too, as the hotel is set in 17 acres and has stunning views over Rutland Water which is just a minute's walk from the hotel's ornate gardens – its walking trails around the waters' edge are perfect for a morning stroll in the sunshine.
The restaurant at Hambleton Hall has held a Michelin star since 1982 – the longest continually-held star in the UK – making it an ideal fine-dining destination for gourmet food lovers, and its high staff-to-guest ratio (there are 55 staff for 17 bedrooms) means that service is second to none.
I have been fortunate to visit Hambleton Hall three times now, and each time have been impressed by its faultless hospitality. This includes not only immaculate rooms, great cocktails and excellent food, but the attention to detail which means that you are made to feel like a special house guest rather than a paying customer, and service which is efficient but not over-bearing.
Visiting Hambleton Hall
Hambleton Hall in Rutland is just a few miles from the A1 between Leicester and Peterborough, but feels like a world away from either as you venture out onto the peninsular jutting out into Rutland Water and the tiny village of Hambleton, with its traditional church and cluster of houses – there's barely any traffic here.
Book Hambleton Hall directly (do mention you saw this review!)
Visit Hambleton Hall on Tripadvisor
Turning into the entrance to Hambleton Hall, you'll find plenty of parking right by the hotel, including electric vehicle charging points.
Inside the hotel, the entrance hall with its open fire, sofa and discrete reception desk is a sign that this is a country house first and hotel second – little touches like walking maps and a collection of wellington boots for guests to borrow is a sign that you can make yourself at home. Leading off from the entrance is a well-stocked and cosy bar, also with an open fire, which has an excellent range of cocktails.
A large, light and airy drawing room is at the rear of the hotel, also with an open fire, and various sofas and comfy armchairs. With views across Rutland Water, it's the perfect place for morning coffee, pre- or post-dinner cocktails, and a range of newspapers and magazines means you are encouraged to linger.
You can walk straight out from the lounge through the French doors to the stone terrace at the back of the hotel, and from there through the small but ornate gardens, complete with flower beds, gravel walks and a central fountain.  Continue through and you will find the outdoor swimming pool, open during the summer months, and then a short walk downhill through the field will take you straight out onto Rutland Water.
Exploring Rutland Water
Rutland Water reservoir is a fascinating geographical feature, created by damming the valley in 1975, and it is England's largest reservoir by surface area. Set in 3,100 acres, it has a 23- mile track running around its edge (or just 17 miles if you cut out the Hambleton Peninsula) and is ideal for walking, running, cycling, fishing and birdwatching.
If you prefer to get out onto the water itself, there's lots of watersport activities available, such as sailing and cruising. We went for a lovely long walk around the edge on the morning of our stay at Hambleton Hall – and then after a quick coffee break back at the hotel, promptly went for another, in the counter-clockwise direction – the sight of the sun on the sparkling water was too good to resist, and it's all just a minute's walk from the hotel.
Bedrooms at Hambleton Hall
Each one of the 17 bedrooms has been individually designed in a classic country house style on the traditional side rather than boutique, which is no bad thing. You won't find in-room iPads and incomprehensible lighting controls here (there is free wifi throughout the hotel) but solid, old furniture, bedside tables and lamps, writing desks, armchairs and a range of books and magazines laid out for you.
This doesn't mean to say the rooms are lacking in luxury though: there's a top-of-the range Dyson hairdryer, a range of Penhaligon toiletries in the bathroom and a DAB digital radio by the King-sized bed. The iron, when we asked for one, arrived in record time and was such high quality that my partner immediately ordered one for himself on Amazon. In keeping with the country house theme, there aren't coffee or tea-making facilities as standard in the bedrooms (although you can ask for a set to be brought to your room), but you can easily ring down for a coffee or tea to be sent to your room.
We were staying in the Lake bedroom on the top floor, which meant stunning views across the gardens and Rutland Water from both the bedroom and the bathroom, and it was so quiet and dark in the room at night we both slept like logs. (Last time I stayed in Middleton Room which is on the first floor and again overlooks the gardens and Rutland Water at the back of the hotel).
Lake bedroom is actually a set of rooms, with a hallway, bedroom and large bathroom across the hall from the bedroom, which contained a sizeable, fast-filling bath, two sinks and all the toiletries, fluffy white towels and fluffy white robes you could wish for.
The restaurant at Hambleton Hall
Hambleton Hall's restaurant, with its Michelin star and reputation for classic fine-dining, is a major part of the hotel's appeal. The Dining Room promises 'British food delivered with flair' and while you are not going to get fancy foams and dry ice here, you are almost guaranteed excellent food and wine served in a way which will transform high quality food into something memorable.
The evening's culinary delights started off with a couple of cocktails – a French 75 and a Tarragon and Melissa gin fizz – and some picture-perfect canapés with our delightful hosts, Hambleton Hall's owners Tim and Stefa Hart who bought the hall in 1979, opening it as a hotel a year later.
Conversation ranged from the opening of the new cafe at Hambleton Hall's award-winning bakery, the recent rebranding of the  Pride of Britain Hotels collection to PoBHotels (Hambleton Hall is a long-standing member of both PoBHotels and Relais and Chateaux), the hospitality industry and England's woeful performance at Twickenham that afternoon, and it was with some reluctance that we left the Harts to head into the dining room – but this was certainly the highlight of the stay.
Menu at Hambleton Hall
The menu at Hambleton Hall looks like no other hotel menu, being decorated with line drawings of feathers which give it a slightly whimsical air. There are four options for each course with two specials, and to start I chose the lasagne of wild mushrooms, light chicken mousse, Iberico ham and grappa sauce.
This was a great choice – the Iberico ham came in crispy silvers full of flavour which worked perfectly with the soft, smooth wild mushrooms, pasta and light but tasty mousse. Stephen had the paté of fois gras, rose apple puree and toasted sourdough which was also delicious, with the little beads of colour and flavour providing the perfect contrast to the dense, richness of the pate.
Dominique Baduel, the expert sommelier who plays no small part in the smooth running of the dining room, has been at Hambleton Hall for several decades and knows his stuff, so when he suggested supplying us with matching wines throughout our meal, we were more than happy to be in his hands. There was no stand-out, knock-out wine to remember forever but each glass was delicious and complimented the dishes perfectly.
For the main course I had the special of Supreme of Poulet de Bresse, morels and pomme puree which was tasty, soft and perfect, if possibility not the most memorable of dishes to go for in these exalted surroundings, while Stephen had the poached fillet of halibut, potato and truffle tortellino, baby leek and truffle velouté, which was pronounced 'outstanding' – high praise indeed.
The desserts, like the canapés, were a feast for the eyes as well as the tastebuds: we shared a chocolate orange delice which arrived looking just like an orange, Heston-style, and a roast caramelised pineapple, pecan, rum and coconut sorbet. Both were delicious.
No meal at Hambleton Hall would be complete without a cheese course, in my opinion – when I first visited Hambleton Hall I discovered the wonderful Delice de Bourgogne cheese for the first time – and this return visit did not disappoint.
All the cheeses on the well-stocked cheese trolley were supremely memorable, from the Compton Bassett Stilton to the creamy Cashall Blue Tipperary, Rachel goats cheese from Somerset, Mrs Kirkham's from Lancashire (which I had recently visited while staying at fellow PoB Hotel The Northcote) and the perennial favourite, Baron Bigod, and we took our plates through to enjoy them at length by the fire, with Dominique providing some excellent port.
We could not have been looked after better – some petit fours even found their way to our fireside spot – and we rolled up to bed knowing that we would not forget this meal in a hurry.
Bed and breakfast at Hambleton Hall
Sleeping at Hambleton Hall is like being in a different world – it is so quiet, and so dark, that we both slept like logs in spite of the vast amount of delicious food we'd enjoyed the previous night. Waking up to the stunning view of Rutland Water in the sunshine was a great start to the day, and Stephen headed downstairs to enjoy coffee and the morning papers in the lounge like a true lord of the manor, while I soaked up the views and the bubbles from the large bath tub in our bathroom.
Breakfast was wonderfully traditional, with hot, strong coffees and freshly-squeezed juice brought immediately, plus a plate of fruit salad and excellent natural yoghurt and a basket of warm bread, while we perused the menu. As well as a full English breakfast, there were grilled kippers, scrambled eggs and smoked salmon, smoked haddock and poached egg, porridge, Eggs Benedict and even a glass of Champagne or Bucks Fizz as a suggestion.
We kept it fairly simple after last night's blowout, enjoying smoked salmon and scrambled egg (plus a cheeky slice of bacon) and poached eggs, sausage and black pudding (which was delicious). Then it was time for a wonderful morning walk through Hambleton Hall's gardens to Rutland Water and a couple of hours spent happily soaking up the views, sunshine and fresh air.
It was a wrench to tear ourselves away from what had been an excellent stay, full of great food and excellent hospitality. Hambleton Hall probably hasn't changed a great deal since Tim and Stefa opened it as a hotel several decades ago, but as the saying almost goes, if it's not broke, then why change it?
Hotel information and to book Hambleton Hall
Hambleton Hall, Oakham, Rutland LE15 8TH, United Kingdom
01572 756 991
[email protected]
Hambleton Hall is a member of PoBHotels, a collection of the best hotels in the UK, and Relais & Chateaux
Book Hambleton Hall directly (do mention you saw this review!)
Visit Hambleton Hall on Tripadvisor
Places we visited during our stay at Hambleton Hall
While the hotel was the main draw, and the delights of its restaurant, rooms and Rutland Water, it was great to explore the nearby town of Oakham. Here we found many delights including:
Once a derelict Victorian grain store next to Oakham railway station, the Grainstore Brewery is a must-visit for any beer fans. Opened in 1995 by a former head brewer at Ruddles Brewery, this brewhouse can brew 60 barrels per week and we loved sitting at the bar sampling a fair amount of the different beers brewed here.
Just a few miles up the road from Hambleton Hall itself is its cafe and bakery, which is well worth a visit. As well as its delicious breads and pastries, visitors can enjoy freshly made soup, served with its famous sourdough, salads, filled focaccias and some delicious cakes and local treat including 'Rutland Pippen', a homemade pastry tart filled with ham, sausage and apple – Rutland's answer to the Cornish pasty.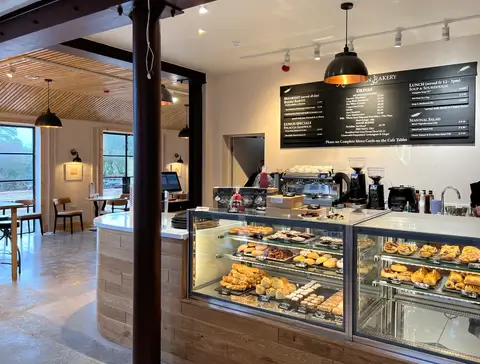 Shopping in Oakham
The small but bustling town of Oakham has a great selection of independent shops, including the excellent Warner's Traditional Sweet Shop on Market Street, and Rocka-buy Records on Oakham High Street.
This Victorian grade two-listed building is at the centre of Oakham and hosts regular events such as antique and collectables fairs, fair-trade events, community events and art exhibitions. When we visited we were lucky to meet ceramicist Connie Taylor who came from Germany to make Oakham her home and watched her work on her designs with her distinctive and colourful style.
If you like reviews of hotels with Michelin-starred restaurants, then check out 9 great hotels with Michelin-starred restaurants which I've also personally reviewed – Hambleton Hall is featured!
Hambleton Hall is a member of the prestigious PoBHotels group (formerly Pride of Britain Hotels). Others hotels in that group reviewed on ALadyofLeisure.com include: Feversham Arms, North Yorkshire; Dormy House, Cotswolds; Bovey Castle, Devon; Park House hotel, West Sussex; Hartwell House, Buckinghamshire, Northcote in Lancashire and many others (click on the hotel name for the individual reviews or search ALadyofLeisure.com for Pride of Britain Hotels to find them all)
Liked this review of Hambleton Hall Rutland? Then why not Pin It?