It might be just a few miles from the M42 and Birmingham Airport but Hampton Manor hotel in the Midlands feels a hundred years from the hustle and bustle of modern life.
Arriving at Hampton Manor
Within a couple of hours of arriving at the 19th century gothic building – built by Sir Frederick Peel, son of Prime Minster and police force founder Robert Peel – which housed the luxury hotel, I had unpacked, explored the hotel rooms and some of its 45 acres of parkland, found the gate leading to the pretty parish church, walked around the village of Hampton-in-Arden and was sitting in the traditional White Lion pub with half a pint of local ale. It all felt very relaxing.
[Note: my review of Hampton Manor hotel was first published in 2016 and so some of the details might now be out of date- the hotel now has a Michelin star restaurant for example – well done guys!]
Looking for hotels with Michelin star restaurants?
Relaxing in the Lake District with Gilpin Hotel and Lake House
West Sussex garden luxury at Gravetye Manor
Hambleton Hall, Rutland: Michelin star dining luxury
Lucknam Park: luxury spa hotel near Bath
Cotswolds stay at Manor House, Castle Combe

The perfect gourmet break at Northcote hotel Lancashire
Pennyhill Park: spa hotel fit for England Rugby
St James's Hotel and Club, central London
Whatley Manor, Wiltshire: a Cotswolds gem
Ynyshir restaurant and rooms, Wales
And Dinner by Heston Blumenthal, Knightsbridge
When I finally headed back to our bedroom at Hampton Manor – the spacious De Mountford room with a very smart bathroom, including a walk-in shower with a fixed wave-like shower curtain – I felt as if I'd been away for a week.
Hampton Manor history
The Hill family – owners Derrick and Jan, their son James and his wife Fjona – bought Hampton Manor hotel in 2008 and have big plans for the place as evidenced by the architect's plans displayed in the lobby. Many of the rooms have been refurbished already, but soon the outside space will also be transformed with a central fountain, a lake, more structured parkland and even a walled garden to supply the kitchen with fresh produce.
Check out these other great hotels with Michelin-starred restaurants I've also reviewed:
aladyofleisure.com/luxury-hotel-london-st-jamess-hotel-review
aladyofleisure.com/the-manor-house-castle-combe
And Dinner by Heston in Knightsbridge has two Michelin stars – here' s my review
The bedrooms at Hampton Manor
Many of the bedrooms have been recently refurbished and are all very different to one another which is a refreshing change from the uniformity of many hotels. Downstairs the sumptuously decorated Parlour and the cosy Fred's Bar are lovely places in which to relax and the Parlour in particular is a very popular place for afternoon tea at Hampton Manor.
So far so good, but what I wasn't prepared for was a really memorable dinner in the hotel's Peel's restaurant. The restaurant has been awarded 3 AA rosettes for 'culinary excellence' and is recommended in the Michelin Guide, and I'd say a star cannot be too far away [update – shortly after I wrote this review, it was awarded its first Michelin star making it one of the best hotel restaurants in the Midlands].
We had been recommended one of the tasting menus and, not wishing to be greedy, had gone for the four course tasting menu rather than the seven course. However there were so many little extra courses in between actual courses that I think we ended up with around nine in the end.
Having been the first in the dining room at the start of the evening we were ones of the last to leave – and that certainly wasn't due to slow service which was impeccable, friendly and efficient without being overbearing.
The menu itself had echoes of Ynyshir for me – which is a good sign for the hotel, as Ynyshir has got a Michelin star – but meant the menu was rather under-sold, as like Ynyshir it just stated, rather bleakly, the ingredients. Thus the entire menu read as thus:
This didn't go even a fraction of the way to describing what was a really impressive culinary experience and one that foodies will love. To begin with, we were served exquisite canapes – venison, mushroom and capers with cured grated egg yolk on bruschetta, and cheese and pickle choux buns.
Straight after that the bread arrived – Poolish bread, which is half sourdough and half regular bread – and butter, served on cold stone slabs. Then a celeriac veloute arrived, with pickled celery and walnut. Every dish throughout the evening was served on lovely hand-thrown crockery, each one different from the last (pity the poor washer-upper).
Wine at Peel's Restaurant, Hampton Manor
We'd chosen the accompanying wine flight too so almost every course came with a different wine, served promptly and with expertise by sommelier and restaurant manager Danielle.
The first wine to arrive was a Greywacke wild sauvignon from Marlborough, New Zealand, to accompany the Bosworth Ash goat's cheese (which was baked and delicious, not a fact shared with us by the menu) and that was followed up with a verdejo from Spain to have with the smoked trout and a really delicious red from southern Rhone with the beef.
The first glazed Wagyu beef course arrived with some truffle mayonnaise – the beef was superb but the mayo was too like tartare sauce for me, but the second version was gorgeous, perfectly complemented by the cauliflower cheese and truffle.
It was then time for not one but three desserts, including poached rhubarb with grated almonds, chocolate with hazelnut, and a delicious blood orange with white chocolate and star anise (I think they wanted us to try everything, which we were more than happy to do). Amazingly we even managed a taste of the excellent cheese selection afterwards which included Tunworth, Lancashire Bombe and Colston Bassett blue cheese.
All in all it was a memorable evening – made even more impressive when I later found out that the head chef, Rob's wife was about to give birth to their first child any moment. I finished off the evening with a lovely chat with James Hill, whose wife Fjona had been the interior designer for the hotel, and had also designed the very pretty and useful walking map of the area – ideal for plodging around the grounds in the hotel's wellies.
She also helped design the in-room folder which, rather than the usual boring facts about ironing boards and safes, was a really interesting read about the history of the Manor, the suppliers to the hotel and even the people who worked there, giving it a very family-run feel.
Hampton Manor is a charming example of how a country house can be traditional while adding its own unique touches and I expect the luxury hotel and its excellent restaurant to only go from strength to strength over the coming years – well worth a visit.
It is rapidly on its way to becoming  one of the best hotels in the Midlands (if it's not already there) and now that it is a hotel with a Michelin star then more people will be discovering the special charm of Hampton Manor hotel.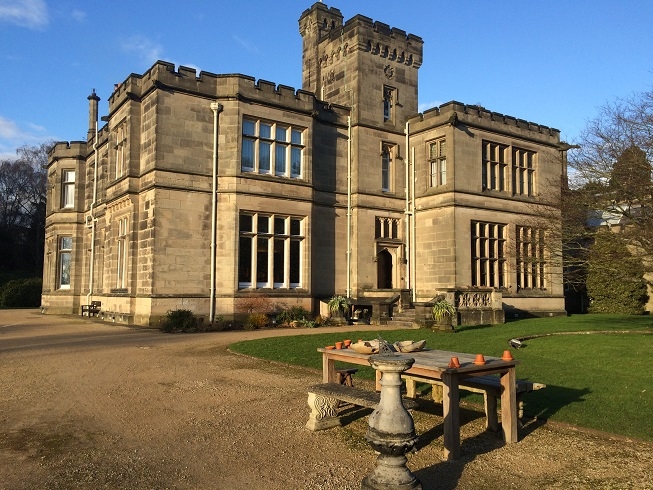 Hotel information and to book Hampton Manor
Hampton Manor
Shadowbrook Lane
Hampton-in-Arden
Solihull BQ92 0DQ
01675 446080
Visit Hampton Manor on Tripadvisor
If you like reviews of hotels with Michelin-starred restaurants then you'll reading about: Ynyshir Michelin-starred restaurant with rooms in Wales; Hambleton Hall, Rutland: Michelin-starred dining luxury; Whatley Manor, Wiltshire: a Cotswolds gem (with added oxygen)