A stay at The Merry Harriers
The Merry Harriers in the pretty Surrey village of Hambledon is a quintessentially British pub. It's beautiful from the outside, with trailing plants and outdoor seating, while inside has all you need from a traditional country pub: wooden floors, exposed beams, a good selection of local beers on tap and an open log fire for the winter months.
At the rear of the pub is a vast beer garden – perfect for those lazy Sunday afternoons – and right at the back is a field full of llamas (which are less traditional in a pub). Add to that the excellent food, events such as jazz nights, quizzes and 'meat raffles', plus a variety of accommodation options including garden rooms, cosy rooms above the pub and five luxury Shepherds Huts, and you've got an ideal destination pub.
Owned by Peter de Savary, the entrepreneur behind other hotels including the excellent Torquay hotel Cary Arms and Spa, the Merry Harriers is perfect for a relaxing weekend away. Its location in the heart of the Surrey Hills, just a few miles from the A3 and the town of Godalming, makes it popular with cyclists, ramblers and day-trippers as well as those intrigued by the idea of llama trekking.
Book The Merry Harriers on Expedia.com
Visit The Merry Harriers on Tripadvisor
Over the past few years The Merry Harriers has built up quite a reputation for its food, with traditional British cooking – here's a typical menu – and Sunday roasts very much a speciality. While we didn't eat at the pub during this stay, I've eaten here several times before and the food has always been excellent – with vast portions. Best of all, it still maintains its low-key atmosphere, with mismatched furniture, locals sitting at the bar and the shabby, cosy feel of a genuinely old pub (rather than the deliberately shabby-chic style of a refurbished pub).
Shepherds Huts at The Merry Harriers
I was fortunate to have written a Merry Harriers review for Mail Online, so when I was wondering where to take my boyfriend for a surprise birthday weekend stay, I instantly thought of The Merry Harriers. I'd previously stayed in one of the charming and cosy Garden Rooms located next to the beer garden, but to really push the boat out I decided to try out one of The Merry Harrier's five Shepherds Huts, parked across the road from the pub in their own little field complete with a small lake. It's not a cheap option – our hut cost £240 for the night – but as a quirky and memorable birthday treat it was ideal.
Each Shepherds Hut has its own firepit, outdoor seating and you can park right next to them, making it easy to bring all sorts of stuff for your weekend away. I packed our brand new BBQ in the hope that we might make our own dinner in the warm summer evening, and two huge wicker hampers packed full of treats such as cheese, wine, bread and pate, so from the moment we arrived we were self-sufficient.
Looking for hotels in Surrey?
Family fun and activities galore at Foxhills, Surrey
Brooklands hotel with Concorde and racing cars
Pennyhill Park hotel and spa – a hotel fit for the England rugby team
Runnymede hotel and spa, a riverside stay near Windsor
It didn't stop us going across the road to the pub and having a couple of local ales in the sunshine the moment we arrived though, and it instantly felt like we were on holiday. Even though we had arrived ahead of the official check-on time, the friendly staff said our hut was all ready for us, and so we decamped to our home for the night.
Inside our Shepherds Hut
Our red hut was the perfect size for two people and was immaculately decorated. There was a double bed at one end overlooking the lake, and there was a good selection of pillows, cushions and blankets for all weathers. In the centre of the hut was a wood-burning stove for the colder nights (there's also underfloor heating), a couple of chairs and a table, and at the far end was a kitchen area with a fridge, sink, coffee machine and various complimentary treats including a bottle of wine, marshmallows for toasting, crisps and, to purchase, a bottle of local gin. Off the kitchen was a smart-looking bathroom, with loo, sink, shower and a selection of shower products, and all in all it was very welcoming.
There were thoughtful touches throughout such as a full-sized backgammon set, a booklet of local walks and bedside tables tucked away in the cupboards, and it was lovely knowing the pub was just nearby if you needed anything but far enough away so you felt like you were really getting away from it all.
Even though the weather wasn't fabulous – there were more than a few spots of rain – we didn't want to waste our fire pit and barbecue, and instantly set to work building various fires. There were lots of logs underneath the hut and inside were matches and kindling so we were good to go. Cooking the steaks on the BBQ with the lid shut to protect it from the rain made for superbly juicy steaks, and the rain soon departed leaving us to enjoy our al fresco food.
Staff were more than happy to bring us dessert after our meal – chocolate brownies and ice-cream – and we felt very much at home. We sat outside watching the flickering flames of the fire pit until we could barely see each other, and then retired for the night in the large and comfortable bed.
Breakfast at the Merry Harriers
Waking up to the sunshine streaming through the windows was lovely, and throwing open all the windows meant we had a lovely breeze. Breakfast is always a highlight of any stay and this was no exception, with delicious Greek yoghurt and fruit compote available as well as cereals, pasties and excellent coffee.
There was a good range of cooked breakfasts too and fortified by a full English and smoked salmon and scrambled eggs, we set off on a lovely hour-long circular walk around the village of Hambledon, visiting the local church and coming back through Paddock Woods and Buss's Common.
It was there we met the morning's llama trekkers, out enjoying the sunshine with Mungo, Jerry, Toffee and various other members of The Merry Harriers llama herd. I went llama-trekking here on my previous stay and it's certainly a novel experience – you can choose various options such as morning or evening treks depending on the season, or you can even take a Champagne picnic and make a whole event of it.
This time however I was content just relaxing and feeling like we'd had a proper break from regular life in our Shepherds Hut – and a cut above your average pub stay.
More information and to book a stay at The Merry Harriers
The Merry Harriers,
Hambledon Road,
Hambledon, Surrey GU8 4DR
Cosy Double Rooms from £130, Inn Rooms from £165 while Garden Rooms start from £175. Shepherds Hut start at £225 per night.
Book The Merry Harriers on Expedia.com
Visit The Merry Harriers on Tripadvisor
Did you like this review? Then Pin It!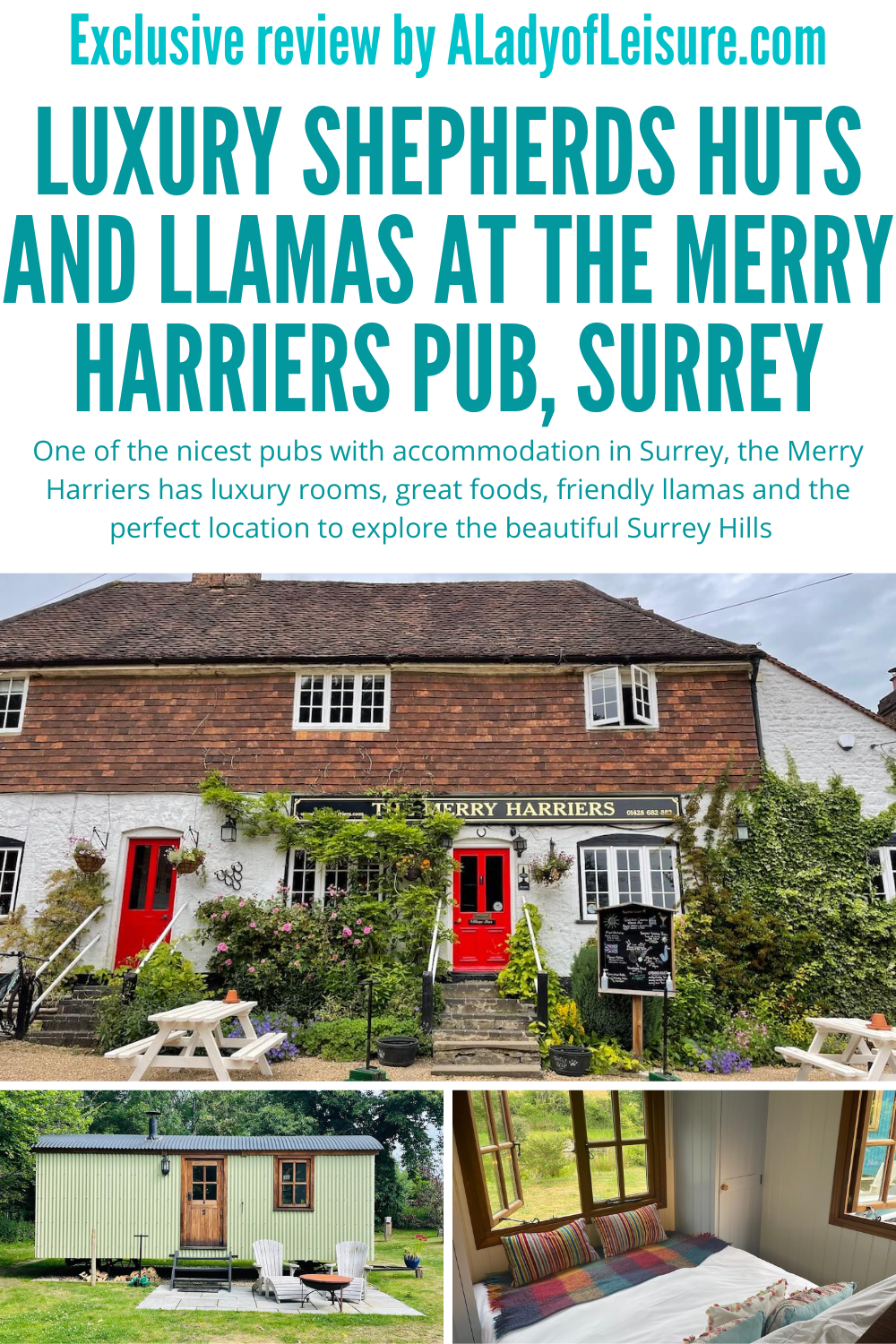 If you liked great pubs with rooms then you'll love The Angel Inn, Suffolk – a pub with Michelin in mind; A relaxing stay at the historic Spread Eagle, Midhurst; The Bull at Sonning: a perfect example of a great British pub; Good taste in every sense at Adnam's Swan pub at Southwold; Exploring the Cotswolds with a stay at The Bear of Rodborough; A night at 600-year old coaching inn Bel and the Dragon Cookham; The Crown and Castle, Orford: a spot of Suffolk food heaven