It isn't every day I stay in a 17th century Palladian mansion but after just a few hours at Luckham Park hotel near Bath I was walking around as if I had lived there for years.
Staying at Lucknam Park hotel
I would grandly descend the staircase from my room – no, make that my set of rooms –  and then sweep out of the front door of the five-star Lucknam Park hotel and spa as if I owned the place. It was especially fun to sweep  out of the front door, because directly ahead was a fabulous mile-long drive lined with 400 lime and beech trees.
'This is my driveway,' I would tell myself as I rounded the corner to the view, and then reverse to do it again. 'I have a mile-long tree-lined driveway leading right up to my front door.'
There more to this five-star hotel and spa than just the drive of course: it is a hotel with a Michelin-starred restaurant, but the drive really set the scene for a luxurious country house hotel stay.
Book Lucknam Park at Booking.com
Visit Lucknam Park on Tripadvisor
Lucknam Park hotel history
I later discovered that the trees, which were planted in 1827, played their part in British history, their sweeping branches having been the perfect camouflage under which to park Spitfire and Hurricane planes from the nearby aerodrome during the Second World War.
Once I had walked in and out of the entrance of Lucknam Park hotel enough times to attract a raised eyebrow or two from the reception staff, it was time to stroll around my estate – five acres surrounding the hotel, set within 500 more of countryside just a few miles from Bath.
Check out these other reviews if you like luxury hotels with great spas 
aladyofleisure.com/whatley-manor-review
aladyofleisure.com/stay-at-cliveden-house-luxury-hotel
aladyofleisure.com/rockliffe-hall-county-durham
Lucknam Park hotel gardens
There are some spectacular gardens at Lucknam Park; there seemed to be no shortage of them within the grounds which were beautifully laid out: there was a Rose Garden, a Walled Garden, a Herb Garden, a miniature Tropical Garden and a Lavender Garden, and in case gardens weren't your thing there was also a French courtyard, an 18th century dovecote and a 600-tree arboretum too.
Wandering around on the lawn and exploring the grounds in the afternoon sun was a certainly a perfect way to de-stress after the M4 traffic, and in fact it seemed to be a perfect way to spend every afternoon. However as unfortunately I didn't actually live here, however easy it was to believe that I did, time was marching on – the spa called.
The spa at Lucknam Park
This was one of the main reasons I was here, having heard about the millions the privately-owned Lucknam Park had spent on its spa. I found it in a separate building in the walled garden through the courtyard, and was handed a vast fluffy robe and slippers and shown to the immaculate changing rooms.
Suitably attired I shuffled through to the spa itself. Next to the pristine 20 metre indoor swimming pool were a row of loungers, with fluffy towels tucked next to them in little side tables.
If you like grand country house hotels then you'll love:
Luton Hoo: a classic country house (with Hollywood glamour)
Cliveden House Hotel: the ultimate English county house
Hartwell House: a luxury stay with the Downton Abbey factor

Behind the loungers were a whole variety of little cabins, which turned out to house the sauna, steam room, tepidarium and even a Japanese salt room and an amythest room.
After a lovely relaxing swim I headed outdoors to find the hydrotherapy pool and the outdoor salt plunge pool. Here there were yet more comfy loungers and so it was bliss to gently snooze on one while drying off in the sun. There were magazines to read – lots with titles such as Your Wedding – and I could have stayed there for hours if it wasn't for the fact that it seemed to be the perfect time for a gin and tonic.
I flip-flopped my way back to the spa reception and discovered that there was a brasserie attached, so you could sit on the terrace in your robe and read all about brides' dresses and honeymoon destinations while being served Tanqueray gin and Fever-tree tonic.
As I was there on a Sunday evening, dinner was served at the spa brasserie rather than in the main building's more formal restaurant – the Michelin-starred Hywel Jones by Lucknam Park (the main restaurant is now open on Sunday evenings too) – and while it was sad to miss out on the fine-dining experience which Lucknam Park and Hywel Jones are famous for, the weather was nice enough to dine outside which made for a lovely, less formal evening.
Dinner at Lucknam Park
There was a wide-ranging menu with lots of options which could be a starter or main course size, which I always think is a very civilised idea,  and a hefty emphasis on fresh, natural ingredients such as homemade linguine, Wiltshire lamb and Devon crab.
I chose seared hand-dived Cornish scallops with heirloom tomato and peach salad to start (£10) and then the roast rump of Brecon lamb with warm garden vegetable salad (£19). They were both delicious, the lamb in particular done to pinkish perfection, and the seasonal stir-fried greens were a great side dish.
Rather belatedly, as it was on the very last page of the menu which no-one would ever turn to, I discovered a whole page of healthy options, with dishes like poached salmon and chicken breast, which was a good idea but possibly needs to be flagged up for people not in the know. There were six wines of each colour served by the glass which is a larger-than-usual choice and much welcomed: I had a glass of Spanish rioja for £8 but there were several priced at just £4 or £5.
Bedrooms at Lucknam Park
I wimped out on the desserts – too full for anything, even turning down creme brulee and chocolate mousse – and headed to my rather lovely room. It had a chaise-lounge – and indeed a separate lounge –  but an electric fan instead of air-conditioning, no doubt due to the age of the building. There was an extensive DVD library downstairs so my early night turned into a rather late one over Breakfast at Tiffanys.
Breakfast at Lucknam Park
Breakfast in the morning was back at the brasserie – I could have gone for the earlier option in the Michelin-starred restaurant but I wanted to get a swim and sauna in first – and it was lovely sitting out in the morning sunshine.
It was with a great deal of reluctance that I swept down the stairs and out of the front door towards that glorious drive for the last time – but I suspect I will be back. Maybe even in a smarter car…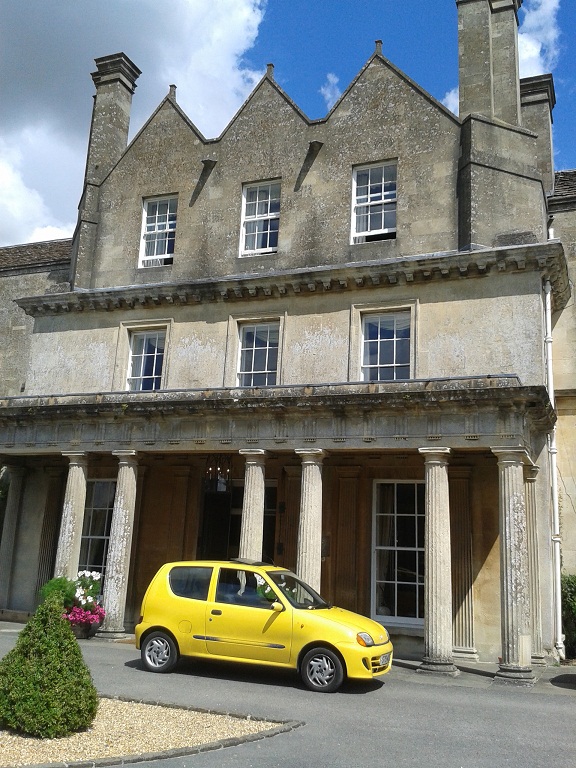 Hotel information and to book Lucknam Park hotel and spa
Lucknam Park Hotel & Spa, Wiltshire (T. 01225 742 777) offers standard rooms available from £295 per night, based on 2 adults sharing on a room only basis including use of the spa facilities & VAT. Lucknam Park is part of Relais & Chateaux and Pride of Britain Hotels
Book Lucknam Park at Booking.com
Visit Lucknam Park on Tripadvisor
If you're look for another hotel near Bath to make a weekend of it then I can totally recommend the lovely Pig Near Bath – review below: The Pig near Bath: a heavenly, country, foodie retreat;
Check out some more great Pride of Britain Hotels here: A West Sussex spa hotel stay at South Lodge near Horsham; The impressive Headland hotel in Newquay, Cornwall; A stunning country spa hotel stay at Stapleford Park, Leicestershire; Park House hotel and spa, a hidden Sussex spa secret
Check out some other great hotels with Michelin-star restaurants here: Ynyshir restaurant with rooms: one of the best restaurant in Wales; Whatley Manor: a Cotswolds gem (with added oxygen); A luxurious foodie stay at Gravetye Manor, a West Sussex star;