For horse-racing fans, the location of Ellenborough Park hotel and spa is hard to beat, being the closest hotel to Cheltenham Racecourse.
Just a few hundred metres from the front door of the grand 15th century Cotswolds building is the racecourse itself and the hotel will even run you down its own private track to the course on race days in its fleet of Land Rovers, meaning you miss the crowds and have more time to study the form (or celebrate your wins).
The closest hotel to Cheltenham Racecourse
Small wonder that during the four-day Cheltenham Festival itself, Ellenborough Park is one of the prime places to stay. However while the hotel does have a horsey theme – the suites are named after famous racehorses such as Arkle and Kauto Star – you don't have to be an equine enthusiast to enjoy your stay here.

Book Ellenborough Park at Booking.com
Visit Ellenborough Park on Tripadvisor
Perched high on top of the hill overlooking Cheltenham and its famous racecourse, this luxury hotel and spa has a lovely country feel, an outdoor pool for the summer months and 60 rooms – some in the main house and others in separate buildings around a courtyard – designed by Nina Campbell in the classic country house style.
Staff are incredibly attentive as you'd expect from a luxury country house hotel: the moment I drove up to the gates the affable Tim zoomed out to valet-park my car and help me with my bags – and there was no shortage of people inside on a Saturday afternoon dispensing drinks and afternoon tea.
Bedrooms at Ellenborough Park hotel and spa
Our room was in a separate building to the main house which meant a chilly walk back after dinner, but did mean we got to see the racecourse grandstand impressively lit up at night.
The room was a decent size, with lovely views across the countryside, and had a huge bathroom, a massive free-standing bath which filled up so quickly I nearly flooded the place, and a separate closet for clothes (although you needed to be pretty tall to hang anything up there).
Fast and free wi-fi worked across the estate, the TV was smart and modern and the beds were extremely comfortable.
Ellenborough Park afternoon tea
Afternoon tea in the lounge watching the world go by was very pleasant and the place became busier as people filtered back from the races. Some people seemed to have come down on the Friday night, enjoyed a day at the races and then just popped back to pick up their bags before heading off, while others had dropped their bags off early that day and were now properly checking in after an action-packed day down at the course. Either way the bar was packed with happy race-goers and we were rather relieved we had booked to eat that night at the more formal and quieter Beaufort dining room at the other side of the building.
Dinner at Ellenborough Park
The service at dinner was excellent – prompt and not over-attentive – with the only negative aspect being the odd practice of seating tables right next to each other (hopefully that has now changed).
The menu wasn't particularly extensive and was laid out in a small book format, so you were constantly flicking backwards and forwards through the pages. There were just three choices of starters (salsify salad, smoked salmon and goat's cheese) and three mains (beef fillet, duck breast and fish) and it would have been nice to have a wider choice, but there was also a racing menu which provided a few more options.
However the food was good quality and served extremely promptly, with a tasty amuse-bouche board to start us off. The smoked salmon starter hadn't inspired on the menu but was excellent, and it was the same with the goat's cheese: it had sounded dull when listed on the menu as 'Rosary goat's, dill, Heritage beetroot, beetroot puree' but when it arrived it was freshly baked and delicious.
A note of food theatre arrived with the Baked Alaska which took a while but was worth the wait, as the waiter set it on fire at the table and gave the meal a much-needed note of occasion and fun.
The bar was still packed and going strong when we walked back to our room, showing a hint of how the hotel would be during the Cheltenham Festival next month, but the size and layout of Ellenborough Park meant that the cheerful race-goers didn't disturb the peace and quiet of the rest of the hotel.
Breakfast at Ellenborough Park
I woke early – 8am – to head for the spa before breakfast, only to discover that it didn't open until 9.30am. I decided to go for a walk around the grounds and local fields instead, but unusually the hotel didn't have any handy maps of local paths and places to walk, which was a shame, so after a lengthy verbal description from Tim about where to turn left and right and so on, I gave up and went into breakfast.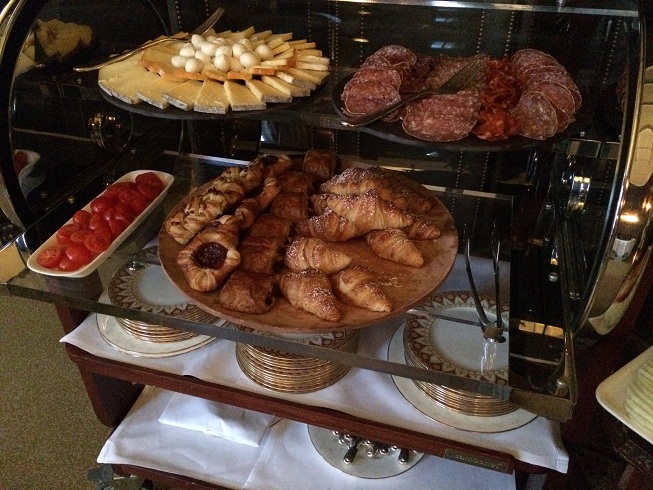 There was a wide selection of cereals, pastries, ham, cheese and cooked options, and once I'd managed to not be seated right next to the only other couple in the room, I had a very pleasant meal with the Sunday papers. Once the spa was open I realised that I hadn't missed out – aside from the treatment rooms it's just a small room with a hot tub, sauna and steam room – but the owners are planning a new luxury spa, so definitely one to watch.
Before heading off we had a tour around some other rooms and were particularly taken with the Arkle Suite, which not only has a four-poster bed and massive bathroom, but has its own front door and private dining room so would make for a lovely secluded romantic weekend. Aside from racedays, it's very reasonably-priced too and definitely worth asking about. The hotel can also organise various country activities such as golf, shooting, riding and polo.
And as a base for a day at the races, Ellenborough Park is certainly a hot favourite.
Hotel information and to book Ellenborough Park
Ellenborough Park, Southam Road, Cheltenham, Gloucestershire, GL52 3NJ
Tel: 01242 807191
Book Ellenborough Park at Booking.com
Visit Ellenborough Park on Tripadvisor
If you like reviews of luxury hotels and spas near Cheltenham then you'll love these reviews: Whatley Manor: a Cotswolds gem with added oxygen; Barnsley House hotel and spa: a wonderfully cosy Cotswolds hideaway; Calcot Manor luxury hotel: a family-friendly Cotswolds stay; Greenway hotel and spa, Cheltenham: a luxury hotel with the fizz factor