The stunning Indian Ocean island nation of Mauritius is definitely a place to put at the top of your wish list now we can start exploring the world again. Thanks to its location, an early lockdown and strict quarantine measures, Mauritius had extremely low Covid rates throughout the pandemic and is now very much open for business.
From its busy capital Port Louis, to its gorgeous beaches, beautiful islands, mountains and crystal-clear waters, there is something for everyone in Mauritius and its 200+ hotels are ideal for a relaxing break – just what we need after the last 18 months.
Check out all the amazing things you can do in my article Rum, yoga and dolphins, my action-packed fortnight in Mauritius but if you want to find the very best hotels to stay in, look no further. I recently spent two weeks on this beautiful island so here's a bang up-to-date look at the very best hotels in Mauritius.
Best hotels on the West Coast of Mauritius
Lux Le Morne, Le Morne, Mauritius
Five-star hotel Lux Le Morne, located in the southwest corner of Mauritius under the looming presence of the Le Morne mountain itself, is a chic, boutique, oceanside resort where the emphasis is more on relaxing and unwinding rather than dressing to impress.
There's surprisingly little glitz and glamour here but what there is, is great customer service – the staff led by manager Jérémie de Fombelle are all incredibly efficient and friendly – a meticulous attention to detail and a location which speaks for itself. Located on 600 metres of pristine white sands dotted with palm trees, the 149 rooms and suites at Lux Le Morne have everything you could wish for, from luxury furnishings, a well-stocked fridge and coffee machines to large bathrooms and large patios or balconies, often with stunning views of the ocean.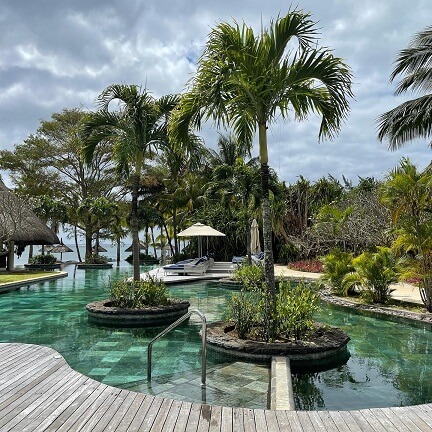 Outside the rooms, there's plenty to do at Lux Le Morne if sunbathing or swimming in one of its four swimming pools isn't enough: there's East, its flagship Thai restaurant, and The Kitchen, the main buffet restaurant. Beachside dining at The Beach restaurant is a great al fressco option and for those who fancy immersing themselves in a true Mauritian experience, just head down the beach to Vik's shack. Vik will not only offer you a rum cocktail but he'll take you fishing for sea urchins and octopus and serve them up to you in front of one of the island's spectacular sunsets.
There's also a colonial-style poolside bar at the centre of the hotel which serves everything from coffee to cocktails. More active types can head for the fitness centre, try some watersports – it's the perfect location from which to go swimming with dolphins – or go for a hike up Le Morne itself (the site of many a engagement proposal), before returning to relax in the Lux Le Morne spa.
Quirky touches such as a Wishing Tree with a treehouse (the perfect spot for a romantic film evening) and free classes from yoga to photography make this low-key but charming, eco-friendly resort really worth a visit.
Book Lux Le Morne with Booking.com
Visit Lux Le Morne on Tripadvisor
Every time I mentioned the Paradis Beachcomber people would look impressed and say 'That's a beautiful hotel!' and even by the high standards of Mauritian hotels (they're all stunning), the Paradis on the Le Morne promontory really stood out. Reached via a causeway between the open bay and a lake, so you feel like you're entering an exclusive, magical world, Paradis runs the length of a beautiful beach – you're never more than a few feet from the stunning, turquoise waters – and has the largest hotel swimming pool I'd ever seen.
There are several excellent restaurants – La Palma has a vast buffet selection but my favourite was Blue Marlin with great food and incredible views – as well as a bar which offered everything from afternoon pancakes to rum cocktails and live music and entertainment in the evenings.
Beyond these central amenities were the chance to do absolutely nothing but soak up the views along with the sunshine – there's a small spa as well as golf and tennis options – but Paradis is overwhelmingly a place to do little but marvel at the scenery and relax.
Book Paradis Beachcomber with Booking.com
Visit Paradis Beachcomber on Tripadvisor
Best hotels on the East Coast of Mauritius
The One&Only Resorts brand is known for its luxury hotels and Le Saint Geran on the east coast of Mauritius is no exception. From the moment you set foot in its vast entrance hall – where you will be greeted with a welcome drink and a hanging gong will be struck in your honour – you know that you're in expert hands.
My room, a beach view suite, was the most opulent I stayed in during my tour of Mauritius's best hotels, and encompassed a plush lounge with sofas, huge bedroom, not one but two bathrooms packed with little luxuries from illuminated make-up mirrors to endless toiletries and a double-fronted terrace facing straight onto the beach.
A complimentary bottle of rum with shot glasses prepared with sugar and limes in my room was a welcome treat (there was also a beach bag and a water bottle for me to take away) and showed the attention to detail with ran throughout the hotel. The hotel was one of few not to close their doors at all during the lockdown due to guests not being able to return home and as one of the oldest hotels on the island it takes its status very seriously.
The main pool winds around the central bar and restaurant and there's also an Instagram-perfect spa with pool, large gym, tennis courts, mini golf and the private Villa One which has hosted the likes of the Rolling Stones, John Travolta and a host of other celebs and royals. The service is excellent  – I returned back from a very quick dinner due to a work call and found three people busy making my suite immaculate once more – and having room service breakfast on my terrace by the ocean before an early morning departure was a real treat.
Book One&Only Le Saint Geran with Booking.com
Visit One&Only St Geran on Tripadvisor
Anatara Iko is one of the newest hotels on Mauritius and has the ultra-smart, modern feel to reflect this. From the impressive entrance lobby to the view of the swimming pool and the beach beyond, this hotel embraces its oceanside location. There's just one swimming pool at the moment, although there are plans to build another (the hotel has lots of space and lots of plans), and the main bar and restaurant overlooks the pool for pre- or post-swim food and drink. It's just 10 minutes from the international airport, making it extremely handy and one of the closest hotels in Mauritius from the airport – you can be in the pool while your fellow airline passengers are still travelling across the island – and thankfully the planes take off away from the resort so there isn't any airplane noise overhead.
The hotel's 164 rooms and suites are all located in a square block which will blend more into the landscape over time, but it does mean most of the rooms have stunning views of the beach and the waving palm trees (this side of the island can be a bit breezy but it's pure, fresh air straight from the Antarctic) and no expense has been spared in making the rooms feel incredibly spacious and luxurious.
There is far more to Anantara Iko than rooms and a swimming pool however: guests who venture over the other side of the pool will find a luxury spa offering treatments to soothe, relax and invigorate, and a fitness centre where a vast range of activities are on offer, including the ever-popular Pilates and yoga (I was lucky to be given a sneak preview of the yoga classes in an outdoor class in the nearby forest). There are also hiking tours planned and for those less energetic, there are cooking demos and wine-tasting classes.
If all that seems too much, then it's easy to relax here, with a well-stocked bar serving excellent cocktails located right on the beach. This is great place to dine in the evenings, with a high-end restaurant serving freshly-caught fish on slabs of Himalayan ice and all with the background of waves for the perfect dining experience.
Having only opened in 2019 (and been forced to close along with all the other hotels in Mauritius during the various lockdowns), there are lots of plans for Anantara Iko, so expect this hotel to expand over the years – but always considering the beautiful environment it's surrounded by.
Book Anantara Iko with Booking.com
Visit Anantara Iko on Tripadvisor
One of the newest and coolest hotels in Mauritius, Salt feels less like a place to stay and more like a way of life. The island's first 'eco-hotel' and impressively, number one hotel on Tripadvisor for the whole of Mauritius, Salt prides itself on not only being environmentally sound – there are no single-use plastics here and everything is recycled, recyclable, organic and locally-sourced where possible – but on providing a window into the local community. Its innovative skill swap programme offers guests to learn local skills from local people – anything from fishing to basket-weaving – while daily classes cover everything from cooking to yoga.
As well as having its heart and eco-credentials in the right place, Salt makes sure you can also enjoy a thoroughly indulgent and relaxing holiday here too. With thoughtful touches such as contact-free phone charging pads, soothing aloe vera chips and sunglasses lens cleaner at the bar, to a stunning rooftop terrace where the bar staff will serve cocktails almost as good as the view, to the excellent salt-themed spa (you get salt rubs and a salt room visit along with your massage) you know that you're in good hands.
Its Soho House-inspired boutique design and excellent food make for a modern stay along with its modern take on hospitality and its minimalist bedrooms (no TVs or baths but books and a digital radio) with bamboo toiletries and jars (no plastic) of salt scrub and hair masks strike a perfect balance of thoughtful luxury.
Book Salt of Palmar at Booking.com
Visit Salt of Palmar on Tripadvisor
Proof that not all luxury hotels in Mauritius are on the beach comes in the from of the unique Lakaz Chamarel (Lakaz means 'house' in Creole) which lies 400m above sea level high in the hills in the south west corner of Mauritius. That's not to say it doesn't have stunning views – the aptly named View Bar at the top of the resort has some of the best views on the island, taking in the sweep of the countryside and western lagoon all the way to Le Morne – but to stay at Lakaz Chamarel is to stay in a tropical garden paradise where villas and swimming pools are nestled between olive trees and ferns in lush green undulating slopes.
There are seven bedrooms and 13 suites hidden among the greenery – all have a terrace and open-air shower while the suites also each have a private pool – and the whole effect is of a deeply relaxing, 'back to nature' break; this form of nature including fine-dining, a cocktail bar and all manner of in-room luxuries. My villa, Reshma, was located on the lake near the reception area, bar and restaurant – other rooms are further away up the hill but a buggy can whisk you around to the more remote ones – and had a vast bedroom/lounge area as well as an outside shower, private pool and sundeck. Staff are attentive – someone popped round to light my mosquito burner when I was enjoying an evening cocktail on the lakeside terrace – and the hotel runs yoga weekends as well as yoga sessions and treatments on request.
Book Lakaz Chamarel at Booking.com
Visit Lakaz Chamarel on Tripadvisor
One of the most memorable nights I spent in Mauritius – and in fact, one of the most memorable hotel nights anywhere – was in a plastic bubble on a tiny island off the east coast. I was in one of Mauritius' Bubble Lodges – there are four on the Ile aux Cerfs and four on the mainland in the Bois Cheri tea plantation – and it was a truly remarkable experience.
Staying in a plastic bubble on a private island just a few metres from the rolling waves of the Indian Ocean was an amazing experience in itself, but the real magic happened at night time. When I switched off the light and lay back in my bed, the entire ceiling vanished completely, giving the illusion that I was lying directly underneath the canopy of treetops and sparkling above them, the stars. The only sounds I could hear were the crash of the surf and the wind rustling through the swaying branches above me and it was so strange, so surreal, so sense-defying that there was little else I could do but gaze at the skies and marvel at it all.
Added to that your own private butler, beautiful scenery, an excellent restaurant, gorgeous beaches and a luxury lodge with all the modern conveniences including air-conditioning, coffee machine, bathroom and rainfall shower and you've got an amazing night or two.
Booking Bubble Lodge, Ile aux Cerfs
Visit Bubble Lodge, Ile aux Cerfs here
Best hotels on the north coast of Mauritius
This was the second hotel I ever stayed in in Mauritius, and it was a perfect introduction to the beauty of Mauritius's beaches.
Located right at the very north-west tip of the island, the hotel is located right on the beach and is perfect for boat trips, coastal walks, mini golf or just gazing across the sparkling water at the rocky outcrop which is Coin de Mire island nature reserve. The hotel itself has a large swimming pool, several restaurants – you can choose between the buffet option at the large Frangipanier restaurant or the more refined atmosphere of the Navigator hotel which has great beach views – and a programme of entertainment and live music every night to keep you entertained.
It's one of the few hotels I stayed in which had an all-inclusive option which certainly makes working your way through the cocktail list more fun and there's also a spa, uniquely sited in above-ground cabins in the branches of a banyan tree. My room was smaller than others I'd stayed in but with a lovely terrace overlooking the sea and the location is perfect for exploring the north coast from Grand Baie to Cap Malheureux and beyond. I hired a bike for the day and relished every minute of my new found freedom!
Book Cannonier Beachcomber at Booking.com
Visit Cannonier Beachcomber hotel on Tripadvisor
Best hotels on the south coast of Mauritius
One of the few hotels on Mauritius' south coast – which means you can see both the sunset and the sunrise from its stunning golden beach location –  the five star Shanti Maurice resort and spa is the place to go for some serious relaxing and pampering. Guests stay in suites or villas dotted round the spacious resort – my room was traditional and almost minimalist in design but with a vast bathroom and stunning views from the balcony – and you can soak up the sun by the main pool and jacuzzi overlooking the beach or on the luxury loungers (each with a waiter service button) on the sweeping beach.
There's also a full-size swimming pool in the beautiful spa complex as well as a sauna, steam room, treatment rooms and yoga studio and the hotel often hosts yoga weekends where you might just find yourself doing sun salutations on the beach just yards from the crashing waves. For fitness enthusiasts there's a gym, running track (lit at night), tennis courts and water sports centre and for foodies there's a selection of restaurants (you can dine on the beach as well) and the friendly and efficient staff will make you feel very well looked-after.
Book Shanti Maurice at Booking.com
Visit Shanti Maurice on Tripadvisor
No-one wants to spend 14 days in one room but there are far worse places to quarantine than in a five-star luxury hotel in Mauritius and Trou aux Biches turned out to be the perfect place for my necessary isolation. While the restaurants, pools, spa and 35 acres of landscaped gardens were all closed to me and my fellow guests – we had been driven there from the airport in a convey of minibuses with a police escort and quickly shown to our rooms – we were all extremely well looked after. Firstly the room was thankfully one of the biggest I stayed in while in Mauritius. There was a large double bed, a lot of floor space which turned out to be ideal for exercise videos, a balcony with a table, chairs and sun lounger (although annoying the balcony was entirely shaded from the sun so I had to sit on my front door step at midday to get some vitamin D), a separate work area which was psychological perfect for distancing work and leisure time and a large bathroom with shower, bath, loo and twin sinks.
Every day I'd receive several phone call asking for my choice of menu options for the next day's meals which were then promptly delivered at 8.30am, 1pm and 7pm and the food was both excellent and plentiful (there was also afternoon tea at 4pm but I had to ask them not to deliver as I was eating so much food) and came with a litre of water and whatever drinks I'd ordered.
For exercise I either used apps or constructed a walking circuit around the available space so I'd plug in a podcast and trek for an hour between the outside steps, bedroom, balcony, bedroom, bathroom and back to the steps – it was boring but necessary – and I loved my morning yoga on the balcony with the colourful birds flying about.
I couldn't see the sea which was only 20 metres away through the trees, but the gardens were nice to look at – although I was envious of those on the ground floor who could sunbathe and have a bit more room to walk around in – and the only difference from a typical hotel stay was the fact that I was given cleaning products and enough towels, sheets and loo-rolls for a week (new ones came at the end of the week). I'd be temperature-tested every day and Covid-tested on days 7 and 14 (there was a test on arrival at the airport and I had to have a recent negative test to travel at all) and to be honest I enjoyed the chance to finally get on with admin task and work without distractions.
Knowing that everyone back in the UK was also under restrictions meant I didn't feel I was missing out on anything and the only tough day was day 14 when I was woken at 6.30am for the Covid test and then had to wait until 5pm to be given the all-clear. I'd certainly be happy to do it again and after two weeks there's the whole of Mauritius to explore!
Do you have a favourite hotel in Mauritius which isn't mentioned here? Do recommend your best hotels in Mauritius either in the comments or email me at [email protected]
And if you enjoy reading about luxury hotels, then check out some reviews closer to home… Best luxury hotels for Christmas; Best luxury hotels in the UK with swimming pools; Best luxury hotels for Christmas; Top romantic hotels for Valentines Day; British hotels with golf courses;