A week sailing in Turkey around its Aegean coastline with SCIC Sailing is possibly one of most relaxing holidays you can go on. While some holidays can be so hectic you feel like you need another holiday immediately afterwards, the only risk you run from a week with SCIC Sailing – which aptly stands for Sailing Holidays in Comfort and is pronounced 'chic' – is that you will come to expect to live like this back in the real world.
As a break from a hectic work schedule, it is ideal – it feels far longer than a week – but the mix of cultural activities, relaxing, swimming and just spending time getting to know your fellow voyagers means the memories will stay with you for a long time afterwards.
I was lucky to have been on a SCIC Sailing holiday before and had a good idea of what to expect, but this time I was bringing my boyfriend Stephen on our first overseas holiday together – no pressure then! Thankfully within about two minutes of arriving onboard Nemesis, our traditional Turkish gulet wooden sailing boat home for the next seven nights, he was declaring it the 'ideal holiday' and things only got better from there. Within a couple of days he'd become more relaxed, more cheerful and more content than I'd ever seen him, and back in the real world it is the highest praise to say that something makes us feel as if we were back in Turkey.
Sailing in luxury in Turkey
The beauty of sailing with SCIC Sailing is that you can choose to do as much or as little as you like, so if historical sites and cultural tours are your thing, then your ship's captain will take you to any number of the ancient spots which are scattered around the coastline. If you'd like to stay all week in one place, doing nothing more than soaking up the sun, then this can be arranged too. The boats can be hired exclusively for one party or you can book a berth on a group trip, meaning the chance to make new friends and share the experience with people from different parts of the world.
Who travels on a Turkish sailing holiday?
There were 12 other people on our boat, varying in ages and nationalities. We were the only Brits onboard, which was a lovely change, and the other guests hailed from France, Denmark, the Netherlands, USA, Portugal and Sweden which made for fascinating conversations throughout the trip as we got to know all about life around the world. Age-wise it ranged from around 30 to 60, and while most people were in couples, there were a few travelling with friends (there are twin cabins as well as doubles, and you can travel alone as well, as I did on my previous trip – SCIC Sailing says around 50 per cent of guests are solo travellers). After a week swimming, snorkelling, eating and sailing together, many lifelong friendships were made, and I feel sure that if we were ever near any of our fellow guests' countries, we would be welcome visitors (and likewise).
Sailing in style
For people whose memories of sailing are of a fairly hectic and rough-and-ready experience, this is rather different. From the moment your bags are unloaded for you from your taxi and taken on board, you will be looked after in style. While being transported around the sparkling Aegean Sea from one beautiful bay to another, you will be provided with – if you desire – endless G&Ts and cooling beers which suddenly arrive the moment you feel like a refreshing drink.
All food is provided too, and the only decision you will have to make each day is whether to join in the various activities and excursions planned for the day, or whether to sunbathe on the front of the boat or curl up with a book at the back. Maybe you fancy a spot of swimming or snorkelling before an afternoon snooze? What about a game of backgammon before dinner on a deserted beach? It's a tough choice.
On board the yacht Nemesis
Nemesis was a beautiful yacht, all polished wood and gleaming brass, and she was extremely well kitted out for a relaxing week on the week. At the rear (or aft), there's a huge comfy sunbed running across the width of the ship which was perfect for lounging on with a cooling drink or a book while you watched the ship skim across the waves.
Also at the back is a huge dining table for where we had all our meals, which was also used by the captain every morning to unroll the maps and show the plan for travel each day, and made a great spot for al fresco games of cards and backgammon.
Walkways either side of the central cabin area led to ten or so sunbeds which were popular with the sun worshippers (there was enough for everyone), and there were shades overhead if the sun was particularly scorching, while at the front of the boat were more chairs and sun beds and a walkway for recreating that 'King of the World' scene in Titanic.
Inside the ship was a large lounge area with a table – used on our trip for late night poker sessions and cookery demonstrations – and the ship was equipped with board games, cards, snorkels, flippers and kayaks to cover all holiday activity levels.
Cabins at SCIC Sailing
Stairs leading off the lounge led to bedrooms both fore and art and are cosy but perfectly-formed for couples or friends, being either double beds or twins. The great thing about SCIC Sailing is that every cabin is en-suite, so we had our own loo, sink and shower and were perfectly self-contained. There isn't a great deal of space but there is a lot of storage next to and underneath the bed, so it didn't feel cramped, and the coolness of the cabin during the day made it a great spot for an afternoon nap between bouts of relaxing.
Our week with SCIC Sailing
We flew from Luton airport to Bodrum in Turkey and were met in arrivals by our taxi driver who speedily drove us the 40 minutes to Bodrum harbour where our home for the night, the 16-berth yacht Nemesis, awaited us. The moment the car pulled up we were greeted by the yacht crew who carried our bags on board and within seconds we were sipping G&Ts on deck in the sunshine.
As our fellow passengers – there were 12 in all, plus four crew members – were arriving at different times throughout the afternoon and evening, our ship wasn't leaving the harbour until early the following morning, so we were free to explore Bodrum. We had a lovely walk around its shops, covered markets and historic castle before finding a restaurant overlooking the harbour and spent the afternoon tucking into plates of hummus, tzatziki and octopus in the sunshine before having drinks on the beach to the background of a live music concert across the other side of the harbour – a great start to the holiday.
The next morning the call to prayer woke us up at 6am but by then the ship's engines were starting up making any more sleep next to impossible (I definitely advise taking earplugs and eyemasks). We were far too excited to sleep though, and were instantly up on deck to watch our captain and crew take us out of Bodrum harbour and off on our adventures.
For a week which felt so relaxing, we certainly managed to pack a lot in. Our first stop was visiting the Ancient Greek city of Knidos, exploring its architecture and amphitheatre with a fascinating guide and his wife, who really brought the city to life and made us feel immersed in the rich past of the Datca peninsula.
We also explored Seder Island and the ancient city of Kedrai, also known as Cleopatra's Island, famous for its beach made from seashells – as well as a sandy beach, said to be made from sand brought by ships from the Red Sea especially for Cleopatra.
One memorable morning we found ourselves in open-topped jeeps which reminded us of Jurassic Park, and zoomed off across the mainland on an exhilarating drive, standing up all the way and marvelling at the stunning views from all sides.
Our jeep tour took us to a traditional Turkish farmstead; a lake teeming with baby turtles; a mosque, where we spent a fascinating half hour hearing about our guide's view of Islam in Turkey and around the world; the Garova winery where we got to sample some delicious wine and explore the vineyard in the sunshine; finally ending up at an olive oil producers where we tasted a whole range of olive oil and had dinner in the sunshine.
We visited a traditional bustling market, with dozens of stalls selling clothes, olives, fresh fish, fruit, kitchenware, shoes and a whole variety besides.
In between our memorable excursions by jeep and minibus, we were exploring the coast by boat, flipper and kayak. Every day we would drop anchor in a beautiful bay for a spot of swimming and snorkelling, and there were two kayaks which were perfect for heading a little further afield.
One night we climbed a hill to see a spectacular sunset and descended to find the crew had set up a dinner on the beach for us, another night we ventured into the village of Karacasogut near Mamaris where we drank cocktails and dined on fresh octopus, fish and courgette fritters.
It was nice to wander on and off the boat to explore a Turkish village for a change and experience the night life, but it was rather quiet and I missed the vibrancy of the Greek seaside towns we visited on my previous week with SCIC Sailing. The good thing about SCIC Sailing trips though, is that you are in charge of your own itinerary and can have as much life or quiet as you wish.
After an incredible week, we arrived back in Bodrum for one final meal in one of the harbour restaurants which was great fun, but after the peace and quiet of our week sailing around the calm Aegean waters, felt rather hectic.
The following morning we all departed at various times to various airports and some were lucky enough to continue their holidays in Istanbul for a few nights before heading home. Before long, we were back in the UK with about a million pictures and videos to sort through, trying to recapture the experience.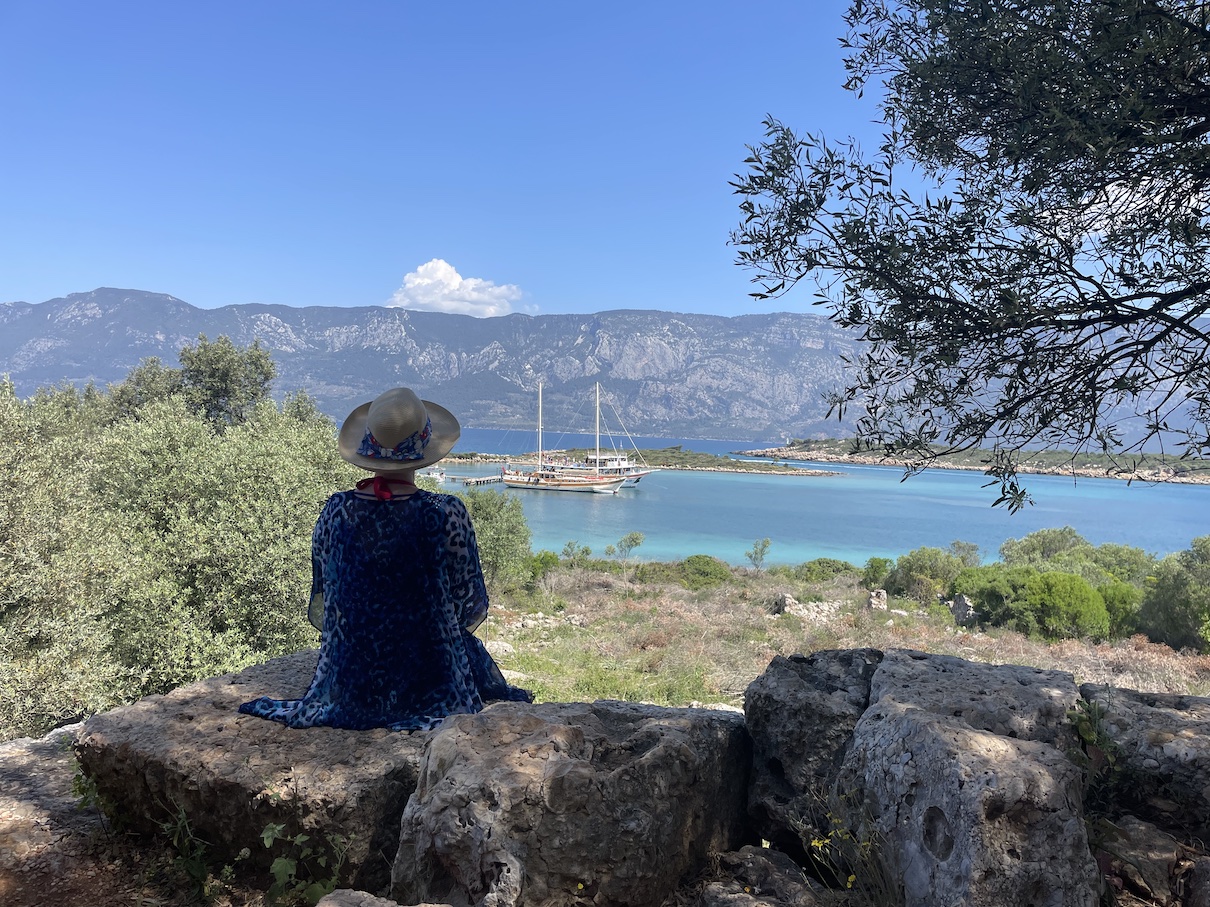 Information and book with SCIC Sailing
For more information about SCIC Sailing go to scicsailing.eu or check out SCIC Sailing on https://www.facebook.com/ScicSailing or https://www.instagram.com/ScicSailing/
Prices for a individual sailing cruise for one week per person including breakfast, lunch, five dinners, all snacks in-between and all drinks including alcohol is from €
9

51

to 
€ 1
14

1.
Exclusive yacht charter for a Comfort Yacht
:
one week excluding meals & drinks on board, start from €
3875 to  
€
8

890

, depending on the date and
the size of the yacht. Exclusive yacht charter Luxury Yachts
:
one week excluding meals & drinks on board start from €
12

000
to €
28000

,
depending on the date and the size of the yacht. The total for meals and dri
nks on board is 396,00 Euro per  
person, per week breakfast, lunch, snacks in-between, five dinners and all drinks.