Some holidays are so jam-packed with things to do, places to visit and sights to tick off that you end up needing a holiday afterwards to recover. A island-hopping voyage around the Aegean with SCIC Sailing (it stands for Sailing Cruises in Comfort and is aptly pronounced 'chic') is thankfully not one of those holidays.
Sailing in the Aegean with SCIC Sailing
In fact, I think it is possibly the most relaxing holiday I've ever been on. It wasn't just that with a cruise – I think I can call it that, even though our beautiful twin-mast 90ft Turkish gulet sailing ship was the polar opposite of a mega cruise ship – you can travel all around the region without fighting with hoards of tourists, but the fact that the itinerary was so leisurely that there was ample time for sleeping, reading, eating, swimming, sunbathing, relaxing and yet more sleeping and eating.
I averaged a book a day during my week's holiday (admittedly I'm a fast reader) and I still had loads of time to explore the islands we visited, go swimming and snorkelling, enjoy the superb meals onboard (lots of fresh seafood, lots of rosé wine), attempt to get a tan (some of the other guests were mahogany by the end), have late nights dancing on and off shore and basically return to the UK completely blissed out.
I say itinerary, but the feature of SCIC Sailing is that there isn't really a fixed schedule at all. The sails are practical as well as ornamental, and are raised whenever possible, so you enjoy the twin thrills of silently swooshing over the waves without the chug of the engine, but also not knowing where the winds will take you. Thankfully you can't go wrong in this part of the world which has beautiful islands at every turn, but the joy of exploring by boat means you can access deserted beaches and moor in beautiful coves which are almost inaccessible by road, and have the whole place to yourself.
Onboard our board for a week's sailing
The Naviga 1, my home for the next week, was waiting for me in Kos Town harbour as I arrived from the hour-long transfer from the airport, and as I was the first by several hours to arrive there was nothing to do but accept a proffered G& T and settle down for some serious relaxing straightaway on the comfy white cushions which line the deck.
SCIC sailing boats can be hired out exclusively for one party or you can just book an individual cabin for a week and get to know your fellow travellers as you sail.  All meals onboard are served on a big communal table at the back of the boat, so you're dining al fresco several times a day, but there's a handy canopy to keep the sun off in the midday heat.
Inside is a small but perfectly adequate lounge/bar area (the site of dancing later on in the trip) and stairs both fore and aft led to the eight cabins, some twin and some doubles, which were all decked out in smart dark wood panelling. (The only downside to these was that they crack and creak when we were plunging through the waves – I was glad of my earplugs). They all had ensuite loos and showers which I gather is a luxury for ships this size, and meant you always had a cool haven to retire to when the sun was just too fierce outside.
Our first stop – the island of Nisyros
Our first stop was the island of Nisyros, one of the smallest islands of the Dodecanese archipelago, and after breakfast on board ship we headed off on a bus trip round the island to an astonishing natural feature.
Nisyros's volcano is the youngest active volcano in Greece (we're still talking 15,000 years ago though) and there's a 300 metre-wide crater in its vast caldera which makes you feel as if you're walking on the surface of the moon (if a rather smoky, sulphuric one).
From the lunar landscape we travelled to a classically Greek one and an Instagrammers delight; the beautiful village of Nikia. We sat outside one of its two cafes in its picture-perfect square and sipped soumada, a almond-based local speciality.
Next stop – Halki and then Symi
Nisyros was just the first of several beautiful islands we visited on our floating home. Halki was our next stop and we spent the afternoon wandering around the historic town of Imborios and having a few drinks in the sun at its many pavement cafes before the Navigo's dinner bell rang out across the harbour and it was time for another delicious meal. The following day after an excellent morning's swimming in a deserted inlet, we moored in the spectacular harbour at Symi and spent the day walking up and down its winding streets (and doing a bit of shopping) before finding an excellent restaurant tucked down a backstreet. Fortified by shots of local hooch mastika we then danced at a nearby bar until the early hours.
The next day was more cultured, with a trip to the Panormitis monastery on the other side of the island. The building with its colourful courtyard houses a museum containing everything from religious artefacts and jetsam to swords and body-building trophies. Afterwards we sat in the sun as the neighbouring cafe, eating olive bread from the local bakery and feeling very glad that we'd arrived before the packed ferry which disgorged hundreds of day-trippers.
Exploring the Turkish coast
We didn't just visit Greek islands but due to impending storms we diverted over to Turkey and the Bozborun peninsula. We then crossed the water to Datca, arriving at the same time as a local bike race and loading up on soft, dusty Turkish Delight, before heading onto the ancient ruins of Knidos, spending the day snorkelling in the turquoise waters before a candlelit dinner on a secluded beach in the evening.
By the end of the week we'd come full circle back to Kos Town which is full of unexpected delights. You can walk through the peaceful ruins of a Roman marketplace, stand under the tree where Hippocrates taught his pupils, walk along windswept beaches or just sit in the main square watching the world go by (I can recommend Aegli Cafe, run by the island's first women's co-operative and which serves excellent olives and hummus.)
There was just time for one more meal – the excellent Broadway, serving Greek food with a Queens, New York twist, one more night in my little wooden cabin and then time to return to the real world, thoroughly refreshed. Where will the Naviga sail next?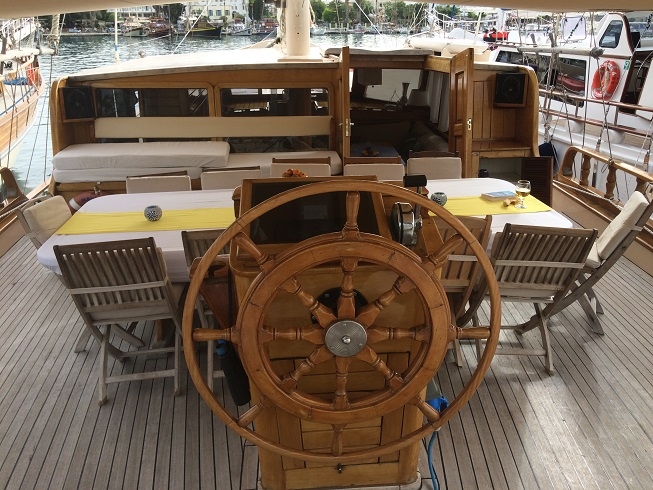 SCIC Sailing has seven-night cruises including breakfast, lunch, five evening meals, snacks and all drinks including alcohol. The sailing season runs from March to October.
Fancy something bigger? Read all about my week onboard P&O Cruise's ship Britannia