Exploring Le Mans in 24 hours: a whistlestop tour of the city
The historic city of Le Mans is famous for its Le Mans 24 race and so it seemed appropriate that I was also doing a 24 hour race around Le Mans, the historic city in the heart of French region Pays de la Loire. While I had heard of the world-famous endurance race watched by millions each year, I knew nothing about the city itself and was really surprised how much there was to see – and how little of it was car-related! So here are some of my highlights:
The Le Mans 24 hour museum
Even for non-car fans, it would a loss to visit Le Mans without visiting the famous Le Mans motor-racing circuit where Le Mans 24 hours has been going since 1923.
There was a classic car race taking place the weekend I was there, but even so I managed to drive and park without problem (the museum is about 10 minutes out of the city centre) and spend a happy couple of hours at the Museum of Le Mans 24 hours checking out all sorts of classic cars and watching films about the likes of Steve McQueen and other Le Mans fans.
Entrance: €8.50 including audio guide
The historic city of Le Mans
Le Mans is the birthplace of the royal dynasty of the Plantagenets, who reigned over England from the 12th to the 15th century. Henry II was born in Le Mans and made the city a major base for his realm. However its history goes back much further than that, as evidenced by still-standing Roman walls and towers. The old Roman part of town is the oldest after Rome and Constantinople, and is a UNESCO World Heritage site.
Just walking around the cobbled street of Le Mans' historic quarter is a treat, and if you do this by day you are most likely to have the place to yourself. Come evening though and everyone comes out to promenade around its ancient streets.
Overlooking the historic quarter known as the Plantagenet City is the vast cathedral of Saint-Julien, built between the 11th and 15th centuries. During July and August the historic buildings become the backdrop for an impressive light show, La Nuit des Chimeres, but they are worth a visit all year round and have been the setting of many historical films.
A great starting place is the tourist office known as La Maison du Pilier-Rouge, easily recognisable by its red, green and yellow half-timbered exterior. Here you can pick up tourist maps, buy tour tickets, find out about exhibitions and events in Le Mans and get to know all about this fascinating city.
It was lovely just wandering around the cobbled streets checking out all the beautiful buildings and houses and particularly nice to grab a deck-chair and sit outside in the sunshine watching the world (and even a little train) go by.
Where to stay in Le Mans
I topped and tailed my flying visit to Le Mans with two very different hotels: the first being the French chateau of La Groirie which I reviewed here
My second hotel was a very different hotel, the Ibis Le Mans Centre Gard Nord which was handily located near the centre of town and just across the town from the tram stop which took me right to the historic centre in just a few minutes.
The hotel was a great budget option with a clean, airy Le Mans-themed bedroom, good breakfast buffet and fun touches such as a red Fiat 500 in the lobby (my own red Fiat 500 was squeezed into the very small car parking space next to the hotel, you might have to park elsewhere as there's only room for a couple of cars).
Where I ate in Le Mans
Restaurant Grill La Rotisserie
Just a few minutes from the Le Mans 24 Hour Museum was this restaurant which looked a little unprepossessing on the outside but which did excellent rotisserie chicken and had a lovely open-air courtyard.
Creperie L'Explorateur
This restaurant is in the heart of the Old Town and does a great line in traditional buckwheat galettes (pictured). I also had a vast pizza and rolled out of there feeling like Augustus Gloop.
There was just enough time to amble back through the streets of Le Mans in the dusk and enjoy all the quirky sights, from teddy bears in windows (in an homage to a Robert Doisneau photograph) to giant snail sculptures.
In exploring Le Mans in 24 hours I had barely scratched the surface of this history city, not to mention the nearby attractions such as L'Abbaye Royale de l'Epau, the final resting place of Beregaria, widow of Richard the Lionheart. But it's always good to have reasons to return!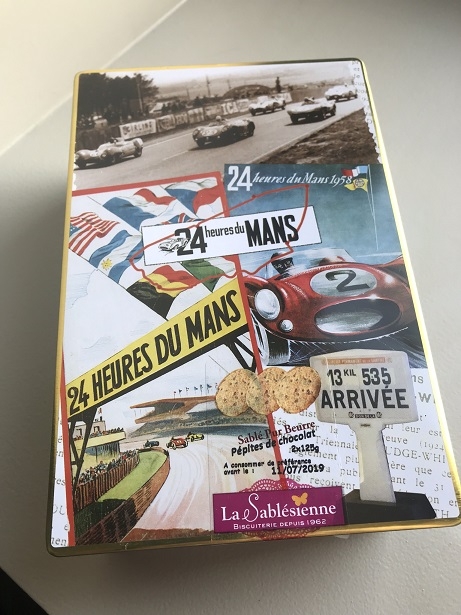 Useful links
Information about  Le Mans in surrounding district
Information about the nearby Vallee du Loir

Where I stayed in Le Mans
La Groirie, 72650 Trangé, Pays de la Loire. The chateau is around 10 minutes from Le Mans. Rooms from £140 a night.
Ibis Le Mans Centre Gare Nord Hotel. Rooms from 66E a night.