It goes without saying that anyone doing battle with the traffic on either the M25, A2 or A20 routes is probably in need of some serious relaxation, but they might be surprised to learn that there is an oasis of calm just moments away in the form of Rowhill Grange hotel.
Thankfully due to its location in 15 acres of beautiful bluebell woods and manicured lawns, no traffic noise penetrates the calm of this luxury hotel – its outdoor garden of tranquility would be rather ineffective if it did – and just minutes in coming off the M25 I was taking pictures of the bluebells and signs saying 'Ducks crossing' and feeling as I were deep in the Kent countryside.
A stay at Rowhill Grange hotel
Four-star luxury hotel Rowhill Grange is owned by Alexander Hotels, which also owns the Alexander hotel and spa in  West Sussex, Barnett Hill in Surrey and Langshott Manor, also in Surrey, which I can highly recommend, it being a unique 16th-century manor house just minutes from Gatwick Airport (thankfully not underneath the flight path).
Book Rowhill Grange on Booking.com
Visit Rowhill Grange on Tripadvisor
Arriving at Rowhill Grange hotel
Rowhill Grange in't quite as historic as Langshott Manor but is no spring chicken either: it was built in 1868 and later owned by Sir George Cole, Lord Mayor of London and breeder of Shetland ponies. Having survived the Blitz, the house was converted into a country house hotel and restaurant in 1987 and acquired by its current owners in 1994. The original coaching house is still intact, next to the main building, and used for weddings and private parties.
If you love staying in historic house hotels then don't miss these great hotels:
aladyofleisure.com/langshott-manor-hotel-review
aladyofleisure.com/luxury-after-lockdown-a-covid-secure-stay-at-fawsley-hall-hotel-northants
aladyofleisure.com/historic-hotel-in-birmingham-with-a-spa
However while the outside is pleasingly traditional with stone chimneys and a stone terrace for al fresco drinks, the interior of Rowhill Grange is smart and modern, with a lounge popular for morning coffee and afternoon tea leading through to the main draw of the hotel, the Utopia spa.
The spa at Rowhill Grange hotel
Reached through the lounge (where robes can be worn until dinner time) and down a flight of stairs, I wasn't sure what to expect from the spa so I was pleasantly surprised by walking out to see a large hydrotherapy pool and a neighboring hot tub under a vast ceiling, and then discovering a sizeable swimming pool up above, with statues and loungers giving it a Roman-baths type of atmosphere (although the room would be transformed with a lighter ceiling to really lift it into luxury).
We had the pool to ourselves and the array of magazines meant we could happily relax all afternoon in between spa treatments: I had a very pleasant 'Inner Peace' massage which might be a bit too soft for some but was a lovely way to destress after the drive. We then discovered a very relaxing post-treatment chill-out room and happily snoozed there until heading back to our bedroom for dinner.
Bedrooms at Rowhill Grange hotel
Named after plants (we were in Rhododendron) the bedroom was large well-equipped, with a Nespresso-style coffee machine, bottles of complimentary water, large TV, more magazines and a very smart bathroom with a huge bath and separate rainfall shower, both stocked with L'Occitene toiletries. It ticked all the boxes with regards to lots of storage and plug points, smart TV, radio and light switches everywhere and the turndown during dinner supplied us with a fresh towels and water.
Dinner at Rowhill Grange hotel
Dinner itself was sadly the low point, which was a shame as it's such an important part of a country house hotel stay. The restaurant itself was light and airy and the service was prompt (although the waiter didn't know what was on the cheese board and had to be prompted to find out) and my glass of wine arrived in a little carafe and was then poured out which is always a nice touch. There was only one type of bread (and it wasn't great) which was a shame but the prawn, crab and crayfish cocktail starter (£13)  was excellent.
Where the meal fell down was the roasted beef fillet (a hefty £35) which was unaccountably completely tasteless, meaning we had to request horseradish and add salt to give it any flavour at all. The couple next to us were also complaining about the food – they also had the tasteless fillet and the roasted hake which was accompanied with mussels – just two of them – when we checked out the next day another couple were also complaining about their food. With our meal (without dessert and with just two glasses of wine) coming to £120, that's a lot to spend on food which you could do better yourself at home and it certainly took the shine off the other guest's visits, although refunds were being handed out.
Breakfast the next day was much better, with prompt service and faultless Eggs Florentine, although the buffet selection was rather meagre for the £11.95 price tag (£15.95 with the cooked option).
The gardens were ideal for a short post-breakfast stroll and then, not having to rush off, I spent the morning working and people-watching in the very popular lounge.  The spa is definitely a big draw to the hotel – and if the restaurant's problems were sort out, Rowhill Grange could soon offer the whole package.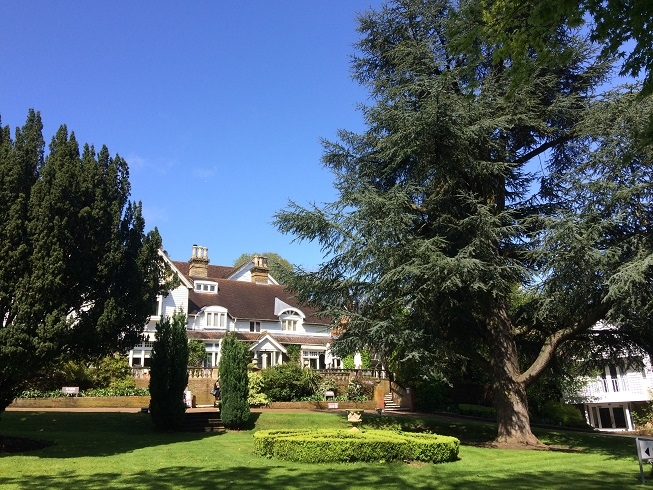 Hotel information and to book Rowhill Grange
Rowhill Grange hotel and spa, Top Dartford Road
Wilmington, Kent DA2 7QH
01322 517495
Book Rowhill Grange on Booking.com
Visit Rowhill Grange on Tripadvisor
Check out these other exclusive ALadyofLeisure.com reviews of other great hotels with spas; One Aldwych hotel London: a Lion King-sized bite of luxury in a West End hotel; Calcot Manor luxury hotel: a family-friendly hotel in the Cotswolds; A deeply relaxing day at Lime Wood hotel spa in the New Forest