Should lockdowns return, the best hotels for social distancing are going to be in demand. UK luxury hotels – especially country house hotels – typically come with large, well-ventilated rooms, spacious dining and bar areas, outdoor seating and acres of land and beautiful gardens making them perfect for that crucial social-distancing and safe staycation option.
Of course, do check in advance what type of restrictions will be in place and what kind of cancellation policy they have in case things change rapidly. What to expect from a hotel stay during Covid But here are some of the best hotels I've reviewed so far which I think would be perfect for that post-lockdown luxury stay.
With more than 1,000 acres of land on the Hertfordshire/Bedfordshire border, its own fleet of London taxis and a palatial restaurant, bar, lounges and bedrooms, the five-star Luton Hoo luxury hotel is built on such a grand scale that social distancing will not be a problem. Grand enough to have hosted The Queen and Prince Philip for part of their honeymoon and glamorous enough for Hollywood – Eyes Wide Shut, Four Weddings and a Funeral and The World is Not Enough were all filmed here – Luton Hoo is one of the top luxury hotels in Southern England and is taking bookings from 4th July.
Visit Luton Hoo on Tripadvisor
West Sussex foodie favourite Gravetye Manor has been welcoming a small number of day visitors since the start of June with its luxury hampers to be enjoyed in its stunning grounds and once the hotel has reopened it will be a firm favourite with its long-time fans and newcomers alike. With award-winning gardens surrounded by miles of open countryside and woodlands, Gravetye is a bubble of luxury, relaxation and fine-dining: no spa here but you won't miss one as you sit in the sunshine soaking up great food to match the great views.
Book Gravetye Manor on Booking.com
Visit Gravetye Manor on Tripadvisor
Leaving the picture-perfect Cotswolds village of Castle Combe won't be a hardship as you drive into the grounds of The Manor House, a classic country house hotel. This five-star 14th century hotel, part of Exclusive Hotels has a Championship golf course, Michelin-starred restaurant and all the open air you could want. G&Ts on the lawn anyone?
Book The Manor House on Booking.com
Visit The Manor House after Tripadvisor
Its superb location right on the south coast by Torquay (Babbacombe Bay to be exact) will make Cary Arms hotel and spa a must-visit destination after lockdown with its private beach cottages the perfect luxury bolthole for relaxing in splendid isolation. After a bracing coastal walk with superb views you can replenish your energy with some great locally-sourced food and drink in its excellent restaurant (you'll never tire of the views).
Visit The Manor House on Tripadvisor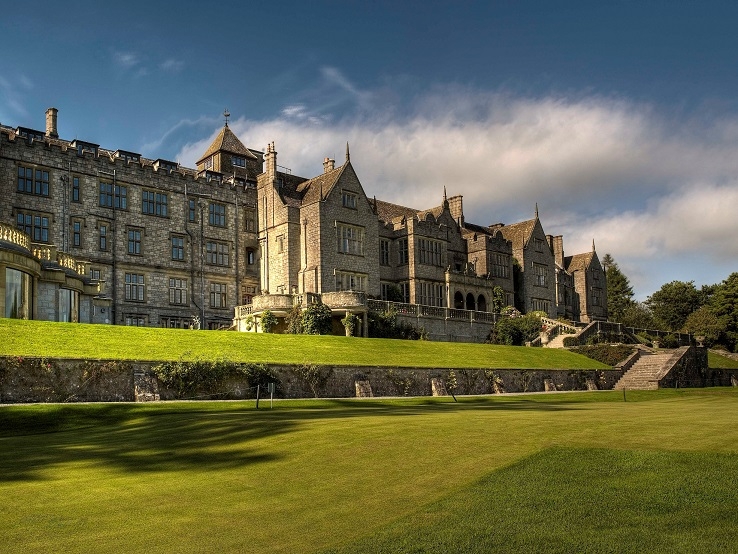 Reached via winding Devonshire country lanes, Bovey Castle hotel is built on an epic scale. With 60 bedrooms and suites, 22 self-contained cottages and set in 275 acres of rolling Dartmoor countryside Bovey Castle has all the space you could want and thanks to the welcoming staff and beautiful interiors, a stay here is gloriously friendly and relaxing.
Full review of Bovey Castle here
Book Bovey Castle on Booking.com
Visit Bovey Castle on Tripadvisor
Right on the shore of the lovely Rutland Water, Hambleton Hall has everything you could want from a post-lockdown hotel: great views, excellent service, a beautiful location with great walks through its gardens and around the lake, and best of all, some seriously good food as you'd expect from a long-time holder of a coveted Michelin star. One of the nicest and cosiest hotels I have ever stayed in.
Full review of Hambleton Hall here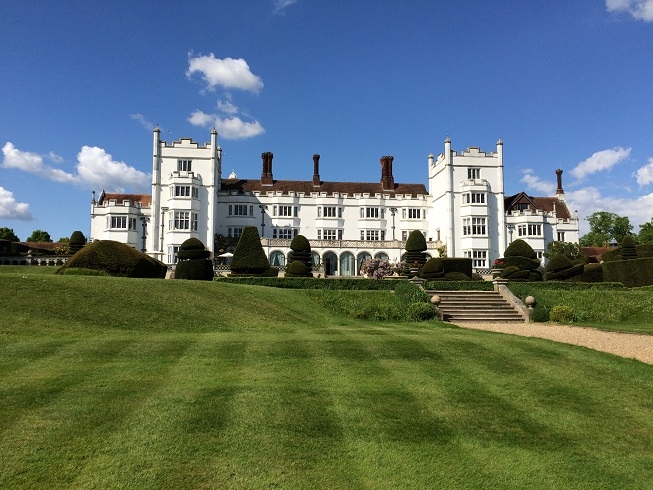 Having breakfast in the sunshine on the terrace at Danesfield House remains one of my favourite hotel memories and after lockdown the terrace will be a great place to enjoy some great food and drinks at anytime, with stunning views over the nearby Thames. With large grounds, a huge spa and excellent hospitality, Danesfield  is just 30 minutes from London but feels more like hundred (years and miles).
Book Danesfield House on Booking.com
Visit Danesfield House on Tripadvisor
Cocktails on the terrace is always a winner with me and sitting outside Hartwell House surrounded by 90 acres of Aylesbury countryside is a real treat. The historic house (owned by the same group behind  Bodysgallen in North Wales) is a real country house classic, where in days gone by they insisted on bringing coffee to your room and where pre-dinner cocktails would be served in its opulent lounges. With a luxury spa, palatial bedrooms and bags of charm, Hartwell is a taste of luxury from years gone by.
Book Hartwell House on Booking.com
Visit Hartwell House on Tripadvisor
Perched at one end of the famous Fistral beach, the Headland Hotel is a local landmark and, assuming Cornwall is happy to receive visitors again, a great place to brush off the hibernation cobwebs. With stunning views of the beach and along the Cornish coast, the Headland is a luxurious hotel with a large lounge, restaurant and spa for indoor relaxation, but it also has its own surfing school so you can catch some waves just a few metres from a warming bath afterwards.
Book the Headland Hotel on Booking.com
Visit the Headland Hotel on Tripadvisor
From the moment the gates open to let you into the hotel's charming courtyard, you know you're going to be well looked after during your stay at Whatley Manor. Run by experienced GM Sue Williams (who used to manage top luxury hotel Cliveden), Whatley Manor's charm is in being a traditional but luxurious hotel which appeals people keen on fine-dining and pre-dinner cocktails as much as those who want to indulge themselves in the luxury spa or to watch a film in Whatley Manor's private cinema (this might not reopen immediately). With a two-Michelin star restaurant, an award-winning modern spa, 12 acres of gardens and large, opulent bedrooms, a stay at Whatley Manor will be a real post-lockdown treat (it's already selling meals to take away from the restaurant – a posh picnic if ever there was one.) It's not cheap but it will be indulgent, relaxing and memorable.
Full review of Whatley Manor here
Book Whatley Manor on Booking.com
Visit Whatley Manor on Tripadvisor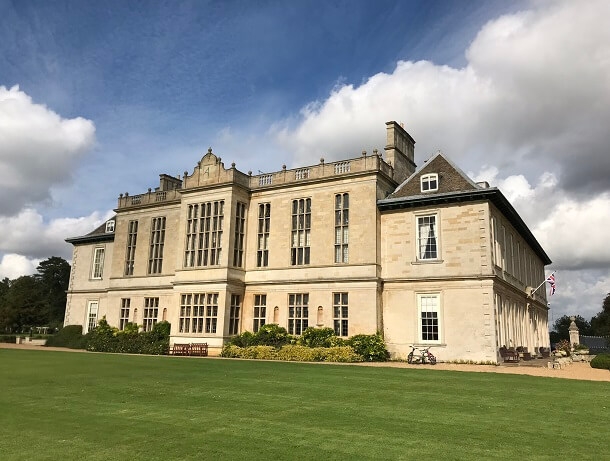 Set within 500 acres of parkland just a few miles away from pork pie capital Melton Mowbray, arrival at the Grade 1-listed hotel is a via pretty winding drive through the woods, past a little chapel and through an old stone arch before sweeping round to the hotel itself. Some of the bedrooms – such as Zoffany – are so vast you'll never want to leave, but if you fancy heading outside there's a golf course, luxury spa, opulent lounge and fine-dining restaurant to occupy you. Staff are happy to guide you round this historic hotel which dates back to the 14th century or leave you to enjoy a good book over a cocktail, and a fleet of buggies will help you get the most out of your stay if you're here to relax rather than explore.
Book Stapleford Park on Booking.com
Visit Stapleford Park on Tripadvisor
This 19th-century house is a really charming place to stay, with friendly staff, opulent rooms and country walks in its landscaped grounds. The outdoor theatre set in its vast grounds is a great way to spend the evening as there are also classic country house luxuries such as afternoon tea, country walks and excellent food in its pretty Orangery restaurant.
Book Kilworth House on Booking.com
Visit Kilworth House on Tripadvisor
A stay at Stoke Park luxury hotel and country club certainly scores highly on the luxury front. The main hotel building is a Grade 1-listed Palladian mansion, completed in 1795 and originally the private home of the Penn family, who gave their name to the US state of Pennsylvania. There are 21 traditional bedrooms here, many with four-poster beds and vast balconies, and if you want to replicate Bridget Jones's night with Hugh Grant's Daniel Cleaver in the film Bridget Jones's Diary then ask for the Pennsylvania suite, one of the hotel's top bedrooms with sweeping views over the grounds at the back to the hotel. There's also an enormous luxury spa, Humphrey's fine-dining restaurant and 300 acres of Capability Brown-designed gardens, so a great place for pretending you never have to return to the real world.
[Note Stoke Park hotel is currently closed for refurbishment]
Set in 500 acres of Wiltshire countryside a mile-long driveway, it's easy to see why Lucknam Park claims to have been social distancing for 300 years. This gorgeous 17th-century Palladian luxury five-star hotel with a Michelin-starred restaurant and luxury spa has been a fixture on Britain's hotel scene for years but still feels like a well-kept secret, with its own cookery school, arboretum and luxurious rooms in a classic country house style.
Visit Lucknam Park on Tripadvisor
Love reviews of luxury hotels? Then check out some of these amazing places to stay: Mallory Court, a relaxing stay near Warwick Castle; Brockencote Hall, a charming stay in Worcestershire; Greenway hotel in Cheltenham, luxury with the fizz factor; Something for everyone at Foxhills hotel Surrey; A picture-perfect Cotswolds stay at Manor House, Castle Combe; A room with a seas view at Thurlestone hotel, Devon; Park House hotel, a West Sussex gem