It isn't often you get to share a sink with Hugh Grant but the sign in our bedroom at the five-star Luton Hoo hotel and spa proclaimed it to be true: the rather quirky sink-in-a-cupboard in the corner was indeed the very same cupboard from Four Weddings and a Funeral where Hugh Grant hid while some rather saucy post-wedding celebrations were happening in the room – our room! – outside.
A stay at Luton Hoo hotel and spa
While I was tempted to recreate Hugh's famous perch, the fantastic view from our window was calling us out to go for a walk in Luton Hoo's seriously impressive 1,000-acre estate. But then, as if by magic, there was a polite knock on the door and a bottle of champagne was delivered. That settled it. We would admire the view from afar, while pretending to be Hollywood stars ourselves.
Book Luton Hoo hotel at Booking.com
Visit Luton Hoo hotel on Tripadvisor
Luton Hoo hotel, it turned out, is no stranger to the big screen, having featured in a whole variety of features: as well as the mega-hit Four Weddings it can also be seen in War Horse, Eyes Wide Shut, Enigma and The World is Not Enough.
If you like grand country house hotels like Luton Hoo then you'll also love:
Cliveden House Hotel: the ultimate English country house
Lucknam Park: my very own Palladian mansion for the night
Hartwell House: a luxury stay with the Downton Abbey factor
History of Luton Hoo hotel
However for such a celebrity location, Luton Hoo is far from diva-like and is in fact an almost perfect rendition of a traditional country house hotel, which is only to be expected from a building whose credentials are so impeccable that Winston Churchill addressed a crowd of 110,000 after the end of the Second World War and where the Queen and Prince Philip spent part of their honeymoon here in 1947. The combination of history and luxury makes it one of the top luxury hotels in Bedfordshire and possibly one of the best hotels in the country and a stay at Luton Hoo hotel will certainly be a memorable one.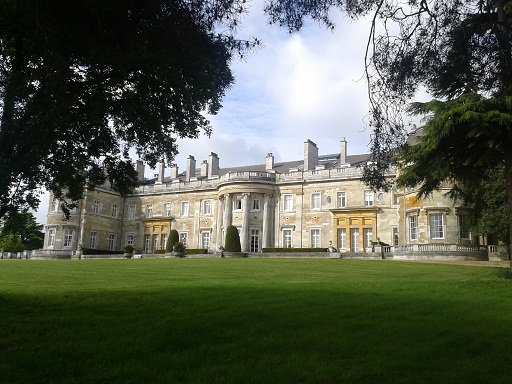 Checking in to Luton Hoo
The staff are extremely welcoming and helpful, able to recite facts and figures about the history of the building at the drop of a hat (if you want them to) and the gardener came in very useful when I was trying to identify the strange half deer, half rabbit creature I had seen lolloping around the ground (it was a muntjac and seemed very much at home).
Off the grand entrance hall there is a succession of lounges for tea and cocktails containing exactly the kind of cosy sofas and armchairs you want to find in a country house hotel, and my new favourite thing, a self-playing grand piano, which rather fittingly was playing the Downton Abbey theme tune when we arrived.
It might be cheesy but I thought it was great, playing classical music over dinner, jazz numbers late in the evening and some more lively and upbeat numbers at breakfast the next day, and was so realistic that I caught myself several times about to applaud at the end of a piece.
There was no shortage of rooms to explore, from the wedding chapel and mirrored lounge downstairs which was laid out for afternoon tea, to the rooms upstairs including the Queen's suite, and everything seemed extremely clean and well-looked after.
Dinner at Luton Hoo hotel
Dinner was in the impressive Wernher restaurant, named after diamond merchant and art collector Julius Wernher who bought the building in 1903. We were shown to a table in the bay window of the dining room, the perfect place from which to admire both the view outside and the opulent decoration inside.
The menu was pleasantly brief, just four starters, four mains and four desserts, but a good selection of dishes and the descriptions were refreshingly straightforward, no gels, foams or 'compressions' here.
We chose the crayfish and potted shrimp, and the mozzarella arancini to start, and the rib-eye of Casterbridge beef and the garlic and rosemary lamb to follow. Both starters and mains were perfectly nice if not spectacular, and the dessert trolley was a nice touch if perhaps laden with rather too many of each dessert, which made them looked rather mass-produced, even though I'm sure they weren't.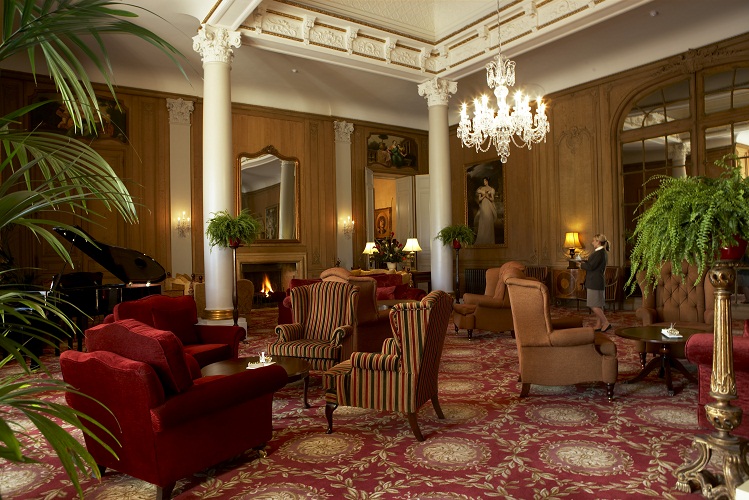 Bedrooms at Luton Hoo
Our bedroom, the Lady Butter, was huge and very smart, with all the things you'd expect: an immaculate bathroom, a sofa, desk, coffee table, fridge, coffee-machine, and obviously, Hugh's sink closet which turned out to be very useful to avoid competing for the bathroom mirror. It was also a nice touch having a detailed description of the history of the room (and its starring role in any films, of course).
Breakfast at Luton Hoo hotel
Breakfast the next day, back in the Wernher restaurant, was fine with prompt service and we walked off the Eggs Benedict and toast by heading down to the lake which turned out to be a lot further away than it seemed, due to the vastness of the land surrounding the hotel. (There is a massive ha-ha ditch between the lake and the hotel, and there is a (rather well hidden) path across it which I found only on my way back…!)
Luton Hoo spa
A nice touch at Luton Hoo is that even if you are staying for just one night, you can check out of your room in the morning but then spend all day in the spa, so you feel as if you've had a really long two-day break – a perfect staycation. Next to the golf course and clubhouse (I know very little about golf but the course at Luton Hoo is a highly-rated championship course which meanders throughout the estate) the spa contains everything you need for a relaxing or energetic day, depending on how you feel, with an indoor swimming pool, jacuzzi, steam room, sauna, treatment rooms, outside loungers, tennis courts and a gym.
We spent the day in the luxury hotel spa swimming, sunbathing, sauna-ing and then finished off with a visit to the 19th hole, where they had a special offer on coffee and muffins. It was certainly a wrench to return to the real world…
Hotel information and to book Luton Hoo hotel
Luton Hoo Hotel Golf & Spa
The Mansion House, Luton
Bedfordshire, LU1 3TQ
Tel +44 (0)1582 698888
B&B in the main house ranges from £340 for a deluxe room, £600 for a master bedroom such as our room, Lady Butter, and up to £1,100 for a State Suite. Rooms in the Club House or Flower Garden start from £280. 
Book Luton Hoo hotel at Booking.com
Visit Luton Hoo hotel on Tripadvisor
Luton Hoo hotel is a member of Small Luxury Hotels of the World
If you enjoy reviews of luxury country house hotels then you'll love: Ashdown Park hotel and spa: a luxury hotel in stunning grounds; Chewton Glen hotel and spa, New Forest: luxury from spa to treehouse; Bond, Bridget and me: my stay at the luxury Stoke Park hotel, Bucks