Back in January 2015 I wrote a blog post in defence of little yellow photobombing cars, as the car owned by Peter Maddox, 82-year old resident of Bibury village in the Cotswolds, had attracted the ire of tourists come to photograph Arlington Row, supposedly one of the prettiest streets in England. They were complaining that their photographs of said street were being ruined by Mr Maddox's cheerful little Vauxhall Corsa.  Now it seems the car has been sent to that great Vauxhall garage in the sky by a vandal who destroyed Mr Maddox's car beyond repair, while scrawling 'move it' on the bonnet.
Not only is this a horrible thing to do to anyone or their car, it totally misses the point of visiting living, breathing places inhabited by living, breathing people (and their means of transport): one of the attractions of Cotswolds villages such as Bibury is that they are real places, not museums covered in dust or protective barriers. If you want an uninterrupted, sterile, pristine picture of something – buy a postcard. Otherwise be happy that you had the privilege of travelling the world and recording what you see – not an artificial, sanitised version of it.
So in defence (once again) and now in memory of photobombing little yellow cars everywhere, here's my Fiat spoiling (or enhancing) the view at some of the loveliest hotels in the UK.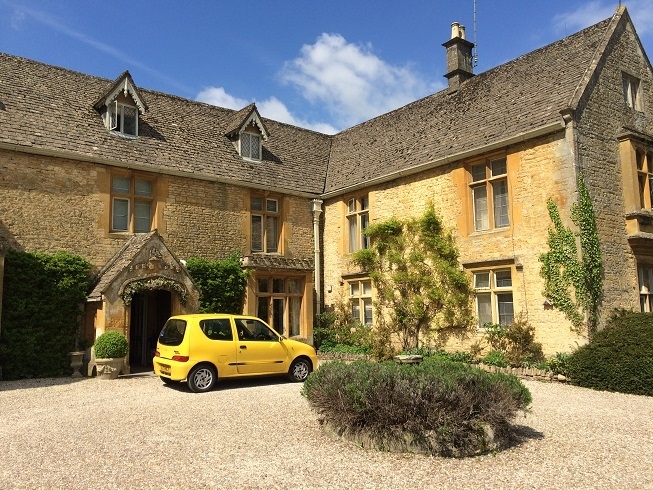 Not far from Bibury is the lovely Lords of the Manor hotel in Upper Slaughter. It has 8 acres of glorious gardens, a Michelin-starred restaurants, and a bright little yellow Fiat parked outside it…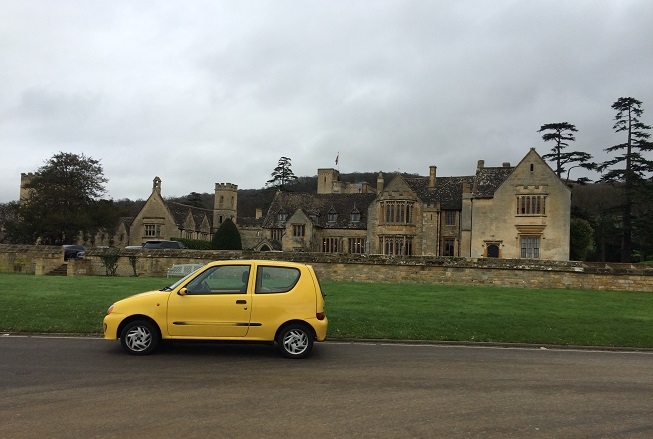 The sky might be grey but there's a splash of colour outside Ellenborough Park, a beautiful country house hotel perched just above Cheltenham Racecourse (click here for my review of Ellenborough Park)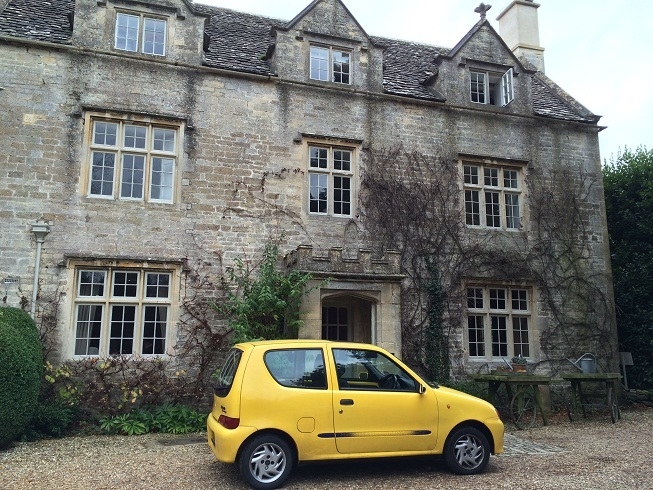 The crunch of gravel under my car's tyres was the start of a delightful stay at Barnsley House in Gloucestershire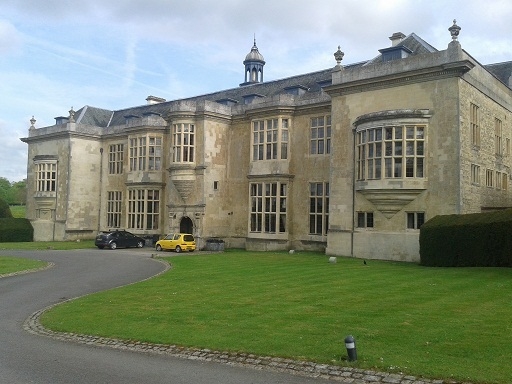 It's find the Fiat time… not to difficult to spot my car outside the grandeur of Hartwell House in Buckinghamshire, graced by the Queen Mother, Bill Clinton and now, a car straight out of Inbetweeners…
And don't forget the other places my little Fiat has photobombed…
As for those complaining tourists (and the mindless vandal), they'd better head to Bibury fast if they want a car-free picture. Mr Maddox is reportedly considering a lime green model this time…
Looking for hotels in the Cotswolds?
Luxury in the Cotswolds at Lygon Arms, Broadway
Whatley Manor hotel and spa, a true Cotswolds gem 
Relaxing in grand style at The Hare and Hounds near Tetbury
A classic English estate at Bowood hotel, spa and golf
The Greenway hotel and spa, Cheltenham – luxury with the fizz factor
A picture-perfect stay at The Manor House, Castle Combe
Cosy Cotswolds charm at the award-winning Painswick hotel
Snug Cotswolds luxury at Dormy House, Broadway
Calcot Manor, family-friendly luxury in the Cotswolds
Barnsley House, a wonderfully cosy Cotswolds retreat
A traditional Cotswolds pub stay at the Kings Head, Bledington