Some hotels just get it completely right – and luxury country house hotel Hambleton Hall Rutland is one of them.
From the traditional and immaculate bedroom, to the excellent food, lovely gardens, cosy bar and superb attention to detail, I can't think of a single negative comment to make about my recent stay – except that it's not just round the corner from where I live – but I can hardly blame Hambleton Hall for that.
If this all sounds too gushing, then I defy anyone to not come away from a night's stay without feeling incredibly content – a sign of a perfect hotel stay.
[Note: this review of Hambleton Hall hotel Rutland was first published in 2016 and so some of the prices might now be out of date]
The unique charm of Hambleton Hall
Part of Hambleton Hall's charm must come from the fact that it is rather small compared to some other country house hotels, with just 15 bedrooms in the main house, so it all feels rather luxurious and exclusive.  There is still ample room for you to find a little corner all to yourself, either in the downstairs living room, bar and reception area – all beautifully furnished – or in the gardens where little seats and tables are dotted around to make your own.
Looking for hotels with Michelin star restaurants?
Relaxing in the Lake District with Gilpin Hotel and Lake House
West Sussex garden luxury at Gravetye Manor
Top class food at Hampton Manor, West Midlands
Lucknam Park: luxury spa hotel near Bath
Cotswolds stay at Manor House, Castle Combe

The perfect gourmet break at Northcote hotel Lancashire
Pennyhill Park: spa hotel fit for England Rugby
St James's Hotel and Club, central London
Whatley Manor, Wiltshire: a Cotswolds gem
Ynyshir restaurant and rooms, Wales
And Dinner by Heston Blumenthal, Knightsbridge
With 55 staff you are never far away from someone to bring you a drink, the morning paper or recommend things for you to do in the local area, should you be crazy enough not to want to spend all your time at the Hall, but they will only appear when you want them and will magically disappear until needed again.
The history of Hambleton Hall
Owners Tim and Stefa Hart bought Hambleton Hall on the banks of Rutland Water in 1980 and since then have worked tirelessly to create a hotel which has attracted plaudits from everyone from the Good Food Guide, the AA, Pride of Britain Hotels and Relais and Chateaux. It has held a Michelin star ever since 1982, no mean achievement and is certainly one of the best hotels in Rutland (and the country).
Book Hambleton Hall at Expedia.com
Visit Hambleton Hall on Tripadvisor
Arriving at Hambleton Hall
The entrance hall, like the other rooms at Hambleton Hall, is very smart while being cosy and well thought out. On our arrival two staff instantly materialised to help with our bags and park the car. Within five minutes we were sitting in the bay windows of our bedroom, looking out onto the splendid view of Rutland Water, enjoying freshly-made coffee and biscuits and reading Tim's extensive guide on what to do in the surrounding area, from stately homes to cycling around the water's edge (the hotel has a selection of bikes for that very purpose).
Bedrooms at Hambleton Hall
Our bedroom, named Middlehurst, was very much of the traditional country house style, no boutique hotel-style modern flashes of bright colour here (though there was good, free wifi). Instead there was a selection of books, TV, digital radio, fluffy robes and slippers and frankly I felt that I could perfectly happily spend the entire stay in my room.  I was so relaxed I instantly fell asleep.
A drink in the bar at Hambleton Hall
A pre-dinner drink in the bar with Tim Hart and manager Chris Hurst was a great reviver (I had a delicious French 75 cocktail made with Burleigh's Dry London Gin, distilled in Leicestershire and expertly made by the bar manager) and then it was time for dinner.
The dining room was intimate, just a few tables in each section, and the service was as good as we'd come to expect. It might be Michelin-starred cuisine but the chef Aaron Patterson avoided the trap of endless pauses between courses.
There was a six-course tasting menu, at £85 a person, but we went for the a la carte instead, which was £68 for three courses. Bread was supplied by Tim Hart's own bakery which has a deservedly high reputation.
I chose my starter of black Perigord truffle risotto from the 'Gourmet Corner' for a £4 supplement and it was exactly as hoped for – earthy, hearty and supremely tasty.
My dining companion had the crab salad and then, while I had the loin and breast of lamb with pepper stew and dumpling,  she went for the other Gourmet Corner option – the fillet of Angus beef cooked on the bone, with smoked bone marrow and mashua root. It arrived on a trolley and was expertly carved with a touch of theatre – and it was, unsurprisingly, superb.
As well as the food, the service was excellent – friendly, attentive, prompt but not overwhelming – and it all made for a very memorable evening.
We skipped the sweet options for dessert and went straight for the excellent cheese trolley – the Delice de Bourgogne being a particular highlight, although there were some great local cheeses too.
Replete, we retired upstairs rather than follow some of our fellow diners example and have a nightcap in the bar, and slept like logs for 10 hours.
Breakfast at Hambleton Hall
Waking up to that wonderful view was a real treat, and after breakfast – I had poached eggs and haddock which was pretty good, in spite of the rather odd addition of some pak choi –  we borrowed some wellies from the hotel's selection by the front door and plodged our way down through the ornate garden, past the open air swimming pool which will be a stunning place in the summer,  and down across the fields to Rutland Water.
There was no-one else there except for some very cheerful ducks and a dog-walker in the distance, the only sounds were the waves splashing against the shore and the ducks chatting to each other.
Once back at the house it was almost impossible to leave, so we walked around the gardens some more, taking a look at the separate cottage, the Croquet Pavilion, before having more coffee and lounging around reading the newspapers.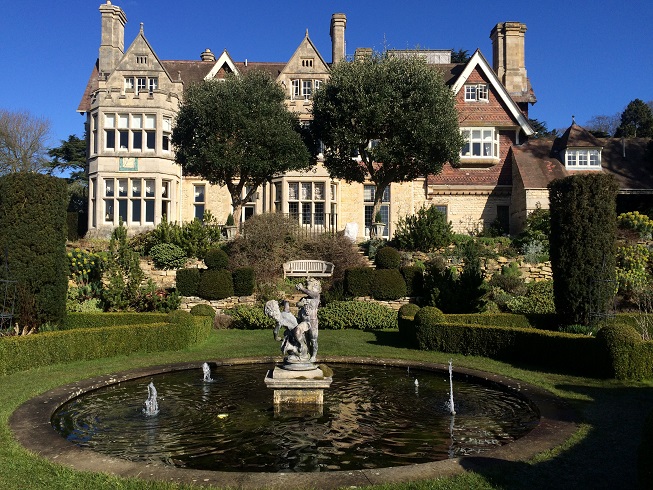 Finally it was time to leave and end what was a very memorable stay. Now, when am I next back in Rutland…?

Hotel information and to book Hambleton Hall
Hambleton Hall, Hambleton, Oakham, Rutland LE15 8TH.
01572 756 991
Book Hambleton Hall at Expedia.com
Visit Hambleton Hall on Tripadvisor
If you liked this review of Hambleton Hall hotel Rutland and would like to read more reviews of luxury country house hotels in the Midlands then you'll like reading these hotel reviews: A relaxing stay at Mallory Court near Warwick; A charming luxury stay at Brockencote Hall, Worcestershire; Drama and country house charm at Kilworth House, East Midlands