You're never too old to visit Las Vegas – and here's the proof!
Just a few days in Sin City brought about a miraculous transformation in my 72-year old mother. For several weeks before our Las Vegas holiday, her main activity had been fretting about what to bring.
"Shall I take an umbrella?" she'd asked. I explained the temperature in May should be a balmy 40 degrees. She wasn't convinced. "How about a mac then?"
Now, after just 48 hours in Vegas, she seemed an entirely different person. She got up from her sun lounger and said: 'Right, I'm off to gamble and to have a gin and tonic. Can I borrow a hundred dollars?'
It was 10.30am. My mother rarely drank and her total gambling experience had been the penny-in-the-slots at the seaside as a child. What had I started?
The Vegas Experience
I had been worried that she would just hate Vegas. Family holidays usually involved European cities and games of Scrabble, and Vegas was more about pool parties, poker, shopping and strip billiards (thanks, Prince Harry).
But signs that my mother was really going to throw herself into the holiday came early on when she ordered first one cocktail, and then another, in the Virgin Atlantic lounge at Gatwick even though it was nine o'clock in the morning, unheard of behaviour.
A quick hop across the Atlantic and we were soon in our home for the next seven nights, the Bellagio. The entrance hall alone is a perfect introduction to the surreal and exquisite side of Vegas. It is huge, with a ceiling full of brightly coloured floating glass butterflies.
Arriving at the Bellagio
Hundreds of people milled about, entranced by the indoor windmill, huge stuffed swans, giant ladybirds, cocktail bars, piano players and the hundreds of slot machines, stretching out across the casino floor. My mum's eye were out on stalks. "Goodness!" was all she could say.
She was just as lost for words when we reached our room. Its vast floor-to-ceiling windows looked straight out onto blue skies, the famous Bellagio dancing fountains and – "Blackpool Tower!" said my mum. I looked at her. "Joking!" she said.
The first evening we enjoyed a perfectly cooked steak-frites in the warm evening air under the replica Eiffel Tower on the terrace of the Paris casino across the road, watching the sights and sounds of the Vegas Strip and 'our' fountains bursting into life, accompanied by anything from opera to Frank Sinatra.
The Las Vegas millionaire lifestyle
We felt like millionaires, a feeling that continued the next morning when we discovered the Bellagio pool complex: five huge pools in the Mediterranean-style surroundings with a café, hot tubs and VIP areas for the seriously rich.
It was the perfect way to start each day, and when the sun became too much you could always amble into the cool casino and while away half an hour or so playing on the slot machines. I would often find my mother clutching a free cocktail.
'I didn't even want one,' she said at one point, 'but it seemed rude to say no.'
Exploring the famous Strip
It wasn't just sun-bathing and gambling. Every day we tore ourselves away from the warm embrace of the Bellagio and ventured out to explore the rest of the Strip, including Caesars Palace, which had fountains and statues at every turn, and the Venetian, with its famed indoor canals along which tourists were being serenaded by gondoliers.
"People thought we were mad to go for a week," said my mum happily. "I could stay here for a month!"
Eating our way round Vegas
We made serious inroads into Las Vegas' restaurant scene, which ranges from the cheap and cheerful to the seriously pricey. Every day we tried something different, from Japanese sushi and tempura, to rare steaks and towering burgers drenched in toppings, to chocolate-dipped strawberries, alcoholic milkshakes and deep-fried dill pickles.
It is certainly not the place to stick to your diet. At the end of week we ventured into the famed buffet at the Wynn casino, which is vast, with everything from crabs legs and sushi to pulled pork, rare roast beef and roast chicken, to umpteen salads, cheeses, soups and desserts, all washed down with unlimited fizz.
There is certainly not much will-power in evidence in Vegas, at least not from us, and it is definitely a place in which to throw caution to the wind. At Hyde, a fountain-side Bellagio bar, I found myself watching open-mouthed as the waitress prepared a cocktail of gin, sour cherry liqueur, violet cream and foaming liquid nitrogen which you ate with a gold spoon.
The amazing 'O' show from Cirque de Soleil
The theatrics were not just confined to the bar, as we discovered at Cirque de Soleil's 'O' show. It featured 90 minutes of amazing acrobatic feats where performers hurled themselves off high dives into a vast pool of water, which the next moment became a solid surface for people to dance and spin and hurl each other across.
"I couldn't do that in a hundred years!" whispered my mother to me, quite unnecessarily, as a trapeze artist flew high above the audience while standing on her head.
Racing supercars in the desert
The week galloped by and still there were new things to try out. I spent a morning driving Ferraris and McLarens in the desert with Exotics Racing, watching the speedometer approach 120 mph with my instructor shouting "Floor it!" and "Brake hard!" It was terrifying but great fun.
On a more relaxing note I had a Watsu massage at the Bellagio spa, which turned out to be a massage in your own private pool where a masseuse attaches floats to you and swirls you around in the warm water. I also had an 'Ultimate Facial' at the Mandarin Oriental luxury spa which involved lots of high-tech procedures such as 'ultrasonic exfoliation' which did make my face much brighter and more toned, if sadly for not much longer than a day.
Off to the Colorado River
My mother was surprisingly up for adventure, joining me on the spur of the moment on a boat trip with Black Canyon Adventures on the Colorado river. The river experience was quite sedate – more nerve-wracking had been dicing with the Las Vegas traffic in our hired car – but the views of the Hoover Dam and the bridge looming above it were spectacular.
She did however draw the line at going to a pool party, so I had to go on my own to the popular Liquid party at the Aria, where twenty-somethings in skimpy swimwear drank cocktails and checked each other out across a packed pool.
Towards the end of the trip I found myself searching a casino at midnight for my mother to tell her to come home – nothing more guaranteed to make you feel like roles have been reversed – as the following day called for a 5am start.
Helicopter flight to the Grand Canyon
By 7am we were once again looking at the Hoover Dam, but this time from above in a helicopter flying at 140 mph, before landing in the Grand Canyon for a champagne breakfast.
It was everything you would expect from such a familiar and yet strange sight, and my abiding impression is of just how quiet it was. The vast, mile-deep Canyon just swallows sound, and defies all sense of scale. With just a day to go it was a highlight of the trip.
Sipping a final gin and tonic, my mum declared it to have been 'possibly the best holiday I have ever had.'
'We haven't even played Scrabble once!' she said, looking scandalised. 'There just hasn't been time!'
Hotel information and how to get to Las Vegas
We stayed at The Bellagio hotel on the Las Vegas strip
If you liked this article then Pin It!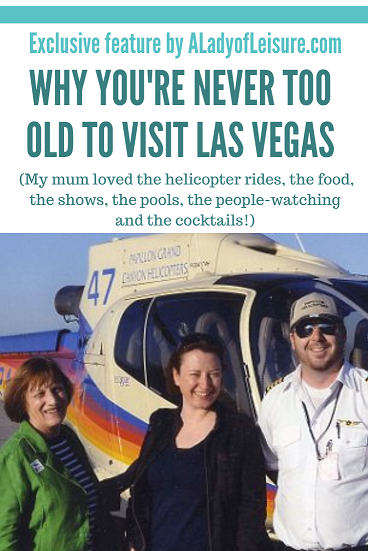 Other articles on Las Vegas you might like:
What do to in Las Vegas besides gambling; Las Vegas food festival Vegas Uncork'd