Note: my article about the Las Vegas food festival Vegas Uncork'd was first published in 2015 so some of the details might now be out of date
Mention Las Vegas and most people would immediately think gambling, casinos, showgirls, Mariah Carey, the Bellagio fountains and stag weekends. What might not spring to mind is fine dining, vintage wines and cocktails, but that's where Las Vegas food festival Vegas Uncork'd is hoping to make the difference.
Now in its ninth year and backed by Bon Appetit magazine, Vegas Uncork'd bills itself as 'The Ultimate Wine and Food Experience' with a four-day long extravaganza of tasting, making, scoffing, slurping and swilling at some of Las Vegas' best-known hotels, including Caesars Palace, MGM Grand, the Cosmopolitan and the Bellagio. Here you'll get to discover the best restaurants in Las Vegas as well as the best places for cocktails in Las Vegas and marvel at the epic portions.
I'd been to Las Vegas a couple of times before, the last time being with my mother which made for a memorable week [see article here] and have really enjoyed my visits – there is something quite unique about Vegas which makes it unlike any other place on earth. This trip, however, I was not going to spend my time sunbathing, drinking free gin and tonics while playing on slot machines or taking a helicopter to the Grand Canyon. Instead I was going to really get to know the food scene in Las Vegas and I couldn't wait.
On arrival at Las Vegas airport I was met by a black stretch limo – a pretty good start to any holiday – and handed a packed four day itinerary. No fewer than 16 different experiences, many food-related, were packed in to my stay. 'Bring it on!' I thought.
A day later I was wondering whether I would be able to stay the course. Now I think I can eat a lot, but after all I was in America, which is famous for its super-sized portions, and I was in Las Vegas, which is famous for being more over-the-top than even the rest of America. Unless I wanted to eat until I was in danger of going 'pop' then I was going to have to rein it in. A lot. But I persevered – and here are the highlights of Vegas Uncork'd.
This is the first restaurant from Giada de Laurentiis, a chef famous in the US for her Food Network TV programme Giada at Home, and it had great views along the Strip including the Bellagio fountains which sprang into life every 15 minutes.
The food was billed as Italian with a Californian influence, and the two page menu managed to squeeze an impressive if somewhat overwhelming 70 items on it, from cheese and salami to meat, seafood, pasta, salads, crostini and pizzette. Rather sweetly it had tips on how to pronounce the Italian dishes (ree-ZOHT-oh, tohr-teh-LEE-nee) and diners who chose the tasting menu also got menu cards, a dessert trolley and a souvenir picture of Giada herself.
I started off with a  delicious 'Giada' cocktail of pisco sour (my new favourite spirit), pineapple syrup and egg whites and then got stuck into a lot of antipasti, including crostini, sweet peppers, mushrooms and foccacia. For a main course I had the surf and turf main course which looked and tasted great, especially when accompanied by a glass of Californian Cabernet Sauvignon as recommended by Tim the waiter who deserves a special mention: he was extremely knowledgeable and cheerful without being pushy, and when I asked for a glass of red wine he not only recommended a terrific Peju from Napa Valley, but also fished out his phone to show me pictures he'd taken of the vineyard from a trip up there on his day off. A true enthusiast.
Lunch next day was scheduled for the rather odd time of 11am but it was something to be remembered: Carmine's at Caesars Palace, the offshoot of the New York institution and home of some seriously epic portions.
The restaurant itself was the largest in Vegas, with 800 covers, and the food can only be described as ginormous: huge plates of antipasti, baked clams, veal parmigiana, chicken caesar salad, a tonne of fried calamari and the biggest desserts – tiramisu and bread pudding – that I've ever seen.
Much was piled into doggy bags with PR for the restaurant assuring me that 'we don't tend to cater for tables of two – the portions here are for larger groups to share.' She added: 'Valentine's Day is not a big couples night for us.'
Here was where Vegas Uncork'd officially kicked off, with the sabre opening of a bottle of champagne by chef Julian Serrano at his newest venture, Lago, which only opened last month.
The views of the fountains are as great as you'd expect and the drinks served by mixologist Ricardo Murcia were memorable, particularly the Rose and Rye cocktail with Bulleit Rye, Carpano Antica vermouth, Aperol, fresh lemon juice, rose petal syrup and a wonderfully flavoursome smoked maraschino cherry.
It might be one of those restaurants typical to Las Vegas where there is no natural light but with its open-fire paella station Jaleo is still an impressive sight. The modern Spanish/tapas with a twist food wasn't bad either, with some fresh-off-the-bone jamon iberico ham, manchego cheese and some rather peculiar 'Ferran Adrià' liquid olives which are transformed by some complicated process into olive bubbles which create a briny explosion in your mouth.
The paella was, in true Vegas style, absolutely massive, and while there were some missteps such as chicken croquettes served in a trainer (why?) the 16 oz grilled pork was so good it almost made me decide to give pork another chance.
The drinks menu made some bold claims too, namely 'the best gin and tonics you'll ever have'. The British journalists tried to be objective…but while the G&Ts were nice they couldn't really live up to their bold claims, especially not the Hierba which came with Jack Ruby tonic topped up with soda water – that just didn't seem right.
The sangria got a shrug from the Mexican journalists we were with and therein seemed both the positive and problematic side to food in Vegas: if you're from somewhere far away from authentic Spanish, or Italian or whatever food, then Vegas is indeed a foodie paradise as everything is on your doorstep and much of it will be completely new to you. If however you have genuine Italian or Spanish restaurants on your doorstep (or Spain, or Italy on your doorstep for that matter) then you are going to be less excited by the Vegas version.
Uncork'd Grand Tasting at Caesars Palace. 
Another reason to diet for a week before going: here were 75 award-winning chefs and restaurant side by side in Caesars Palace's central Garden of the Gods oasis, all handing out delicious samples of food, wine and cocktails. Gordon Ramsay,  who has several restaurants in Vegas now, was there being mobbed by the delighted crowd, Carmine's was handing out massive portions as usual, and it was a great way to spend an evening.
Highlights were a mushroom raviolo from Il Molino and meeting the team behind the very smooth Botanist gin and Bruichladdich unpeated whisky: having been left to decline over the years the Islay distillery was revitalised in 2000 and recently bought by Remy Cointreau who thankfully seem to be supporting it by leaving the team to get on doing what they do best – making great spirits.
Bacchanal breakfast buffet at Caesars Palace
Now I thought the buffet at the Wynn was huge on my last visit, but I think the Bacchanal buffet might be even bigger. First-timers to a Vegas buffet might find themselves completely lost among the astonishing array of food on offer: alongside traditional buffet fare such as omelettes, scrambled eggs, bacon, sausages, cereals and pastries, there are whole sections devoted to pizzas, sushi, bagels, Asian dishes such as noodle and dim sum, crepes with every topping imaginable, petit fours,  macarons, cerviches, ice-cream, whole hams, roast beef, wagyu beef burgers and lobster benedict.
And don't forget the crab sticks, waffles, doughnuts and cakes, or the Bloody Mary's and mimosas. The secret is to pace yourself, and tell yourself that the diet starts when you get home.
Vegas Uncork'd – Emeril's Seafood Extravanganza at MGM Grand
Going to an unlimited seafood buffet just after the Bacchanal buffet might not be the best way to do it but when you're on a schedule you just have to tuck in. Stalls set up around the Grand Producer's Pool in the heart of the MGM Grand offered whole grilled market fish, New Orleans-style boiled seafood, chilled salads and seafood cerviche.
While some dishes were surprisingly tasteless – I'm thinking of the oysters here which disappointed – the buckets of prawns and the grilled fish went down well as did the delicious seaweed salad, a dish new to me. Another great find of the day was some great craft ales from local brewer Tenaya Creek. Walking back through the MGM Grand drinking a pint of IPA made me feel as if I were blending in well with the other tourists…
Chef's Table at Bellagio Buffet
It  was back to a buffet but this time, we didn't actually go near the buffet itself. We were most welcome to, but when the food came to us, why bother? The Chef's Table actually within the buffet itself is a fairly new venture by the Bellagio and is a kind of self-service/waited at table hybrid. I'm not entirely sure what the point of it was, to be honest, although the thick slices of beef carved at the table with creamed horseradish to accompany was certainly very nice (yes, I can't believe I was still eating either). We also were served trays of canapes and salads to start and had chocolate fondue with strawberries and chocolate brownie pieces for dessert, but all in the hubhub of the buffet.
Brunch at Buddy V's, The Venetian
My whistle-stop gastronomic blowout tour of Vegas finished on a high note – the high note being I was astonished that I was still able to eat and enjoy food after the millions of calories I'd tucked into over the past few days. However Buddy V's was an unexpected delight, tucked away by the Palazzo part of the Venetian (go past the Grand Canal and take a left after St Mark's Square. Only in Vegas can you say that kind of thing, in Venice itself you'd probably fall into the sea).
This was yet another buffet but on more manageable lines (still vast by normal standards) and the food was really delicious – having been feeling deprived of anything 'green' I fell upon the panzanella salad with rocket and buffalo mozzarella with delight and did the same with the Caesar salad, for once not over-dressed (they do like their dressings in Vegas).
The mac & cheese carbonara was also a hit, as were the fresh shrimps and the roast vegetable frittata, and I even tried my first 'zonut' (cake and doughnut apparently, I smuggled some onto the plane in its paper bag along with a lot of jelly babies). But the best touch for Bloody Mary fans was a whole table devoted to Bloodies, with every ingredient you could wish for, from Worcestershire sauce and ten different tabascos to capers, horseradish, celery, clam juice (for Bloody Caesars) and of course, tomato juice and vodka. It was an epic end to an epic stay.
And here's some non-foodie things I did between all the eating….
Stayed at Caesars Palace
Big room, terrifying touch-sensitive minibar (move the champagne a millimetre and you'll be charged $70), fabulous hot tub bath. Just make sure the jets are fully submerged before you activate it else all the bathwater will leap out of the bath and onto the floor.
Had a drink at the bar at Mon Ami Gabi, Paris casino
The perfect spot for people- and fountain-watching, I always visit Mon Ami Gabi whenever I come to Vegas. The staff are many and friendly and there always seems to be room.
Lounged in a cabana by the Bamboo Pool, The Cosmopolitan
Sounds glamorous but when the cushions are dirty and there are fag butts on the floor it really isn't…however the pool itself was nice, as were the Bloody Marys.
Watched while other people went on the New York New York rollercoaster (and ducked out of the High Roller big wheel at The Linq) 
There's a time for heights and fast descents and after four days of eating is not the time. However there were glowing reports of the rollercoaster (daft and short but fast) while the High Roller fared less well… but a torrential downpour might not have helped.
And finally…saw Cirque du Soleil's spectacular 'O' at the Bellagio
It's a stage, no – it's a swimming pool, but people are dancing across it, then they're high-diving into it, then a grand piano disappears into it, and there are Olympic athletes and acrobats and contortionists and…. well, it's just astonishing. Tickets aren't cheap but you are only going to see this in Vegas – well worth the trip.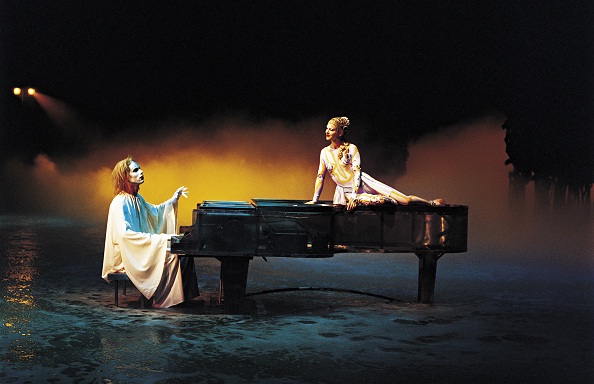 Fact box
Virgin Atlantic fly daily to Las Vegas from London Gatwick. Prices start from £664 including tax. For more information please visit www.virgin-atlantic.com or call 0844 209 7777
The Laurels Collection Caesars Palace – $179 midweek per night www.caesars.com/caesars-palace
If you'd like to read about other amazing destinations then check out these other exclusive reviews:
How to hike the Inca trail to Machu Picchu – and enjoy the journey!
Volcanoes and fire-dancing: just a typical day exploring Papua New Guinea