Things to do in Las Vegas come rain or shine…
It was my fourth visit to Las Vegas, but the first time I'd seen it raining on the famous Las Vegas Strip. Unsurprisingly, Vegas, being in the Mojave desert, isn't used to rain. Neither were the holidaymakers, picking their way in their flipflops and sandals through the huge puddles which instantly formed on the sidewalks.
[Note: this article on things to do in Las Vegas was first published in 2016 and so some of the details might now be out of date]
Some had come prepared for rain (they were probably British) and so we were treated to the rare sight of umbrellas hoisted next to the famous Bellagio hotel fountains. Some people had sensibly brought rain jackets, while the majority of people had just shorts, t-shirts and massive plastic drinking bottles of alcohol to keep them warm. Hikers to the nearby Red Rock Canyon reported seeing waterfalls in places which had never seen water before.
Thankfully Vegas is not the kind of place to be daunted by unseasonal weather. The vast majority of people who go to gamble in its many casinos are usually unaware of whether it is day or night outside, so a quick downpour would have certainly passed them by. As for the rest of us, there were more than enough things to do in Las Vegas to keep us occupied. The Vegas Uncork'd food festival was going on for a start – I'd been there last year. But here is a selection of the places I visited during my latest week in Sin City:
Las Vegas casinos and hotels
One of the plushest hotels on the Strip and certainly the nicest in my opinion. My vast bedroom had a perfect view of the famous fountains which danced day and night – I never tired of watching them.
Downstairs there's the casino where free cocktails are liberally provided to gamblers, and there's a huge pool complex too with five vast if sedate pools – if it's pumping music and pool parties you're after, you need to relocate. It's all very smart throughout the Bellagio, with lush carpets, wide corridors, soothing piped music and even the world's largest chocolate fountain and while it isn't for those on a budget, it's certainly worth it if you fancy feeling like a millionaire for your stay.
At the other end of Vegas to the Bellagio, both geographically and financially, the Silverton casino was a great find. More downmarket than the Bellagio, and therefore more relaxed and arguably more fun, the Silverton was an unexpected delight.
From the massive fish pond complete with waterfalls which greets visitors, to the friendly gaming tables, endless slots and a 117,000 gallon fish tank where there is daily feeding of the fish (popular with children) and a twice-weekly mermaid show (popular with guys), the Silverton seems popular with families and couples and is worth the trip down the north end of the Strip. Its Twin Creeks restaurant was excellent – another surprise, as I hadn't expected much in the way of culinary delights when I first drove up.
However both the service and the food were first-class. I had filet mignon steak, mac and cheese and cheesecake for dessert and had to take half of it back to our hotel as it was too much to finish but too delicious to leave (it was perfect for lunch the following day).
Las Vegas Attractions
Wayne Newton's Casa de Shenandoah
One of Las Vegas's newest attractions (it opened in September), Casa de Shenandoah is Wayne Newton's former house on the outskirts of Las Vegas.
Now turned into a museum of memorabilia of the singer, it's getting great reviews on TripAdvisor and while it's probably more interesting to Americans who will know far more about the man dubbed 'Mr Las Vegas', it's certainly an interesting place to have a look around. Probably best known to Brits as having recorded the song 'Danke Schoen' mimed by Matthew Broderick in Ferris Bueller's Day Off, Newton's career stretches back to the 1950s when he sang with his brother on the Las Vegas lounge circuit (despite being too young to officially be in the casinos they worked in).
Over the years he befriended everyone from Elvis and Sinatra to Ronald Reagan and George HW Bush and the tour home includes his private jet as well as videos and pictures of his work entertaining US troops abroad.
Some of it might seem a little unbelievable to visitors who might question why Newton (who has had well-documented financial issues in the past) claims to have an actual Van Gogh sunflowers painting but then leaves it propped up against a wall, but it's definitely one for fans of both Newton and Las Vegas history.
If you're too pushed for time or money to see the Grand Canyon and Hoover Dam, then Red Rock is a great alternative and popular with hikers. I was more of the scenic driver-variety and handily, there's a 13-mile long one-way scenic drive which gently winds through some epic scenery and has various places where you can stop and take pictures.
The sheer size of everything is hard to gauge – what looks like a little dip in the ground suddenly becomes a lot bigger when you see people the size of ants walking around in it. There's also a visitors' centre but it's not wildly informative and if you're expecting a cafe or at least somewhere for a cup of coffee then be warned – there isn't one.
This is definitely to be filed in the 'when in Las Vegas' category but while the concept was way out of my comfort zone, I actually really enjoyed the one-hour stripper class in Las Vegas, held in the V Theatre in Planet Hollywood. There were a surprisingly large number of us – about 15 – in all shapes and sizes and ranging from 20-somethings on a hen weekend to a mother and daughter and several people who turned up on their own.
Our teacher – who said she made far more money dancing than she ever did as a waitress – taught us first lap-dancing and then pole-dancing and once we'd got over the giggles, we all threw ourselves into it with enthusiasm, learning various routines and then practising them to music. I'd certainly recommend it – just remember to bring your heels as well as your gym kit.
Las Vegas restaurants
I hadn't been bowled over by my recent trip to STK in London and so I'd lowered my expectations accordingly. However what a difference 8000 miles makes – both the drink and food were really excellent, from the opening cocktail to starters of beet salad and beef carpaccio, mains of seared tuna and filet mignon (again!), perfectly cooked and served.
The place was buzzing with every booth and table packed with people looking like they were having the time of their lives. I even canvassed the opinion of my neighbouring diners, keen golfers who were staying across the Strip at Planet Hollywood but who always made a point of dining at STK as they loved the steaks. I finished off with a warm chocolate chip cookie, glazed doughnuts and an espresso martini and rolled home happily.
Just across the road from the Bellagio, Hexx Kitchen and Bar at the Paris casino has a great view of the Strip, a huge terrace and rooftop beer garden and is perfect for people-watching. The food is pretty good too – I went here for brunch and had a huge, freshly cooked omelette. The service was a little scatty – various orders got mixed up and a veggie omelette turned into a meat one but was quickly replaced – but it was fun and cheerful. There's a popular sweet shop next door where they sell all sorts of retro sweets, but some new ones (to me) which I'm really not sure about….
Las Vegas shows
This sounded like the perfect introduction to Las Vegas and while it wasn't exactly the West End theatrical experience I'd expected – the audience queues up round the back of the V Theatre bar by the loos beforehand before trekking up several flights of stairs – it was great fun, with singers paying homage to Las Vegas names past and present such as Frank Sinatra, Dean Martin, Sammy Davis Jnr, Tom Jones, Elvis Presley and Elton John. There's a lot of men-wearing-suits-while women-prance-around-in-skimpy-pants and some of the impersonations are a bit uneven, but the audience seemed to enjoy themselves and it ends on an interesting note with historical footage of former Las Vegas casinos being razed to the ground.
Frank Marino is, like Wayne Newton, another Vegas institution better known in the US than overseas, but if you want drag queens being compered by Frank Marino as Joan Rivers, then Frank Marino's Divas at The Linq is the place to go. There are lots of fairly graphic jokes from Frank in his opening monologue (this is not the show to take your gran to) but after that the show picks up as everyone from Dolly Parton, Diana Ross, Whitney Houston, Bette Midler and Pink are mimed to with gusto by Frank's talented group of divas. The audience loved it and rushed out to get a kiss from Frank/Joan on their show t-shirts afterwards.
However if shows, food, sunbathing and sight-seeing aren't your thing, then you can alway try what Las Vegas does best…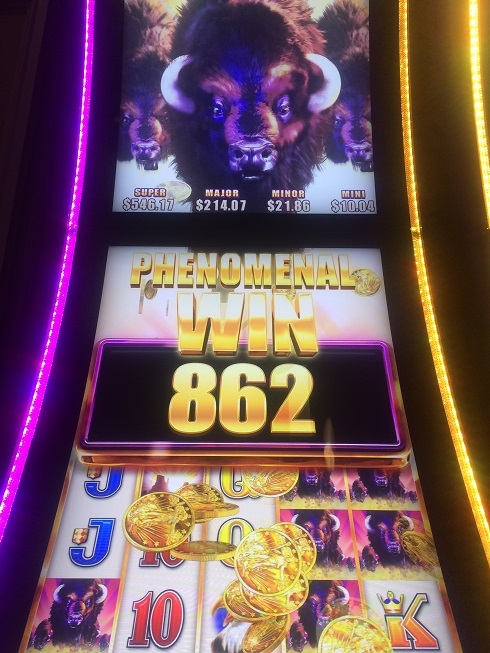 I stayed at the Bellagio and flew Virgin Atlantic which has a daily service from London Gatwick to Las Vegas, hotel and flight packages available from Lastminute.com
If you like reading reviews of Las Vegas attractions from helicopter rides to the Grand Canyon and racing supercars in the Mojave desert to sipping cocktails by the Bellagio fountains then you have to read:
Las Vegas food festival Vegas Uncork'd: it's an epic Vegas food party