To get my bearings on my first ever trip to this beautiful island in the Balearics, a helicopter ride seemed like the perfect way to exploring Majorca for the first time (Majorca is also known as Mallorca in Catalan).
An aerial view of Majorca
From my vantage point hundreds of feet in the air, I could see all that Majorca had to offer, from the mountains to the beaches, taking in sheer cliffs and sparkling bays and everything from vineyards and golf courses to swimming pools, marinas and millionaire's mansions.
There was Michael Douglas and Catherine Zeta-Jones' house, round the next cliff was the £30 million Mallorcan castle where Princess Diana reportedly stayed and just below me…
'That's Magaluf,' says Jonny, my pilot and guide for the morning. 'Down there.'
Magaluf from the air
I peer down past my feet to what looks like just a few streets running parallel to a beach, with high-rise hotels and a few swimming pools visible from the air.
'That's it?' I said. 'That's what all the fuss is about?'
Jonny laughed. 'That's why it's good to come up here,' he said. 'It's just tiny compared to the rest of the island.'
While Magaluf seems to have the lion's share of press coverage, there is certainly a lot more to the island than the infamous area known mainly for binge-drinking, sex-crazy Brits on their holidays.
Locals I spoke to during my week exploring Majorca for the first time either despaired of the bad press – 'People think the whole of Majorca is like Magaluf,' moaned one – or were relieved that the rest of the island was left unspoilt. Many people had never even been there, even if they had lived on Majorca for years. 'Why would I, when there are so many much nicer places to see in Majorca ?' said another.
Exploring Majorca for a week
After a week exploring Majorca , I could agree. At 62 miles across and 44 miles wide it is the largest of the Balearic islands and much bigger than I had expected. My first port of call was the beach resort of Paguera, just 25 minutes from the main airport at Palma, where friends had booked their children in for a week at the Tennis Academy there.
While not the most glamorous town on the island, Paguera was actually rather nice – a pleasant main street and three sandy beaches flanked by a good choice of restaurants – and the island's most famous son world-class tennis player Rafael Nadal was even rumoured to have been seen at the tennis club, to much great excitement.
As it was my first time exploring Majorca , a helicopter ride seemed like the perfect way to get my bearings, so I headed off in my little hire car to find Jonny Greenall, my pilot for the morning (Jonny used to work for Sloane Helicopters and now runs Balearic Helicopters)
It was a beautiful, sunny day and perfect for buzzing around the skies: any initial nervousness was quickly dispelled by Jonny's cheerful chatter and I even let him stall the engine in mid-air towards the end of the trip to show how helicopters don't suddenly plunge out of the sky if the engine cuts out (we glided for a while, then he calmly restarted the engine – all thankfully very undramatic).
Seeing Majorca from the sea
Having seen Mallorca from the air, it was time to see the island from the sea, so I went out for the day on a 52-ft Riva Rivale boat with Lorenzo and Francisco Vila, owners of Easyboats yacht charters. At £2,400 a day to hire, it's not cheap but drinking wine on a £1.5 million boat in your own private bay certainly made me feel like royalty, which was fitting as the Vila's customer the following day was a member of the Saudi royal family.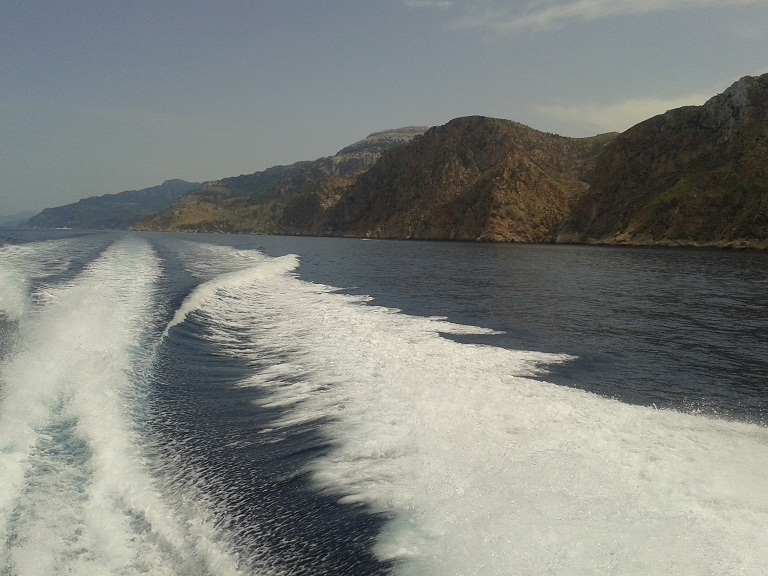 We dined on sushi and seafood at the popular Gran Folies beach club where diners were shipped in on dinghies and could keep an eye on their luxury cruisers as they enjoyed a lengthy lunch overlooking the sea.
Exploring Palma
The capital of Majorca , Palma, was yet another unexpected delight – behind the spectacular cathedral and riverside open-air cinema was a wonderful network of tiny streets where locals and holidaymakers alike ambled past people drinking in an array of delightful cafes, enjoying evening cocktails and listening to the sounds of jazz floating through the streets.
It was a surprise to find that my hotel, the Sheraton Arabella resort which was surrounded by lush green golf courses wherever you looked was just a few minutes from the centre of Palma. It was the first golf resort on the island of Majorca and is still a great place to play golf (I was content to lounge by its many pools).
Reverting back to my more traditional transport of a hire car to explore the rest of the island I headed east to the seaside towns of Cala d'Or and Portopetro where I went on very different type of yacht, the 16m classic sailing boat Vita Bel II and dined out on Italian food while watching the sun set.
But the real highlights of Majorca for me were to be found up in the hills. Twisting roads took me away from Palma and the coastal resorts to the beautiful village of Valldemossa and the Port de Soller, where I had lunch at the impressive Jumeirah hotel, perched high on the cliffs so swimming in the infinity pool felt like I was swimming straight into the sky.
Staying in Deia
My ultimate destination though was the picturesque village of Deia, home of Robert Graves which still attracts a creative crowd – locals include Andrew Lloyd Webber and PR guru Lynne Franks who used to run women's retreats in her amazing home overlooking the Mediterranean (Franks has since relocated to Somerset where she still runs retreats).
Over coffee Franks told me that she had never been to Magaluf: ('what's the point?') and said that the beauty of Deia is not only the scenery but the fact that so many people's links to it go on for years.
'It's not like other expat parts of the island where people stay for three years and then go home,' she said. 'I know people here who've been coming to Deia for years and now their children are bringing their own children here. But it's very inclusive here too – everyone knows everyone else as it's so small, so you're bumping into people you know all the time.'
Robert Graves house in Deia
It does strange things to time too – just two nights in Deia felt like a month. I visited the wonderfully preserved Robert Graves house and sampled some of the gardeners' homemade spirits before reeling off into the sunshine, resolving to come back and live here, writing best-selling novels and making my fortune.
Staying at Belmond La Residencia
I explored Deia's lovely shops, cafes and restaurants and had a wonderfully relaxing massage at Belmond La Residencia, one of the best hotels on the island with its spa and stunning views making it a celebrity favourite.
That evening there were cocktails for new guests – how very civilised – and then a gastronomic feast at its restaurant overlooking the town.
The Es Moli hotel in Deia
I practically had to be prised out of my room the following morning – it had stunning views across the valley and a four-poster bed – but I had another hotel to check out – the Es Moli, just a short walk away on the other side of Deia and also delightful.
However I was back at La Residencia that night for its 80s disco on the lawn, dancing the night away to Wham and Duran Duran. Local resident Lord Lloyd-Weber was also there and for those who wanted to continue the party on after La Resi called it a night, there was Deia's most popular (and only) bar at Sa Fonda, which was pumping live music across the valley.
At the end of a memorable night I walked home along the moonlit road to the Es Moli hotel across the valley. The real world – and especially the drinking dens of Magaluf – seemed wonderfully far away.
Port de Pollenca
My final day in Majorca and a chance to explore northwards through the mountains to Port de Pollenca. After Deia, I didn't fancy the crowds in town so chanced upon a beautiful tiny beach and cafe just past Alcudia where I spend the day before catching the evening flight – a perfect end to a wonderful week.
How to get to Majorca
Easyjet, British Airways and Ryanair all fly to Palma, Majorca from the UK
Where to stay in Majorca
Sheraton Mallorca Golf Hotel
http://www.sheratonmallorcagolfhotel.com
Belmond La Residencia, Deia
http://www.belmond.com/la-residencia-mallorca
Es Moli, Deia
www.esmoli.com
Hiring a yacht in Mallorca:
Luxury yacht charter from Easyboats, Port d'Andratx
www.easyboats.com
16m sailing boat Vita Bel II from Cala d'Or
www.vita-bel.com
Gran Folies Beach club, Cala Llamp, Port d'Andratx www.beachclubgranfolies.com
Balearic Helicopters
www.balearic-helicopters.com

Paguera Tennis Academy
www.tennisacademymallorca.com
If you love exploring Europe and further afield, then you'll love these amazing destinations as well:
Exploring Herceg Novi and Kotor, Boka Bay in Montenegro;
Cruising for the first time; a week on P&O Britannia luxury cruise ship;
Mark Warner Greece; a week at the five-star resort in Rhodes;