London's South Bank is known for many things but a good steak was not historically one of them. However my visit to Gillray's Steakhouse and Bar was to change all that – for me at least.
Restaurants near Waterloo station
Long-time London dwellers still remember County Hall, across the river Thames from the Houses of Parliament, as the Greater London Council building on which Ken Livingstone used to hang banners to annoy Margaret Thatcher.
However the impressive building has long since fallen into private hands. As well as some fairly diverse attractions including the London Aquarium and and London Dungeon, part of the building houses the five-star London Marriot County Hall in which the Gillray's Steakhouse and Bar, one of many good restaurants near to Waterloo station, can be found.
I've long been a fan of the bar with great views of the Thames but for having a fabulously well-stocked bar and staff who are both extremely knowledgeable and enthusiastic.
Dining at Gillray's steakhouse
However until now I'd never ventured into the actual restaurant and on arrival was evident that not many other people were doing either – just one other table was occupied in the sizeable dining room which made for a fairly subdued atmosphere. The restaurant is really close to Waterloo station, the London Eye, Westminster and so forth, should have made it perfectly sited for both tourists and business types but that wasn't the case this Wednesday lunchtime.
However the waitress was cheerful and friendly and the view, while not spectacular, looking out as it did on a grey sky and a grey Thames, was certainly different. Restaurants in London with views of the Thames are a great place to have lunch in the capital.
Menu at Gillray's
The menu was extensive but not over-whelming, a well-thought out choice of classic English dishes. There was also, as you'd expect, a strong emphasis on steak with a whole section devoted the various ways you could enjoy their 35 day aged Aberdeen Angus, from fillet and prime rib, to Porterhouse, T-bone, skirt and rib-eye.
For those with big appetites there was the massive 'Bull's Head' weighing in at one kilo; those who wanted quality without the quantity could opt, as I did, for the 'Ladies Cut Fillet' which was a dainty 150 grams.
There was vegetable pie, grilled fish and lemon sole for the non-carnivores and an intriguing range of side dishes including baked bone marrow, oyster fritters, duck eggs and black pudding, as well as bubble and squeak, and chips with truffles.
We were just getting stuck into a very pleasant bottle of red when a pre-starter dish arrived: a massive pair of Yorkshire puddings with horseradish. It was unexpected but very welcome, if somewhat filling with a three-course lunch in sight.
The starters were perfectly adequate if unmemorable – pan-fried scallops with braised salsify and blood orange (£11.50) and the warm slow-braised oxtail terrine with broad bean and pea salad (£8).
The steaks were plainly served – just plonked on the plate – but were perfectly cooked and very tasty, as were the accompanying spinach and portobello mushrooms.  However the stand-out treat for me was the black pudding which came as a massive square slab, slightly crunchy and totally delicious.
We were starting to creak at the seams at this point, so ordered the cheese board instead of a dessert (rather illogically) and asked if we could have some coffee.
'Yes, of course,' said our chirpy waitress, adding with great excitement: 'It's Starbucks coffee!' as if it were Jamaican blue mountain. We wondered if we'd heard correctly but yes, on the menu was written 'We proudly serve Starbucks coffee' at the bottom. Now Starbucks is famous for coffee that's true, but it did seem to be a rather downmarket note for a restaurant who's cooking is clearly aiming for the higher end of the market.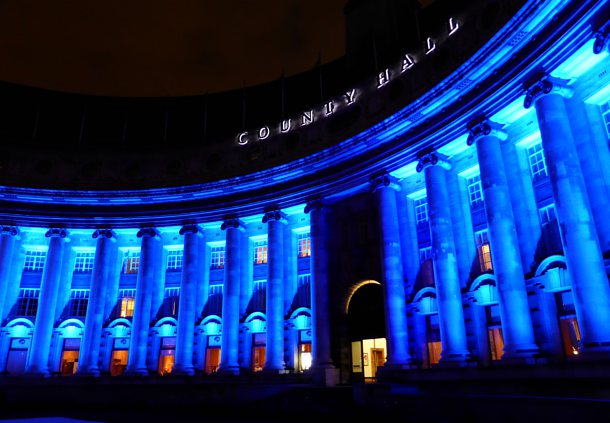 Coffee branding aside, we left feeling replete and well looked-after. Hopefully we just caught the restaurant on a quiet day, as otherwise diners in this part of London are really missing out.
Where to find Gillray's Steakhouse and Bar
Gillray's Steakhouse & Bar is in London Marriot County Hall hotel, on the south side of Westminster Bridge.
If you like great restaurants in London then check out these reviews:
Noble Rot on Lamb's Conduit Street, a welcome addition to memory lane