Visitors to Redemption, tucked away in the unfashionable corner of London between Westbourne Park and Ladbroke Grove, first have to walk past an array of Notting Hill's pubs and wine bars, packed with Bright Young Things knocking back the very latest in alcohol trends, from finely-crafted cocktails to locally-distilled artisan gin.
[Since this review was written, Redemption has now moved to Covent Garden – details here redemptionbar.co.uk/coventgarden]
Those who ignore such delights and cross the bridge over the railway tracks, find themselves in a different world altogether – low rise seventies-style flats overlooking a row of extremely untrendy shops; a bookmakers, a kebab shop and in the middle, Redemption.
It is almost empty when I arrive at 6.30 on a Saturday evening, but within the hour every one of its five or so tables is occupied, by couples and groups of friends, and the two-strong waiting staff are cheerfully rushing around with orders.
Redemption, not to be confused with the brewery of the same name, is the creation of Catherine Salway, the former group brand director of Virgin. Two years ago she decided she'd had enough of corporate life, which while well-paid and fast-paced was leaving her jaded, overweight and drinking too much.
Amicably leaving the Branson empire, Salway hit upon the idea of a chain of alcohol-free bars while in a relationship with someone whose relationship with drink was less than healthy.
Now after a brief trial run with a pop-up bar in Shoreditch over the summer, Catherine has set up camp in the Notting Hill borders, investing £50,000 of her own money in the venture. She is thinking big too, having already acquired the rights to use the Redemption brand in the US and Australia too, and is on the verge of both signing a lease for a site in Soho and raising a substantially larger amount of money from some supportive investors.
It's been quite a journey.
'I don't know how kids in their 20s come along and start up businesses,' she says in wonder. 'I've used every single thing I learned while working at Virgin and still I'm learning things and making mistakes. It's like a never-ending game of chess.'
The sleepless nights have stopped now that the business is up and running but she is still working hard to make sure the venture is a success. The idea is to appeal to the young, hipster crowd seen crowded into the rest of Notting Hill's bars, but who might fancy a change from the constant boozing.
As well as being alcohol-free, Redemption only serves vegan food, which might put it rather too far out of the comfort zone for many. Catherine herself still enjoys the occasional drink, though since she left Virgin her intake dropped dramatically enough for her to lose two stone, and admits that her father isn't too kind on the vegan element. But she is nothing if not determined.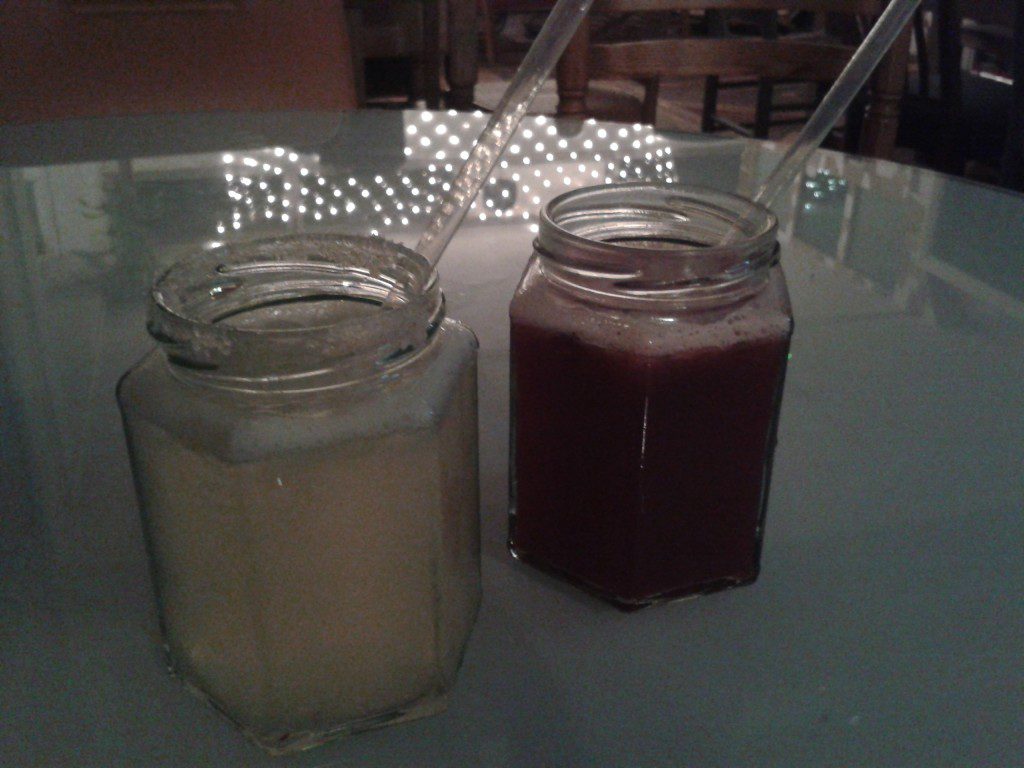 As for the drinks: well, they are delicious, probably especially so because I am trying them halfway through a dry January and desperate for anything other than lime and soda. But both the 'Coco-rita' – coconut water shaken over ice with lime and agave syrup, served in a salt-rimmed glass – and beetroot and orange splash were refreshing and tasty, with a spicy kick that makes up the lack of alcohol. (They were, alas, served, in the ubiquitous jam jars, though Catherine claims that was due to cost rather than following last year's hot trend.)
Food was equally impressive: a meze dish of hummus, celery, harissa and olives which I polished off in a matter of minutes, then some almonds with chipotle powder and salt, then a lentil stew – all tasted very hearty, very homemade and perfect for a cold winter's night. The only down note for me was the raw chocolate mousse. Yes, I had been told it was made from avocado, agave syrup and raw cacao, but even so I hadn't been prepared for the sheer, well, 'green' taste of the whole thing, which is just a crushing blow for a chocolate lover.
I headed off into the night and across the tracks to Notting Hill proper. It had been a lovely evening but I'm not convinced that it would work as a mass-market concept in every town and across a least two other continents, and wonder if instead is more a concept which would make one fabulously quirky and popular bar in Brighton, for example, and leave it at that. To make it more appealing to the mainstream, I think either have it meat-free, or alcohol-free, but not both. However I wish Catherine all the best. If anyone can make a success of it, then Catherine is certainly that person.