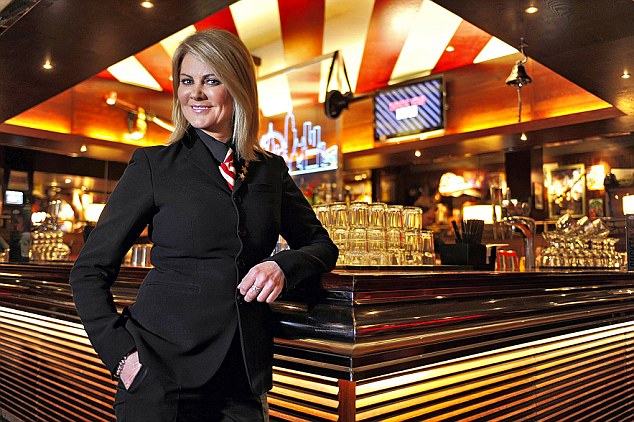 The TGI Friday's restaurant chain turned itself around, thanks to a fire that gutted one of its flagship sites, I'm told in my interview with Karen Forrester from TGI Fridays.
While most bosses would consider this an unmitigated disaster, Forrester saw the destruction of TGI Friday's restaurant in Birmingham as a chance to start again.
'When I took over at the beginning of 2008 there was a huge fire at the Hagley Road site, which was the first we ever had in the UK. I thought, "Wow, what an opportunity". It enabled us to think about what we would do if we were starting from scratch,' she says.
The answer was, in her words, 'to grow up'. She admits: 'The restaurants had been very childish and clown-like before.'
So out went the jokey advertising, the fancy dress for staff and, most definitely, out went the party balloons.
'It was costing us £100,000 a year in helium,' she says. In place of the cheesy jollity, Forrester introduced more classy leather seating, open kitchens and oak floors.
Forrester, 54, says the transformation was vital. When she joined, the business was in a parlous state. TGI Friday's – short for Thank Goodness It's Friday – is an US brand that six years ago was owned in the UK by Whitbread, which she says failed to nurture or invest in the business.
Eventually Whitbread sold it to leisure conglomerate Carlson, which owns the TGI Friday's franchise in the rest of the world. By then it was suffering from falling customer numbers, with a staff turnover of 157 per cent a year. Carlson brought in Forrester, who says: 'It couldn't have held on for much longer.'
Now TGI Friday's is expanding again and the latest advance is talks with Network Rail and airport operators to get into transport hubs. 'They're really excited about what we're doing. It's a matter of time.
Five years ago we had no pipeline of future sites at all,' says Forrester over coffee in the vast TGI Friday's in London's Covent Garden. 'Landlords saw us as very dated and just not sexy enough. Now we're a credible brand again and can decide where we want to open.'
Her plan is to double the number of UK restaurants from 61 to 120 by 2020, opening eight this year. The main change Forrester implemented at TGI Friday's was in its staff. When she joined, few stayed more than a matter of months and fewer than three in ten received even basic training.
She started by categorising all staff into what she calls positive people, or 'players', dubbing the negative ones 'assassins'. They were out – 10 per cent of the workforce lost their jobs and a further 20 per cent were told they needed to improve.
Forrester invested the £250,000 saved on advertising into staff training, reasoning that 'the best form of advertising is word of mouth anyway'. Now staff are retrained every year and a range of perks and rewards has cut staff turnover to 38 per cent a year in an industry where the average is 90 per cent a year.
'I introduced incentives so that people could literally earn their stripes,' she says, digging out a collection of pins in various shapes – from top hats to umbrellas from her bag. She points each one out in turn. 'This one is pride in our company, then there's passion, which is about pursuing excellence, then personality, shining at every opportunity, and protection – meaning making sure guests are well looked after,' she says.
Staff can nominate colleagues for 'legends' awards, where winners get yet another pin and are treated to a day out. They can also get on-the-spot scratch-cards as a reward, which can win them anything from money-off vouchers to iPads. There are team competitions too where employees compete for financial incentives.
They may sound like the glib plans of a management consultant, but Forrester says they have worked. Not only has the staff turnover dropped and their average age increased, but TGI Friday's was named top restaurant operator and third overall in a Best Places to Work award last year.
Now Forrester is working on a new-style TGI Friday's that will be even more 'grown up'. 'It will have more of an adult, bar-focused theme,' she says. She vows never to discount food, saying: 'If you started discounting through vouchers then I don't know how you ever get out of it.'
Forrester is not wild about putting calories on menus either. 'We treat our guests like grown-ups,' she says. The more adult style of the restaurants has allowed them to shrug off their reputation as a venue for children's birthdays by day and raucous office parties by night. TGI Friday's used to make 40 per cent of its profits in the weeks just before Christmas.
'We were the Toys 'R' Us of the restaurant business, but now it's spread across the year,' she says, adding that no longer taking huge group bookings 'can really affect the atmosphere in a restaurant'.
When she is not thinking about the business, Forrester, who is single, says she loves nothing better than going round other restaurants to check out the competition or, failing that, going for a long walk in the countryside.
Carlson is now considering its future involvement with TGI Friday's and is likely to sell, making Forrester's future somewhat uncertain. But, as she points out, why would new owners want to stop what she is doing with the company? Unless of course they want to bring back the balloons.
If you enjoyed this leisure sector interview then you'd also like:
An interview with Sir Rocco Forte: politics, religion and luxury hotels
'My £125 million Travelodge transformation': interview with Travelodge ceo Peter Gowers