It cost more than £520 million to build, weighs 141,000 tons and will carry more than 3,600 passengers. And this Friday the brand new cruise ship P&O Britannia will be making her way from the Fincantieri shipyard in Trieste, Italy, to her new home in Southampton, ahead of the official launch ceremony on March 10th.
Note: this article about the launch of cruise ship P&O Britannia was published in 2015. If you want to read what it's like to sail on P&O Britannia then read my review here 
Journalists and travel agents were given a sneak preview last weekend, including a tour round the vessel guided by Britannia's Captain Paul Brown.
P&O Cruises chairman David Dingle and chief executive David Noyes were part of our group, as were P&O's new 'food heroes' Olly Smith, Eric Lanlard and Charlie Turnbull, respectively in charge of the wine, cakes and cheese offering on the ship.
The rainy day didn't detract from the impressive sight of Britannia, P&O's largest cruise ship to date, which will boost P&O's passenger capacity by 24 per cent.  At 1.082 ft long, and with 15 passenger decks, she displays the world's largest Union Flag on her bows (94 metres long) and she was pretty impressive on the inside too.
Our tour started at the central atrium, with its signature 'starburst' display taking centre stage, and then toured round its many facilities, from its 936-seater theatre, to its spa, restaurants, bars, casino and four swimming pools.
The Mail on Sunday's wine columnist Olly Smith was bursting with excitement to see his new wine bar and grill The Glass House, with its own tasting room.
It's not just about the wine though – there will be 70 different British beers on board Britannia, and two specially made for Olly which will be served at The Glass House; Harvey's Jolly Olly and his very own Rocky Head ale.
After the grand tour we piled into the theatre for the official ceremony where Britannia was handed over by Italian shipbuilders Fincantieri to P&O Cruises. The acoustics were then shown off by British R&B singer Jaki  Graham singing her hits including 'Could it be I'm falling in love' and then it was off to the Peninsula Restaurant to sample the food (which was delicious).
The immaculate interior design could not be faulted – although the slightly weird communal entrances to the loos throughout the ship could be, meaning ladies often had to walk past the door-free entrance to the men's loos which was a little disconcerting – and it will be interesting to see how Britannia feels with 3,600 people on board, rather than just several hundred.
Meanwhile it was back to the plane and the calm efficiency of Farnborough's small and private airport.
Britannia will be officially launched at a ceremony in Southampton on Tuesday 10th March by Her Majesty The Queen and sets sail on her sold-out maiden voyage on 14th March to Monte Carlo, Gibraltar, Rome and Cadiz. To book a trip on Britannia, go to http://www.pocruises.com/cruise-ships/britannia/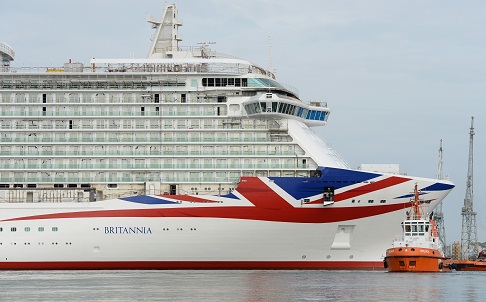 Read all about my first trip on Britannia here: 
Cruising for the first time: a week on P&O Britannia luxury cruise ship