Its claim to fame is that it is the closest hotel to Harrods, and it's true that less than 30 seconds walk will take you right into the iconic department store. But thankfully The Capital hotel London, just next to the world famous department store Harrods on a quiet Knightsbridge street, is more than just a place to stagger back to after a hard day's shopping.
Opened in 1971 by hotelier David Levin, this central London luxury hotel was until recently still owned and managed by him and his family, which gives it a far more friendly air than a chain hotel. [Note, this review was done before the change in ownership]
A cocktail masterclass at the Capital Hotel
While the hotel does a special 'Shop till you Drop' package which includes a £50 Harrods voucher, afternoon tea and a drink to restore you (if not your credit card) after your retail therapy, I went to the Capital with cocktails, rather than shopping, on my mind. Bar manager Cesar da Silva has been at the Capital for 15 years (sadly he's since left) and is still extremely enthusiastic about teaching other people to make cocktails in his popular Cocktail Masterclass at the hotel's Capital Bar, which is just as well as apparently he often does 10 of these hour-long courses a day. Staying at a central London hotel is always special but it's even better if you can add a unique experience to your stay.
Book The Capital hotel on Booking.com
Visit The Capital hotel on Tripadvisor
The perfect pre-dinner experience
As the antidote to a long day in the office, it was the perfect pre-dinner experience: I and my friend Ciara propped ourselves up at the cosy bar and watched Cesar get to work on his opening number, the Bloody Mary. We were each given a recipe booklet for every cocktail including its history and how to make it, so complete novices will not feel at sea.
Learning how to make classic cocktails
Expert mixologists will also love seeing Cesar's take on a classic cocktail: for the Bloody Mary Cesar uses the organic Snow Queen vodka from Kazakhstan and never adds ice as it dilutes the flavour. He doesn't approve of great sprigs of celery either but merely stirs the ingredients together lovingly to make a really good version.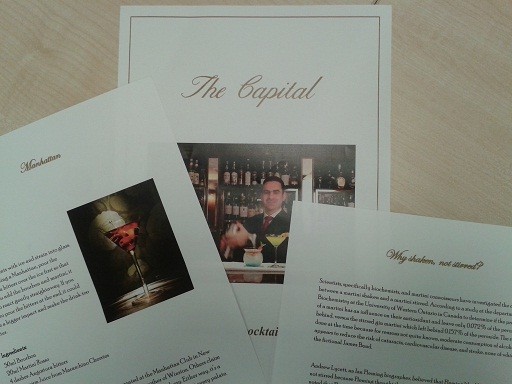 Happily supping our Bloody Marys we moved on to another classic, the Cosmopolitan. (Thankfully there were also some nuts and olives to temper some of the alcohol).
Perfecting the Sex in the City favourite
Made mainstream by its many Sex and the City appearances, the Cosmopolitan is simple to make – just shake vodka, lime juice, Cointreau and cranberry juice in ice and strain – but it looks very classy and Cesar is full of handy tricks such as rolling the lime first which breaks the fibres down and thus makes it easier to get the most juice out of it.
Feeling very cheerful by now, we mastered the making (and drinking) of a classic Champagne cocktail with cognac and a few drops of Angostura bitters on a sugar lump, and perfected the Bellini, made with peach liqueur and which orginated from Harry's Bar in Venice. I'd spent a recent birthday drinking cocktails at Harry's Bar and Cesar had spent time working there, so we had a happy reminisce while he worked at preparing the mint and lime wedges for some seriously large Mojitos.
I'll take Manhattan (the cocktail)
Before we fell off our bar stools there was time for one more, the Manhattan, which up until now I didn't think I liked. However I liked this version so much – made with martini rosso, Woodford Bourbon whiskey from Kentucky, some Maraschino cherry juice and Angostura bitters (added first, rather than last, so it doesn't taste bitter) – that I had to savour every last drop of both mine and Ciara's. We bid a reluctant farewell to Cesar (who made me promise to come back and try his whiskey masterclass next) and headed off to the Capital's Michelin-starred restaurant, Outlaw's (now renamed as The Restaurant).
Created by Nathan Outlaw (who has two Michelin stars at his restaurant in Rock, Cornwall) the menu changes regularly to reflect the day's catch but overall is focused on fresh, British produce whether meat, fish or vegetable. (Nathan has since moved to nearby London hotel, The Goring).
The restaurant at The Capital Hotel
The menu was pleasantly simple, with just four starters, four mains and four desserts, and we had to order the passion fruit tart at the start of the meal as it took a while to prepare.
We started with the smoked mackerel and beetroot risotto with horseradish, which tasted as vibrant and zingy as it looked, and the beef and seaweed tartare, which proved that the restaurant could do meat just as well as fish.
For mains we had the turbot on the bone with leeks and mash, which was really delicious and filling, while the main which stood out was the venison with squash, hazelnuts and shallots. However the most memorable dish was the long-anticipated passion fruit tart which is the best I've ever tasted – the flavours just jumped out and had everyone doing their best Meg Ryan in When Harry met Sally impressions.
Bedrooms at The Capital hotel
After all that food and alcohol it was a relief to just stagger up to my bedroom just two floors above. London hotels have a tough job when it comes to bedrooms as no-one is even going to be in there for long, but my room was very smart, with soft bedding, ample pillows of varying fluffiness, a small but perfectly formed bathroom and free wifi.
Breakfast at The Capital hotel
Breakfast back down at Outlaw's was very nice, with the continental option of pastries and cereals laid out on Cesar's bar, and my cooked option of poached eggs and kippers arriving very speedily. Best of all was the very cheerful and friendly waitress who knew the dinner menu off by heart and took a great interest and pride in what I thought of it all. Having lived in London most of my life it was a real treat to stay at luxury hotel in central London – and it was the perfect location for that Harrods shopping trip…
Hotel information and to book The Capital hotel
The Capital Hotel, 22-24 Basil Street, Knightsbridge, London SW3, UK
Tel: 020 7589 5171
Book The Capital hotel on Booking.com
Visit The Capital hotel on Tripadvisor
The Capital hotel is a member of Pride of Britain Hotels and Small Luxury Hotels
If you like reviews of London hotels then check out: A Sherlock-worthy stay at Holmes hotel on Baker Street; A penthouse stay at nhow hotel, east London; Mayfair Townhouse off London's Piccadilly; A luxurious five-stay at at The Stafford, Mayfair; Disco lights and a budget stay at Point A, Kings Cross;