Beer-tasting for girls event
It isn't often that you see a man wearing a hessian sack telling a room of beer-drinking women they would make better brewers than men.
But Monday's 'Give Boys the Chop – beer tasting for girls' event organised by Rupert Ponsonby and his gang at R and R Teamwork at the Paternoster Chop House was a night of firsts.
It turned out the sack that Rupert was wearing was in fact his grandfather's hop pocket, which was used to store dried hops which give beer its flavour.
He was sporting the hop pocket as a skirt while welcoming the group of female food journalists and bloggers to the event which was set up to show off some rather fine but not necessarily well-known ales, paired with food from head chef David Philpot.
Women were historically the leading sex when it came to brewing, said Rupert, and were at long last making a comeback via senior brewing roles in companies such as Marston's, Brains, Jennings and Hogs Back.
From ancient Sumeria and Egypt through the reign of Vikings and until the 14th century, Britain brewsters – as female brewers are known -were the only people allowed to use brewhouse equipment.
Bedecked in his hessian skirt, Rupert was full of fascinating facts, such as before weddings a nuptial beer would be brewed and sold, the proceeds going to the bride on her wedding day and these 'bride-ales' survive in the word bridal.
In the late 13th century less than eight per cent of brewers were men, as women are recognised as generally having a superior sense of taste and smells as well as a greater ability to remember and recount sensory experiences, but the tide turned in the 15th century as women didn't have the political or economic power to drive a large scale brewing process and so lost out to men who had the resources.
So Monday's women-only beer-tasting was a small way of redressing the balance .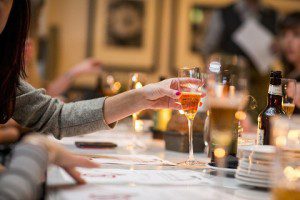 The evening started off with Shoreditch Blonde (4.5 per cent ABV) from the Redchurch Brewery. Fresh and light, with a lemony kick, this was my favourite discovery of the evening, and a few bottles might have even made their way home with me for some more sampling.
We also tried Brakspear's Oxford Gold (4.6 per cent ABV) which was a popular choice, again very zesty and fruity and went down well with the vegetarian canapes of Montgomery cheddar and pickled onions, mushroom and stilton tart, and stout and honey bread with horseradish butter and beetroot.
Camden Gentleman's Wit (4.3%) and Marston's Revisionist Craft lager (4%) accompanied the fish canapes of haddock fish and chips, skate terrine with celeriac remolade and markeral pate, while the meat canapes of peppered venison and rosehip jam, Black Angus rump steak and chicken liver parfait – all utterly delicious, were paired with Innis & Gunn Original Oak-aged beer (6.6%) and Duvel Belgian Golden Ale (8.5%).
I am a big fan of Innis & Gunn, made by Scottish brewer Dougal Sharp, and the Duvel also matched deliciously with the extremely tasty meat dishes.
There were more delights to come though, with Hackney Gold Bitter (5.5%), again from the Redchurch Brewery, and Hogs Back Old TonghamTasty (6%), the latter being particularly smooth and almost liquorish-like, the kind of beer to sup and savour at the end of a long evening. The scotch quail's egg with black pudding was unanimously pronounced the food highlight of the evening and came with slow-baked crispy belly of pork and surprisingly spicy BBQ chicken lollipop.
Finally there was dessert: dark chocolate and pecan brownie, spiced red wine pear bakewell and vanilla goat's curd mousse, served with champagne-style coupe glasses containing Liefmans Cuvee Brut (6%). This was high-class stuff indeed, lightly sparkling, extremely fruity and rounded off the evening perfectly. The Wychwood Ginger Beard (4.2%) however I could have done without, but is no doubt a perfectly decent example of the trend for alcoholic ginger beers.
After such a feast there was time to revisit some favourites of the evening before heading into the night, and we were even invited to take home a personalised bottle of Vedett. Hard to know whether to drink it or frame it really? No, definitely drink it.
If you like great food and drink then check out these memorable culinary experiences: Sexy Fish restaurant Mayfair: sexy, brash, bling and fun; Dinner by Heston Blumenthal: food for thought at London's Mandarin Oriental hotel; 14 wines at dinner at the Judgement of Paris hotel at The Vineyard hotel, Newbury; Curry, bagels and fish and chips: a food tour of London's East End