In spite of living and working just a mile away from South Kensington and passing through it most days, I never felt as if I really knew the area – and had never even heard of Barts Speakeasy South Kensington.
A trip to Barts Speakeasy
To me it was a vague ensemble of various things – the museums, French people, a really good sheet music shop, the tube to Heathrow – but I'd never spent much time there. From the top deck of the number 49 to Battersea I'd catch a glimpse of what looked like some nice restaurants or a lively bar, but it always remained a fairly unknown neighbourhood.
Now I've come to the conclusion that it's not actually my fault I didn't know much about South Kensington even though I was so often passing through – it's because a lot of the best bits of South Kensington are hidden away.
From anonymous doorways hiding speakeasies to hidden gardens and underground restaurants, there is a whole new world going on in SW7 in addition to the many delis and restaurants which are full of tourists and students every day.
My most recent discovery was certainly not the kind of thing you'd come across by accident. Walk down Sloane Avenue and into the smart but dull entrance to serviced apartment building Chelsea Cloisters and behind an unmarked door with a small plaque saying 'Barts' next to it on the wall you'll find a modern-day speakeasy which is very much set in Prohibition times.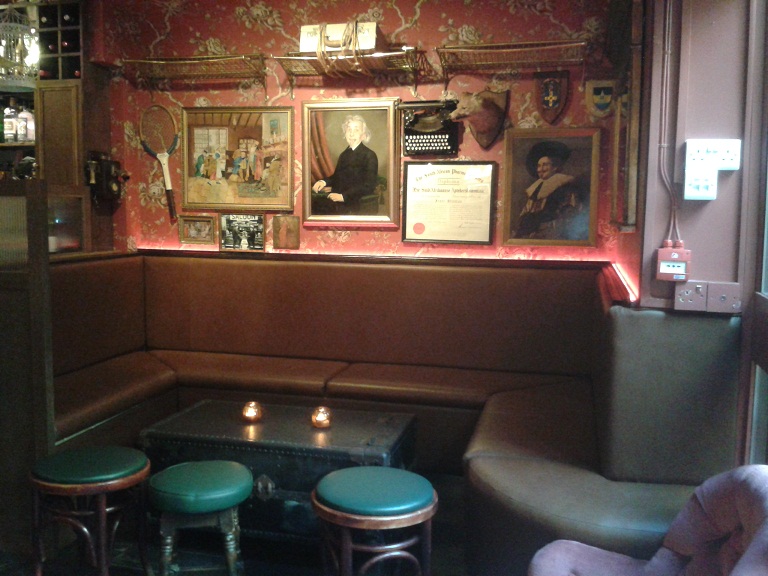 At 6pm on a Tuesday afternoon it had just opened and was completely empty – which was fine by me – but I gather it can get completely packed later in the evening and you have to either wait in line and do a lot of complicated things like reserving a table and remembering secret codes.
None of that applied to us early-birds though and once we'd been been approved by whoever peered at us through the sliding peep-hole window in the main door, we had the run of the place, choosing to lounge in its tiny courtyard.
Cocktails at Barts
It was apparent straightaway that Barts was a very thorough and cheerful homage to the 1920s and the era of illegal drinking, with cocktails served in tea and coffee pots (as well as top hats and gramophone records) and the drinks menus hidden in hardback books.
I had a Tom Collins to start and a White Lady to finish while Sara my drinking partner (and the one who'd actually known how to find Barts) had a couple of Alchemists (Belvedere vodka, apple, elderflower, cucumber and mint). They were all delicious, the Alchemists being suitably refreshing and the gin cocktails being appropriately strong in alcohol while still being extremely drinkable.
You could get through quite a lot of money quite quickly in Barts I suspect – we rattled happily through four cocktails and £50 in under half an hour – but the Sloane crowd who are presumably its main clientele wouldn't be the slightest bit bothered by that.
Even for the less well-heeled it was a great start to the evening and the edges were indeed rather blurred when we walked back through the lobby to the outside world. Thankfully my hotel, the Ampersand, wasn't too far away
[Editor's note: this review of Barts Speakeasy South Kensington was first published in 2014]
Check out some more review of great hotels in London with great bars for cocktails…
Inside the five-star Corinthia hotel; A room and rooftop bar with serious views at ME London; Drinking martinis at the best hotel bars in London